Statcast: Syndergaard worth the wait
Mets rookie sits at 98 mph from start to end in successful debut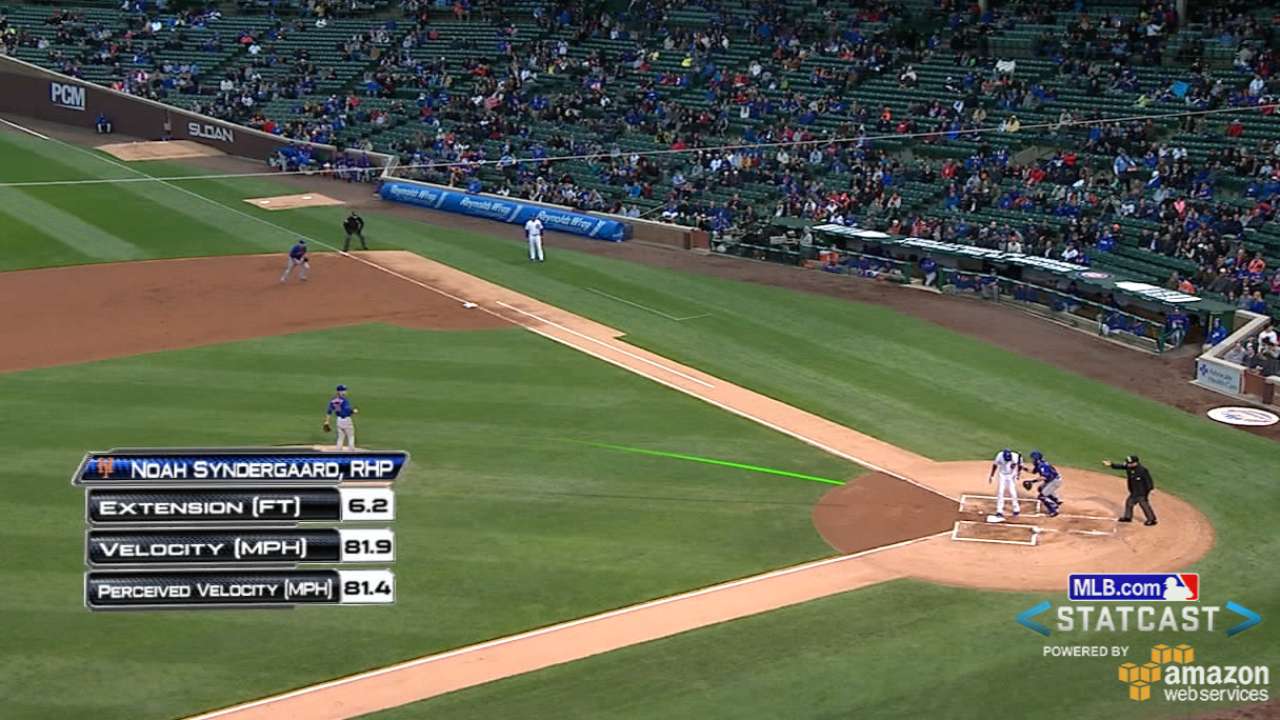 The very first pitch of Noah Syndergaard's Major League career flew to the plate at a perceived velocity of 97.43 mph, per Statcast™. Nearly two hours later, the 103rd and final pitch of his night was tracked at a perceived velocity of an essentially identical 97.44 mph.
In between, there were plenty of highs to go with a few late lows, as the latest Mets pitching prospect to make it to the bigs kept the radar guns buzzing all night long, offering more than enough evidence that the hype surrounding his promotion was hardly overblown, despite taking the loss in a 6-1 defeat at the hands of the Cubs.
Syndergaard kept pumping in the heat all night long -- to choose some examples, he hit 98.56 mph against Addison Russell in the third, and 98.14 mph while striking out Miguel Montero to end the fifth -- and that kind of sustained velocity is impressive given how pitchers often tire as the game wears on. To put it in context, only two starting pitchers (Joe Kelly and Nathan Eovaldi) have averaged even 96.5 mph (minimum 50 pitches) on their fastball this year, and while we're of course talking about a single game, Syndergaard was topping that regularly on Tuesday evening.
He went 5 1/3 innings, allowing three runs on six hits and four walks while striking out six batters.
Of course, it's hard to get by with simply fastballs and nothing more, even if Syndergaard did generate swings on 30 of his 65 heaters, and we saw him mix in several of his other pitches to great effect. Take, for example, the first batter he faced, Chicago center fielder Dexter Fowler, who also became the first strikeout of his career. Not only had Fowler obviously never faced Syndergaard before, look at the kind of pitches he had to deal with:
FB: 97.42 mph / 1,957.7 spin rate (ball)
FB: 98.63 / 2,179.8 (called strike)
FB: 97.32 / 2,120.5 foul)
SL: 81.35 / 2,260.8 (swinging strikeout)
The spin rates on those fastballs aren't necessarily elite, even among Syndergaard's own new teammates. (Matt Harvey's fastball averages 2,319.7; Jacob deGrom gets a rate of 2,409.9 on his fastballs.) But the velocity is, and the changing spin rates -- particularly from the first pitch to the second -- can make the ball behave differently. When Fowler struck out, he looked unhappy due to a questionable swing call; he may as well have been wondering how he was expected to hit that kind of sequence.
Syndergaard eventually did get hit, of course, allowing a Jorge Soler single, a Starlin Castro double and a Chris Coghlan homer in a three-run sixth inning that ended up becoming all that the Cubs would need. Mets manager Terry Collins is perhaps likely to catch some heat for letting Syndergaard hit for himself in the top of the sixth and then stay in to give up the lead; then again, there was little to indicate that Syndergaard was losing his touch. The ball that Coghlan hit came to him at 97.78 mph and with a spin rate of 2,069.25, well in line with the rest of Syndergaard's night.
Because the Mets were never able to get anything going against the absolutely dominant Jake Arrieta, Syndergaard's debut goes down in the books as a loss. That's not the true story of this one, though. Syndergaard's debut went about as well as it could have been expected to. With an impressive ability to maintain his velocity from start to end, there's plenty here for him to build on.
Mike Petriello is an analyst for MLB.com. This story was not subject to the approval of Major League Baseball or its clubs.