Rotation quandary prevented by Archer
Rays righty allows two runs in opening frame, then holds Yanks scoreless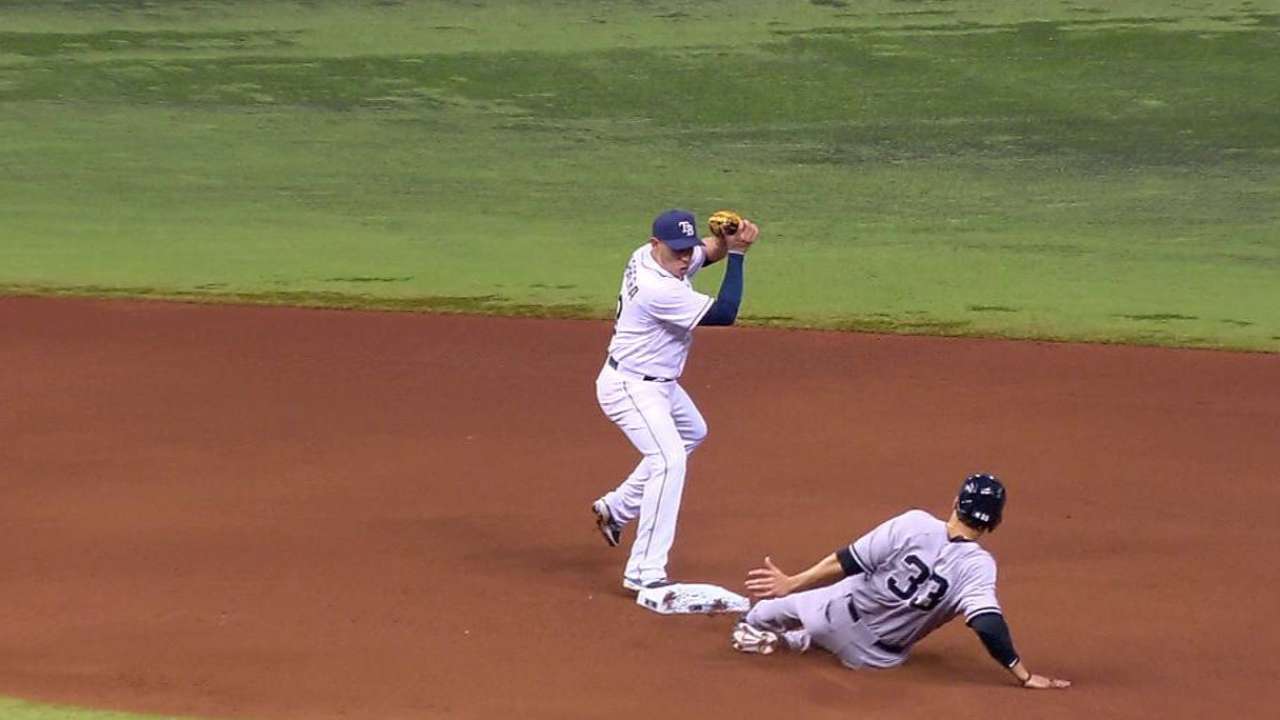 ST. PETERSBURG -- Chris Archer found trouble in the first, and the kind of trouble that could have affected the Rays' rotation for days to come.
But somehow, the right-hander managed to limit the damage. That kept Tampa Bay in the game, making possible a late comeback in a 4-2 win over the Yankees on Tuesday night at Tropicana Field.
Archer allowed two runs on four hits and a walk to the first five batters -- and the bases were still loaded with no outs in the first. Given the way the team's starting-pitching depth has been tested this season, the situation sent manager Kevin Cash's mind scurrying.
"There were a lot of thoughts spinning there," Cash said. "Bases loaded and no outs. And then I believe two runs come across before we get an out. So we're down 2-0, bases loaded, no outs. Yeah, we were becoming concerned about how we were going to get through tonight."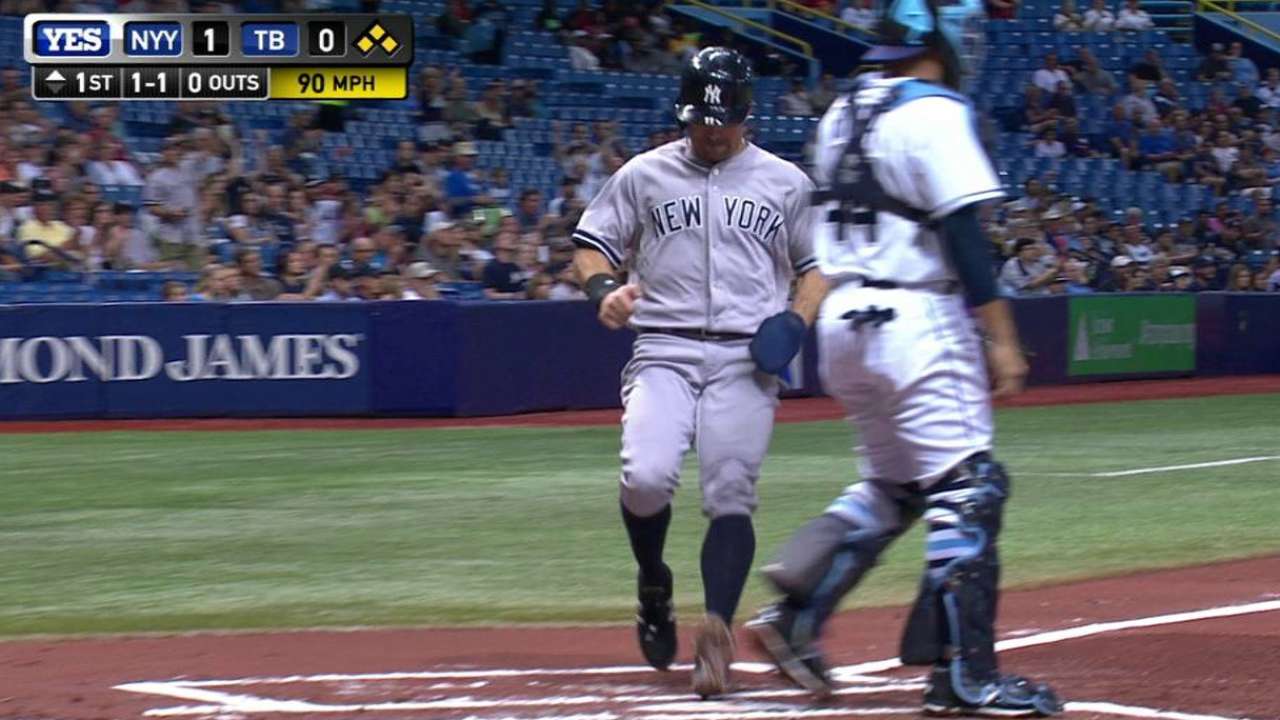 Awaiting the Rays is another start on Thursday that needs to be filled by committee due to injuries to Drew Smyly and Alex Cobb. If Archer was unable to get out of the first or did not give the team some innings, the pool of candidates -- with the start going to Erasmo Ramirez -- to pitch in for Thursday would have been thinned.
But Archer found a way to dig himself out of the hole he'd put himself into.
He struck out Chase Headley, retired Stephen Drew on a shallow fly ball to center, then got Garrett Jones to ground out on his 32nd pitch to end the inning.
"I just stayed in the present moment and was able to work through the first," Archer said.
After his inauspicious beginning, Archer added six scoreless innings in which he surrendered just three more hits and struck out seven. He retired 15 of the final 16 batters he faced.
"It's a credit to Arch, keeping his cool, keeping us right there in the ballgame," Cash said. "Just completely stopped the bleeding. Just extremely impressive outing."
Archer credited catcher Rene Rivera for helping him to recover by throwing out two would-be basestealers in the second inning.
"Rene getting two outs himself saved me 10 pitches at least," Archer said. "Those are huge."
In the end, Archer received a no-decision, but he earned glowing praise from his manager
"You can probably make the argument this is Arch's most impressive start, the way it started and then what he did to finish it," Cash said. "That game could have easily got out of hand. Hopefully, we all think it's probably a sign of him progressing to being that pitcher we all think he's capable of being. And is being."
Archer remained unbeaten against the Yankees, with a 5-0 record in seven career starts.
Bill Chastain is a reporter for MLB.com. This story was not subject to the approval of Major League Baseball or its clubs.