Veteran Burnett makes necessary adjustments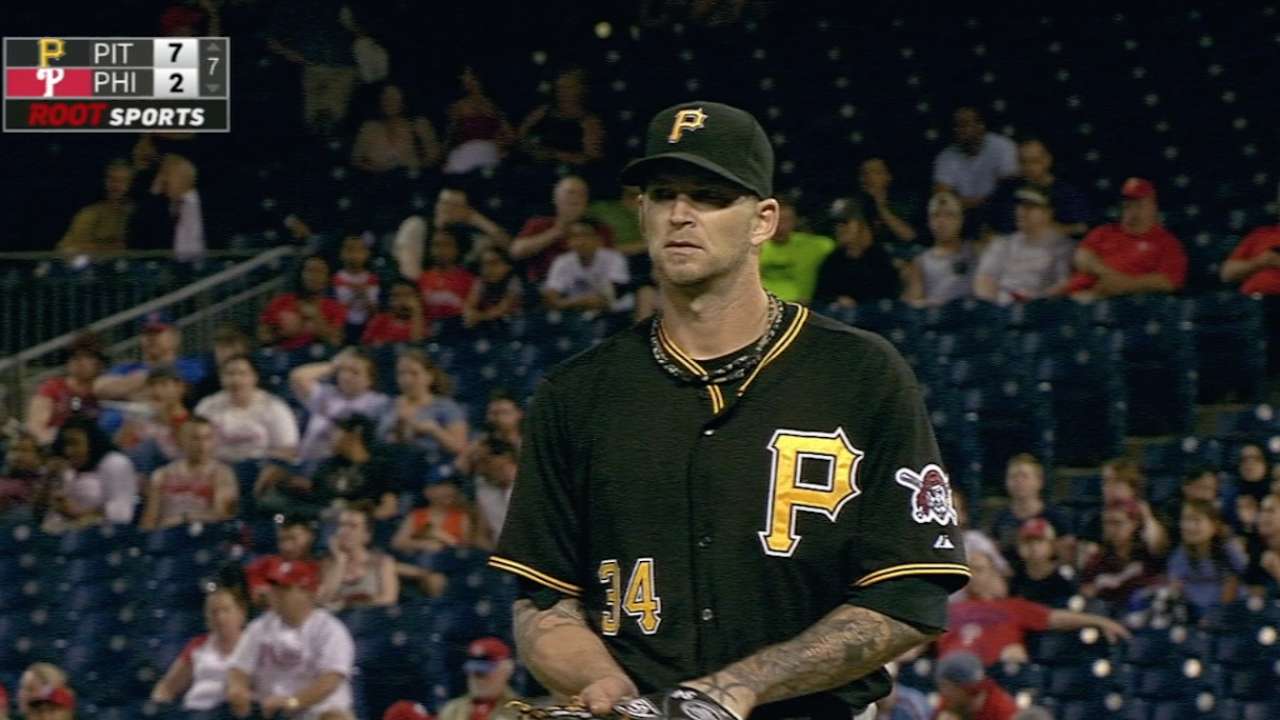 PHILADELPHIA -- On May 12, 2001, A.J. Burnett pitched a no-hitter. Fourteen years later, Burnett pitched a far better game.
You may not actually get better with age. But you can definitely become savvier, more efficient, even more maddening to hitters.
He certainly confounded the Phillies on a couple of levels in beating them, 7-2, Tuesday. First, he limited them to six hits and one earned run in seven innings. Second, they couldn't be sure this was the same guy who had pitched for them last season.
"He was definitely throwing strikes and they were quality strikes," Philadelphia manager Ryne Sandberg said. "On the sides and the corners and mixing up his breaking pitch real well. He got on a roll."
Correction: Burnett stayed on a roll, a historic one. He became the second Buccos pitcher to start a season with seven straight starts without allowing more than two earned runs. Bob Walk, in 1988, was the first.
"Yeah, well, I mean, that tells you I'm keeping my team in the game, and that's all I want do," Burnett, not a huge fan of historical perspectives, said by way of putting a team-oriented spin on the feat. "I just want to limit them, and get back in the dugout as fast as I can and get this offense going."
In that "gem" against San Diego, Burnett barely threw more strikes (65) than balls (63).
In his victory over the Phillies, Burnett oddly threw the same number of strikes, and only 30 balls.
You may have heard a lot of lip paid to how Burnett has changed as a pitcher, acceding to age. But there's your evidence of that transformation.
"That had to be one of the largest outliers in no-hitter history," Hurdle said of Burnett's nine-walk effort. "But his stuff was electric. To pull that off showed the kind of unharnessed arm he had; it would come and go. It was a power arm with dynamic stuff. To his credit, he has worked to be better ever year."
Where he's at now, Burnett can have a plan and follow through on it. After opening the season with a quartet of sharp, but brief, starts, he said he'd be happier if he could give the Bucs more length.
In three of his last four starts he has gone seven. Or, as Hurdle branded it, "Seven strong."
"More contact," Burnett offered the terse explanation. "Let the defense work. I'm not trying to strike out everybody. I had to [change]; I don't chunk it up there any more. There were some sequences tonight where I was pitching. Early in my career, it was a lot of throwing.
"I've definitely turned the corner. I've had to revamp my skills the last couple of years."
Tom Singer is a reporter for MLB.com and writes an MLBlog Change for a Nickel. He can also be found on Twitter @Tom_Singer and on his podcast. This story was not subject to the approval of Major League Baseball or its clubs.