MLB.com Columnist
Marty Noble
As petition support grows, Yogi celebrates 90th
Baseball greats surround Berra at museum to honor Hall of Famer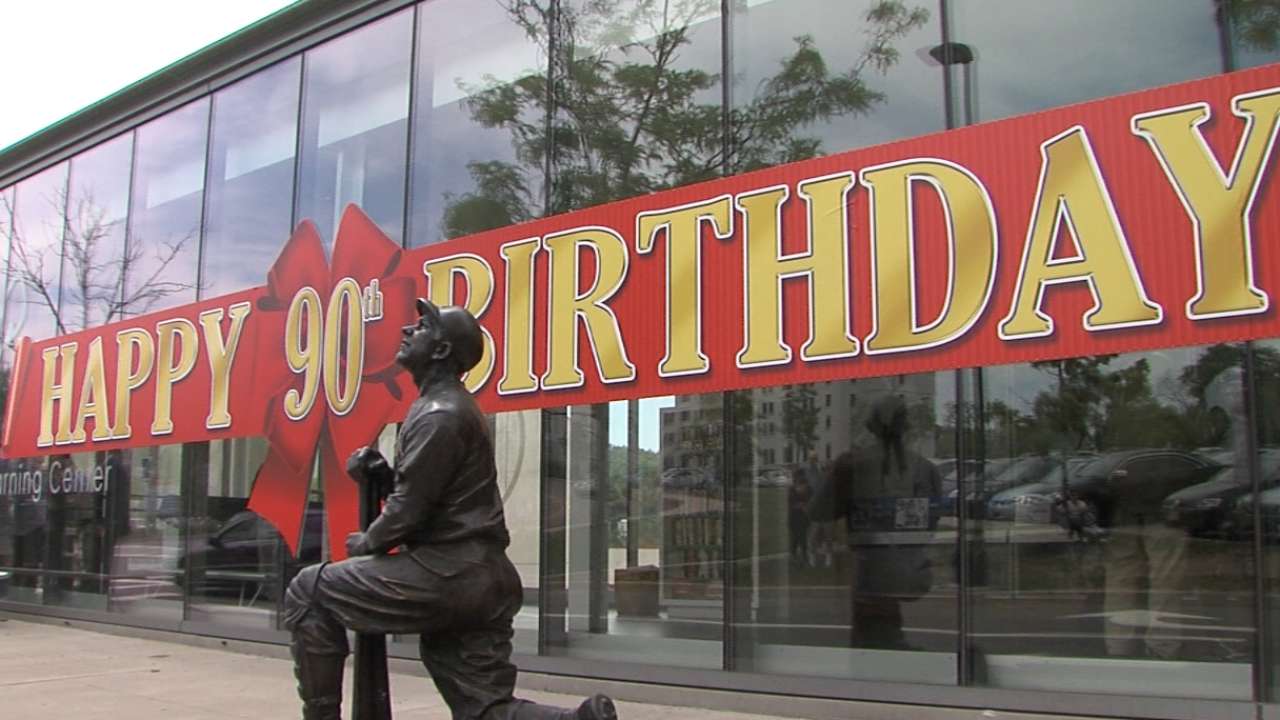 MONTCLAIR, N.J. -- Large letters spell out words that appear near the tops of the walls of the recently renovated rooms in the museum that bears his name and his likeness. The words are Boy Scout-esque -- loyalty, respect, trustworthiness, honor, courage, selflessness, ambition, wisdom, passion, service, generosity, citizenship, cooperation, dependability, acceptance -- and probably not among those most frequently used by Yogi Berra these days. He may not speak them, but doesn't it seem that he has lived by them for as long as we've known him?
The museum hopes to convey that message.
On the wall to the left of the entrance is a greatly enlarged photograph of the man in his work clothes -- New York Yankees No. 8 uniform, demonstrating another intangible, one that didn't make the wall. The photo is from the 1955 World Series; it shows Dodgers first baseman Gil Hodges, standing in the batter's box and Berra just to his right. Hodges had been struck in the face by a foul tip. His hand was at his face. Berra's hand was touching his.
• Sign petition supporting Medal of Freedom for Yogi Berra
The missing word is compassion. A touching moment in more ways than one.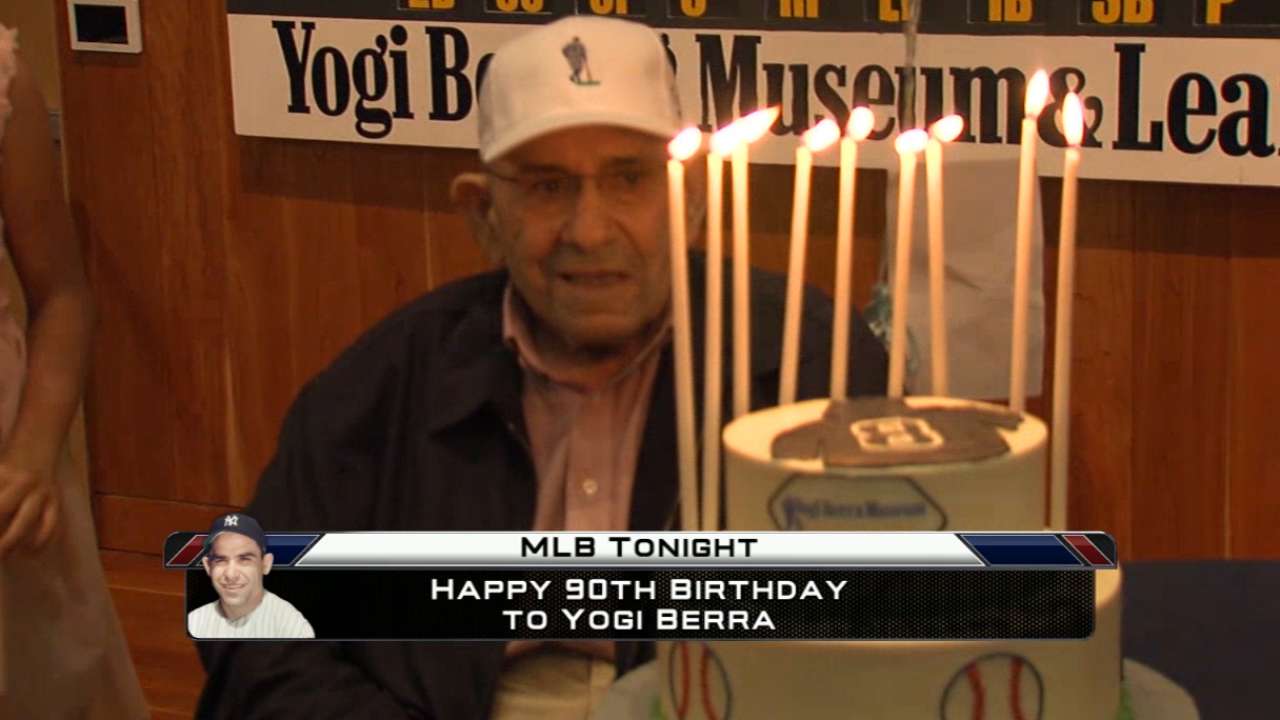 Also absent from the wall are adjectives that have applied to the beloved Hall of Fame catcher for decades -- special, great, grand, extraordinary, remarkable, exceptional, clutch, and one more noun that applies to him as of Tuesday: nonagenarian. Yogi's 90.
"God bless him," Joe Torre said.
Baseball occasionally gives us events that rival the on-field game in drama, joy and moments to remember. One such happened Tuesday at the Yogi Berra Museum and Learning Center. It was the unveiling of new exhibits. More than that, it was a program that began with an extended drum roll and introductions that made it seem like a political rally, but slowly morphed into a delightful engagement, an afternoon birthday party for a man internationally recognized and appreciated for his decency, accomplishments and almost unrivaled Midas touch.
Make no mistake, this was more than an occasion; in every way, this was a happening, attended by the likes of Torre, Ralph Branca, Rachel Robinson, Willie Randolph, Mickey Rivers, Rick Cerone, Lee Mazzilli, Matt Galante, Harold Reynolds, Bobby Valentine, Elston Howard's widow and daughter, former New York Jet Bruce Harper, former National League president Len Coleman, Yogi's sons -- Larry, Tim and Dale -- 10 of his 11 grandchildren and his one great grandchild, Hall of Fame president Jeff Idelson, Charlie Wonsowicz, the Yankees' former batting practice pitcher, and Joe, a longtime Yankee Stadium security guard.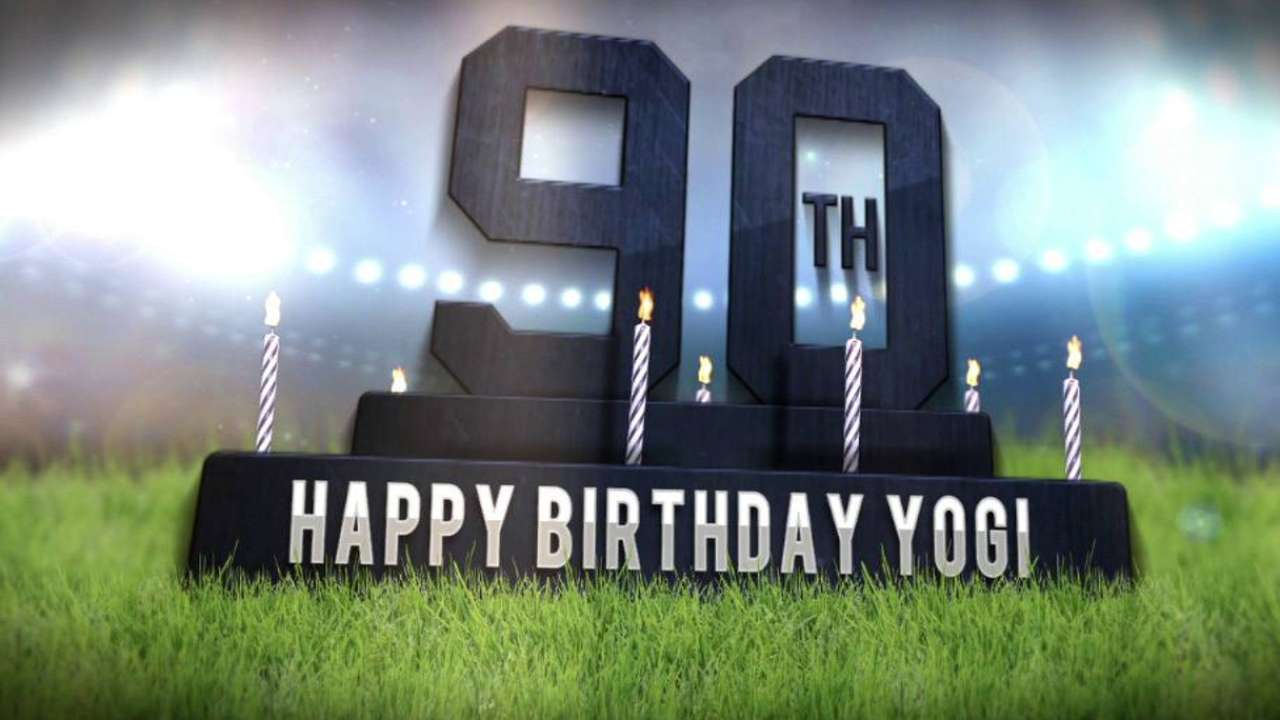 "Everyone from the tailor to the king," Dale Berra said. "Dad treats everyone the same. That's why so many people are here. He's loved by everyone."
Indeed, when Cerone arrived and began a brief search for the birthday Berra, his first question was, "Where's the Pope?"
* * * * *
Not all who attended Tuesday move as well these days as they once did. Branca occasionally uses a wheelchair, as does Yogi, but he came and reminisced with his old October opponent. Valentine, Branca's son-in-law, powered the chair. Rivers moves with evident aches and pains -- as he did when he played. Jackie Robinson's widow had canceled a recent appearance because of illness. She came from Connecticut.
"I couldn't miss Yogi's birthday," Robinson said.
Torre needed more than 90 minutes to make the trip. Idelson's trip from Cooperstown took more than twice that.
Inconvenience be damned; this was for Yogi. So attendance wasn't only possible, it was necessary.
Everyone came armed with favorite Yogi anecdotes to add to the seemingly 2 million already circulating. Galante, who coached with the Astros when Yogi did, recalled checking into a hotel with the team.
"Yogi was with Carmen [his wife] and her mother," Galante said. "And he needed an extra room. So he goes to [traveling secretary] Barry Waters to make arrangements. Barry asks, 'What's her name?' Now I heard this myself, so it's true. Yogi says, 'Mom.' Barry says, 'I need her name to get her a room.' And Yogi says, 'I know, it's Mom. I've always called her Mom.'"
Idelson, who served as the Yankees' media relations director, noted that he, like Yogi, was an early riser. Yogi had wanted to meet in the early morning, but Idelson's cellphone was turned off. Yogi left messages at 6:01, 6:18 and 6:32 a.m. When he finally reached Idelson, he playfully scolded him.
"I've been calling you all day," Yogi said.
Cerone, the Yankees' catcher in the early '80s, recalled visiting Yogi in an assisted-living home in New Jersey.
"I just walked in, and there was Yogi, as famous as anyone in the world," Cerone said. "He was just there walking by. So he took me to their rooms and showed me everything. He was so approachable. He always was. He's so special. I'd say he's as respected an American as there is."
And so it went. There may be 200 stories for every person who has met the man.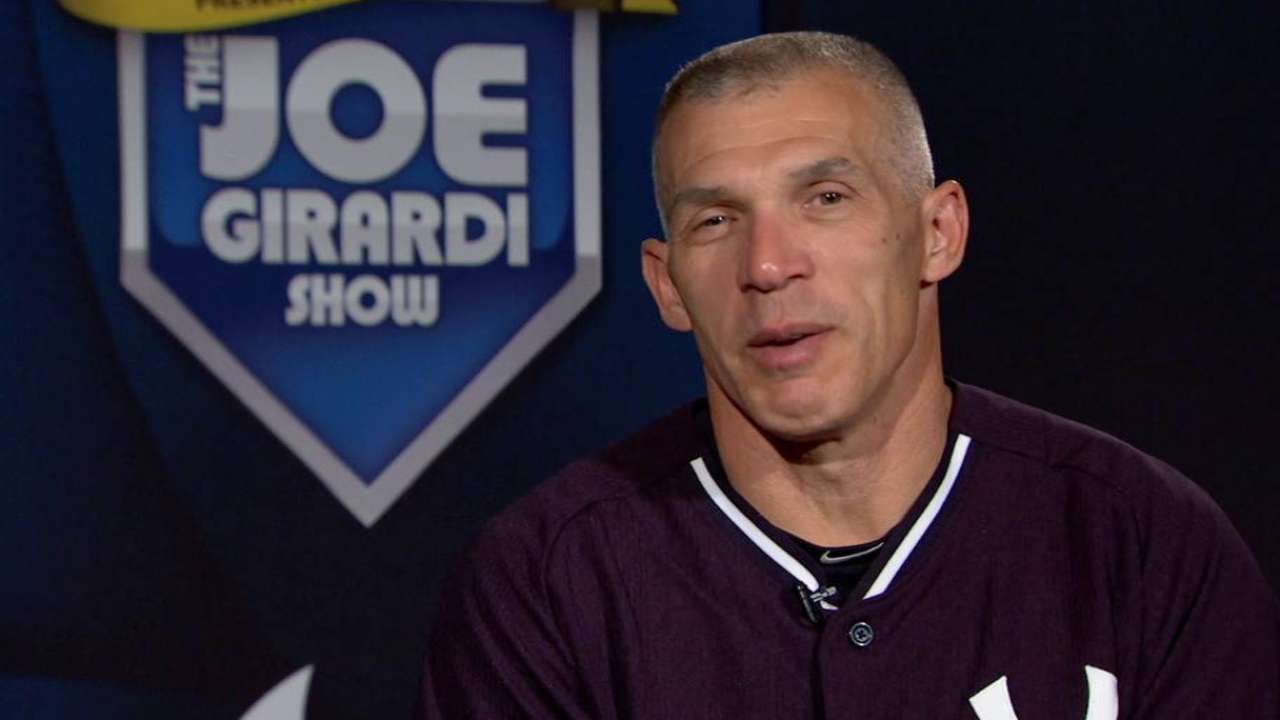 "And," Torre said, "they're always about how nice he is."
The party lasted well beyond the planned three hours. Dozens of folks -- and grandchildren -- posed with Yogi. Rachel Robinson insisted on a second shot. The man wasn't up to speaking publicly -- his voice is rather hollow and weak these days -- but, of course, Yogi shared words and hugs and smiles with the kids. He was grandpa, more than Yogi to them, and a kindly nonagenarian to everyone else.
The party came a day after the public learned of a petition to make Berra a recipient of the Presidential Medal of Freedom, seven months after the museum had been burglarized, 14 months after the death of Carmen, his wife of 65 years, 50 years and three days after his final swings -- with the Mets -- in the big leagues and 90 years after his birth in St. Louis.
And there are so many more dates of import, anecdotes, malaprops and Yogi-isms, so much more to the story of everyone's favorite Yogi. As he once said with an uncharacteristic lack of modesty, "There's more to me than meets my eye."
Marty Noble is a reporter for MLB.com. This story was not subject to the approval of Major League Baseball or its clubs.