MLB.com Columnist
Mike Bauman
White Sox capable of much more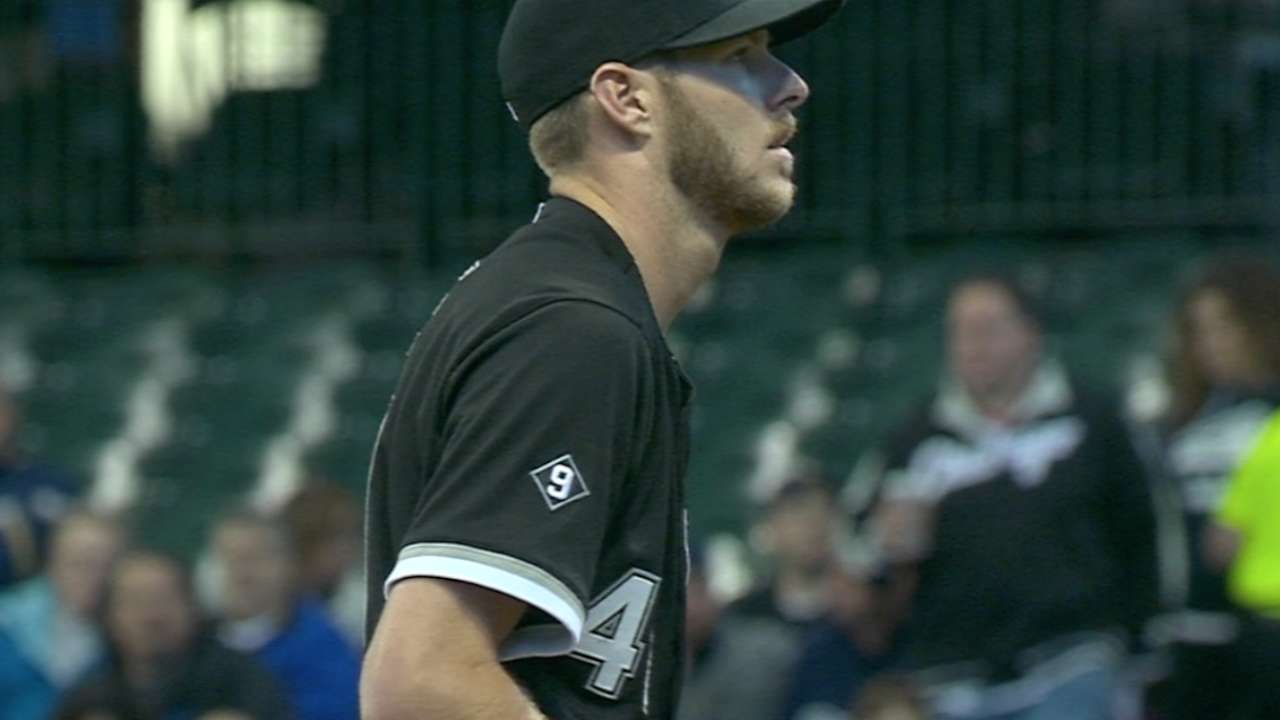 MILWAUKEE -- Any time the White Sox have Chris Sale on the mound, their short-term outlook can be extremely positive. And now, to pick up the pace in the other 80 percent of the games.
After two substandard starts, Sale was back in form at Miller Park on Tuesday night, recording the 19th double-digit-strikeout performance of his career in Chicago's 4-2 win over Milwaukee. Over eight innings, Sale allowed three hits, walked one and struck out 11.
When Sale is on, he is simply one of the best. He was on here.
"We did a real good job down and away to righties," catcher Tyler Flowers said. "That gives us a pretty good weapon if they want to be aggressive early."
With a tired White Sox bullpen needing a break, this performance was both necessary and superb.
"We keep playing games like this and we're going to be in a good spot," Sale said.
And that is, of course, the whole issue. With this victory, the Sox are 13-17. It is easy to say "the White Sox are better than this." But the White Sox are not playing better than "this."
These are the same White Sox who were said to have won the winter with a series of seemingly astute, seemingly impressive acquisitions. There was widespread agreement about this.
But these White Sox are not winning the spring, a significantly more important season in baseball. It is early, and their situation is far from hopeless, but their record reflects some shortcomings.
Chicago is 3-12 on the road, the worst record in the Majors in that category. Manager Robin Ventura was asked what could be done to improve the road performance.
"If you knew that, you could change it, take your bed on the road, whatever you've got to do, order a sandwich that you like at home," Ventura said. "I don't know if you can put a finger on it, but it has to change."
One tangible cause of problems is the defense. What can be done to improve that?
"We just need to be better," Ventura said. "It's not like we're rolling perennial Gold Glove guys out there, but it needs to be better than it's been, that's for sure.
"I mean, we have to help our pitching staff out. Any time you don't play well defensively, you make the guys on the mound feel like they have to strike guys out. Everything has to mesh together. You have to feel confident with those guys going out there. They don't have to be superhuman to get guys out.
"Everybody's aware of it. Everybody understands it. But it has to be better."
The White Sox appear to have defensive shortcomings at both second and third base. Rookie second baseman Micah Johnson is 24 and could reasonably be expected to improve. Third baseman Conor Gillaspie will turn 28 this summer, and he may not have as much room to grow. And on Tuesday night, with the Sox leading late, both were taken out.
On the hopeful side, Chicago will have talented lefty Carlos Rodon starting on a regular basis. This should help stabilize the rotation.
"I think the best part of it is that he gets a chance to use everything," Ventura said. "When he goes in there as a reliever, he's trying to get in and out of there as fast as he can. Now he gets to use his changeup a little more and have a little more variety than just fastball and slider."
The White Sox could reasonably expect better performances from the remainder of the rotation. Jeff Samardzija has an ERA of 4.80, Jose Quintana is at 5.03 and John Danks is at 5.12.
Samardzija in particular, brought in to give the White Sox a top-notch one-two punch in the rotation, needs to step up. But the argument could easily be made that as a group, the entire rotation needs to find a better, more consistent level.
The White Sox situation is made more difficult by early returns indicating that two of the best teams in baseball are the Royals and the Tigers, neighbors in the American League Central. Not only that, the Twins appear to be surprisingly good. Measured against this kind of competition, Chicago will not have much more time to languish below .500.
What the White Sox need are many more games like the one they had on Tuesday night. They should be capable of that, even though it is much easier said than done.
Mike Bauman is a national columnist for MLB.com. This story was not subject to the approval of Major League Baseball or its clubs.