Tulo declines to comment on trade speculation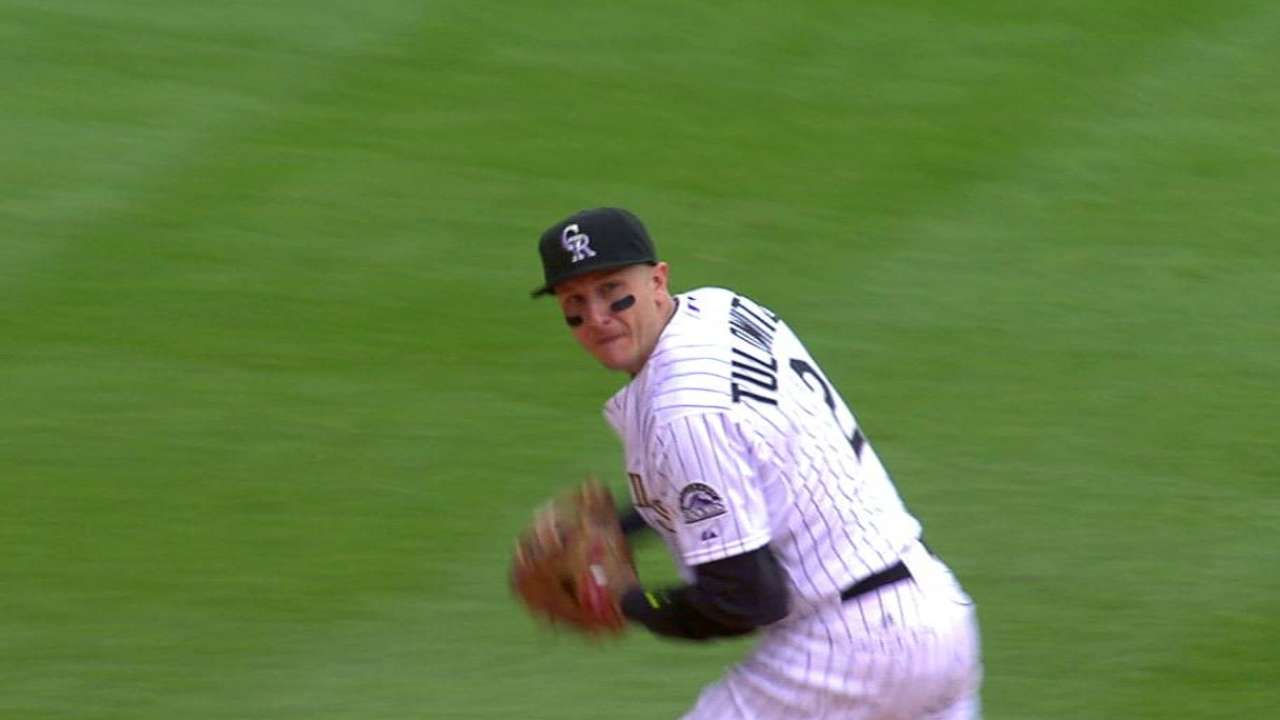 ANAHEIM -- Rockies shortstop Troy Tulowitzki firmly, but politely, declined to comment Tuesday on reports that he's considering asking for a trade.
He is scheduled for a meeting Thursday in Los Angeles with agent Paul Cohen, but Tulowitzki said it's a routine meeting.
"I have no comment on that," Tulowitzki said of the New York Post report by Joel Sherman, before the Rockies played the Angels in the opener of a two-game series at Angel Stadium. "I have no idea where they (reports) are coming from.
"I meet with my agent all the time. If this comes up Thursday when we meet, I'll deal with it at that time."
According to the report, Tulowitzki and Cohen will decide whether to ask the Rockies for a trade when they meet. Colorado has experienced four straight losing seasons.
The Rockies (11-17) took a nine-game losing streak into Tuesday's game with the Angels. Tulowitzki, 30, has six years and $118 million left on his contract. The four-time NL All-Star and two-time Gold Glove winner is hitting .307, with two homers and 10 RBIs.
Worth noting
• Right-handers LaTroy Hawkins (biceps tendinitis) and Tyler Chatwood (UCL reconstruction) threw well in side sessions, manager Walt Weiss said. Hawkins threw live to hitters in early BP for the first time since he went on the disabled list April 22.
"We'll see how he feels tomorrow, and at that point, we'll start working out a plan for him," Weiss said of Hawkins, 42, who's in his 21st Major League season, and was the Rockies' primary closer last season.
Asked how Hawkins might be used when he returns, Weiss said: "At this point, we probably see him as a set-up guy, pitching late in games. He's also another option [to close]. There are days when closers aren't available."
On Chatwood, 25, who went on the 60-day DL March 1, the manager said: "It's tough to say [where he is]. I certainly can't give you a timetable. He's throwing well. He continues to make progress. He has all along. The ball was jumping out of his hand when he was just playing catch in spring training."
• With the Rockies playing in an AL park and facing left-handed starters on consecutive days, third catcher/backup first baseman Wilin Rosario will be the designated hitter.
"It's really a luxury of being in an AL park," Weiss said. "He's done it in Interleague Play before."
Earl Bloom is a contributor to MLB.com. This story was not subject to the approval of Major League Baseball or its clubs.