Bryant, Rizzo forming their own power combo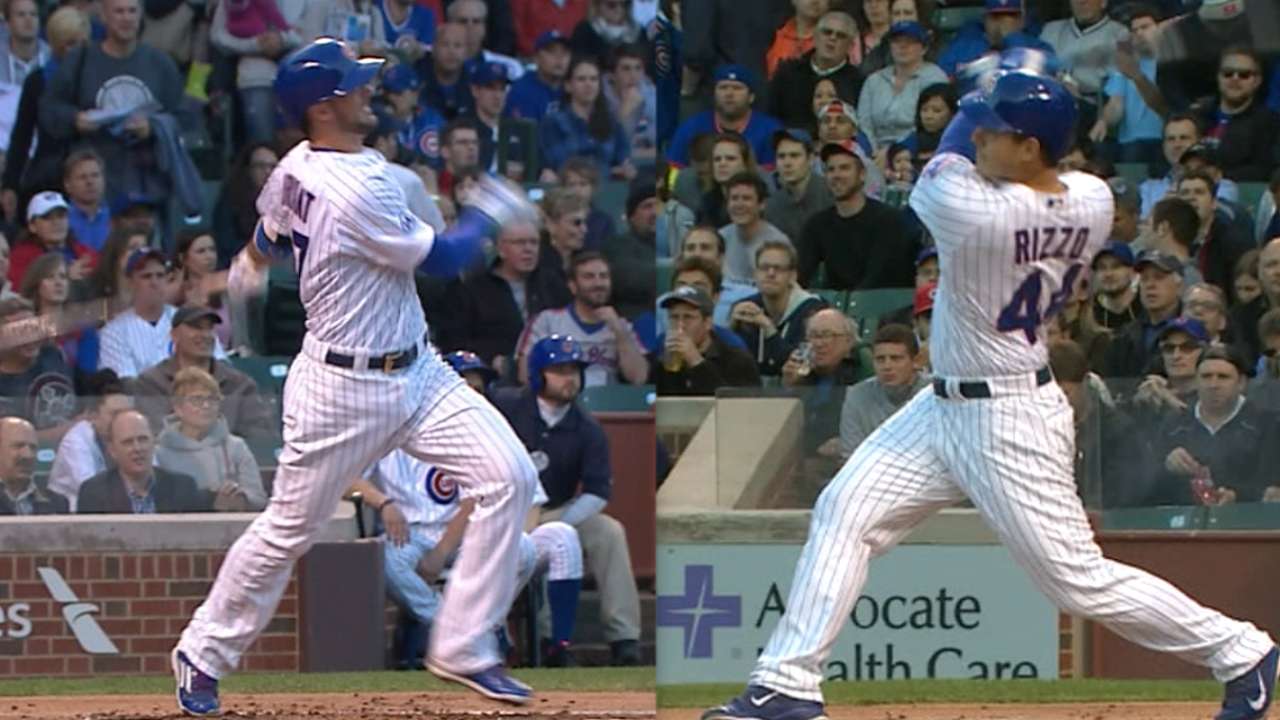 CHICAGO -- Kris Bryant wasn't born when the Athletics' "Bash Brothers" of Jose Canseco and Mark McGwire were at their peak in 1989, but the Cubs rookie is aware of them, and he and Anthony Rizzo may be creating their own power combo without the Popeye-sized arms.
On Monday, Bryant and Rizzo hit back-to-back home runs on consecutive pitches from the Mets' Jacob deGrom in the Cubs' 4-3 win. It's the first time the two have connected like that, but Cubs fans are hoping for many more to come.
"We just joke around with it," Bryant said Tuesday. "It is hard to hit two home runs in a row. He jokes around -- the 'Bash Brothers' and all that thing. He's a good guy for me to learn from and watch how he goes about his business."
Bryant was born in 1992, so he didn't see Canseco and McGwire in '89 but did hear about them.
"[I know] the whole forearm smash thing," Bryant said. "We don't have big enough forearms for that."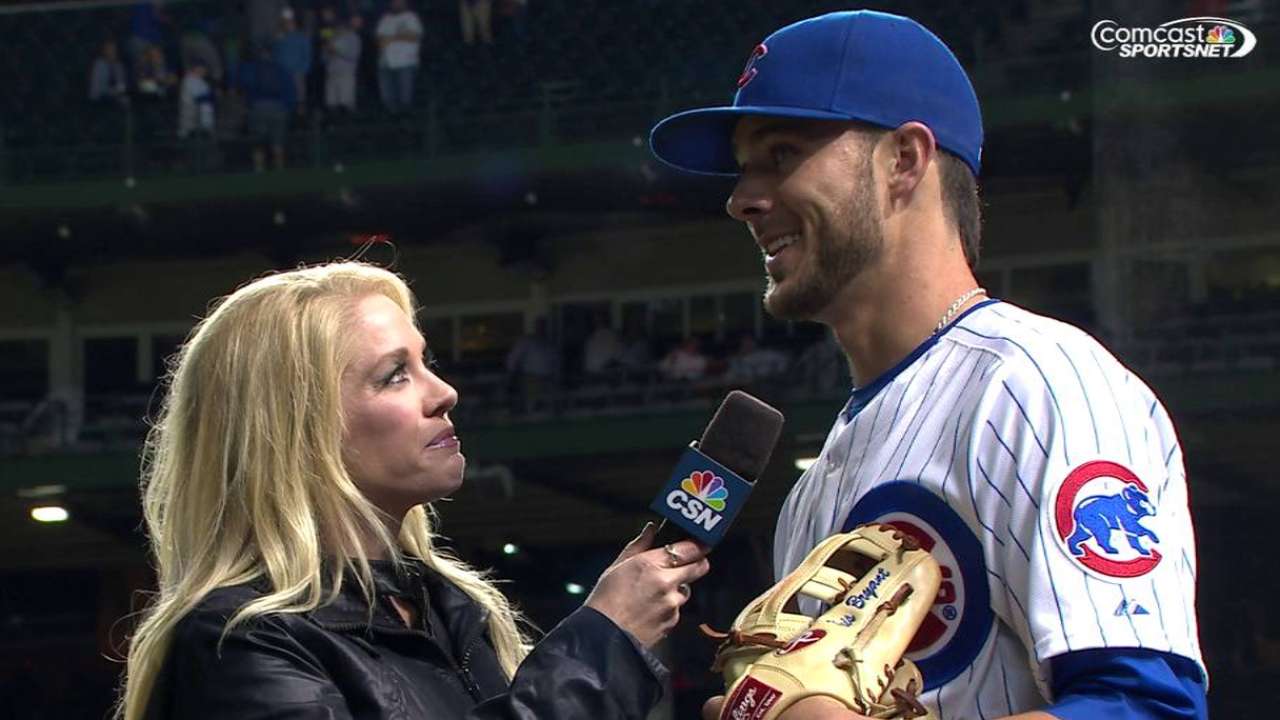 Rizzo joked that he meant the "Bash Brothers" from the "Mighty Ducks" movie who were enforcers on the hockey team. Either way, you get the point.
According to the Elias Sports Bureau, Monday marked the third straight season in which two Cubs hit back-to-back homers on consecutive pitches, and Rizzo has been involved in all three instances. On Aug. 1, 2013, against the Dodgers, Junior Lake and Rizzo turned the trick against Ricky Nolasco, and on Aug. 13, 2014, against the Brewers, Javier Baez and Rizzo homered off consecutive pitches from Kyle Lohse.
Rizzo is doing his part to help ease Bryant's transition to the big leagues.
"[Teams] are still trying to get the book on him, the scouting report, how you can get him out, where he's hot, where he's cold, and you just keep telling him to keep taking those walks," Rizzo said. "I think [assistant hitting coach Eric] Hinske told me that to hit .300 in this league, you need to walk 100 times. So the more walks you take, the more you can cut down your at-bats, the better off you are. Even if you don't get a hit that day, keep going and having quality at-bats like he's doing and good things will come to him."
Bryant was the first Cubs player to christen the new left-field bleachers with his home run in the first inning Monday.
"That was fun," Bryant said. "Hitting the first one into the new bleachers was cool and just having fans out there is pretty cool to see. I haven't played a game here yet with people out there, and they definitely were pretty rowdy out there."
Tuesday was his 24th big league game, and Bryant ranked second on the Cubs in on-base percentage and was third in RBIs.
"I felt more comfortable after the first day to get all the hoopla out of the way and have fun," Bryant said. "It's definitely a whole lot more comfortable. Seeing some [pitchers] for the second time and how they're pitching me, it's still kind of the cat-and-mouse game -- they're trying to figure me out and I'm trying to figure them out. I think it'll be that way the whole season."
Carrie Muskat is a reporter for MLB.com. She writes a blog, Muskat Ramblings, and you can follow her on Twitter @CarrieMuskat. This story was not subject to the approval of Major League Baseball or its clubs.