Confident Duffy comes through with 5 RBIs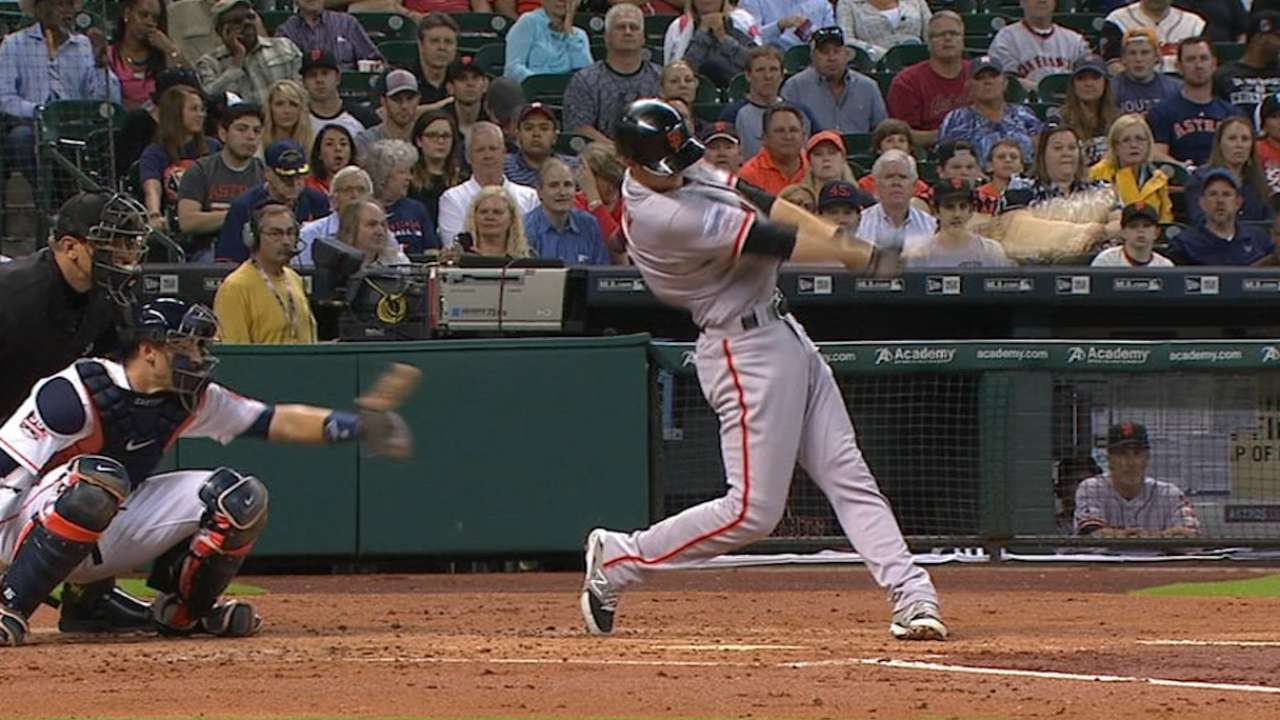 HOUSTON -- Matt Duffy's ability to thrive in meaningful situations seems extraordinary. Yet to Duffy himself, nothing about his clutch productivity strikes him as strange at all.
Duffy maintains a cool, efficient mindset that minimizes fear and stress. It helped him for the second game in a row Tuesday, as he drove in five runs to lead the Giants to an 8-1 triumph over the Houston Astros.
Facing Astros starter Collin McHugh, who entered the game with an 11-decision winning streak, Duffy opened the scoring in the second inning with a bases-loaded double before delivering a two-run single that capped a five-run, fifth-inning outburst. His efforts were directly responsible for the Giants ending their season-opening stretch of 32 games without exceeding six runs. It was the longest such streak in franchise history since 1914.
Duffy, who totaled a career-high three hits, also became the first Giants rookie to collect five RBIs in a game since Buster Posey accomplished the feat on July 7, 2010, at Milwaukee. Duffy maintained the magic that he wielded Sunday, when his ninth-inning single drove in the winning run against Miami.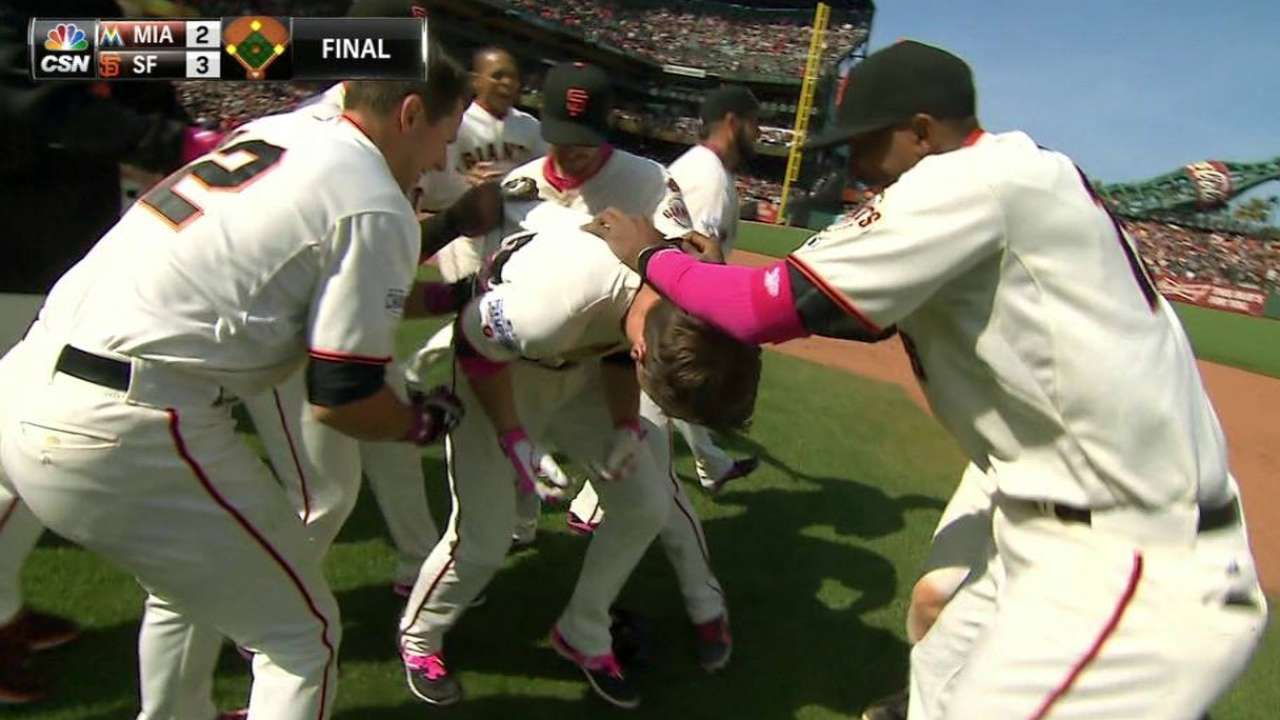 With 15 RBIs, Duffy is tied with Justin Maxwell for second on the team. Brandon Crawford has 17. Duffy also is 10-for-22 (.455) with runners in scoring position -- and, more impressively, 7-for-12 (.583) with two outs in those situations.
Tuesday, Duffy connected with the first pitch to deliver his big hits. But he has proven just as capable of prolonging an at-bat. He's ready to unleash his swing at any time.
"My approach always starts with seeing the ball well," Duffy said. "That's the most important thing in a situation -- see it up, put a good swing on it and try to keep it as simple as possible."
Duffy explained that his self-assurance stems from his knowledge that he has prepared himself to handle pressurized plate appearances.
"I don't necessarily have the physical tools that some guys have that I'm going up against," Duffy said. "I have to try to be as confident as possible. I get that from putting as much work in as I can. A lot of that work is mental."
Having wrested the Giants' super-utility man role from Joaquin Arias, Duffy is earning more time in the lineup. Having replaced third baseman Casey McGehee on Tuesday, he'll start at second base Wednesday for Joe Panik, who's nursing a sore hip.
McGehee's batting .179 overall, including .167 (6-for-36) in his last 11 games. Those figures contrast with the .264 average he compiled in five seasons entering this year and the .287 average he recorded in 2014 with Miami. Though Duffy might continue to replace McGehee occasionally, manager Bruce Bochy wasn't ready to name a new primary third baseman. That role still belongs to McGehee.
"Casey's a veteran. He'll get it going," Bochy said. "I'm going to try to keep mixing him in there until he gets on a roll."
Chris Haft is a reporter for MLB.com. Read his blog, Haft-Baked Ideas, follow him on Twitter at @sfgiantsbeat and listen to his podcast. This story was not subject to the approval of Major League Baseball or its clubs.