Martinez hits snag in allowing first home run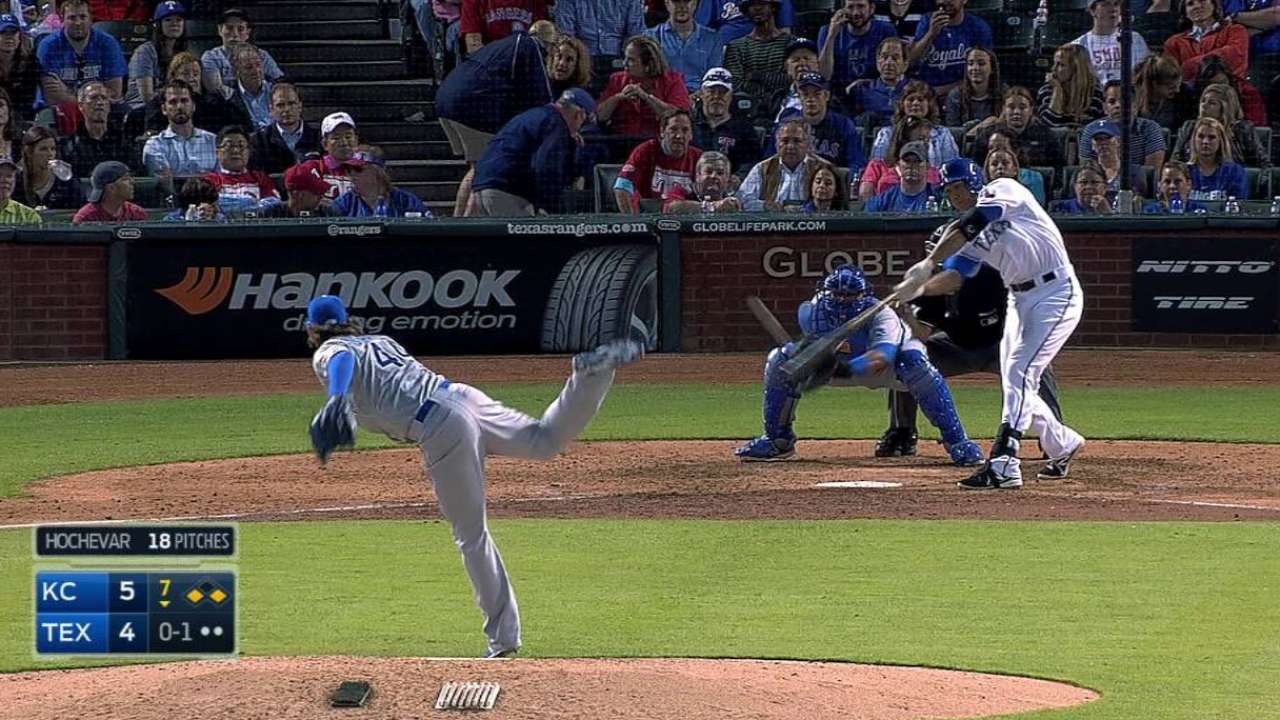 ARLINGTON -- After an idyllic start to the season, Rangers right-hander Nick Martinez finally ran into a roadblock in a 7-6 extra-inning loss to the Royals on Tuesday night.
It was the first time in Martinez's seven starts this season that the Rangers have lost. Martinez went 6 1/3 innings and allowed four runs -- three earned -- on six hits. He also walked a batter and struck out four in a no-decision.
The outing raised Martinez's ERA from 1.47 to 1.88, but he's still 2-0 and delivered a performance that manager Jeff Banister was comfortable with.
"I felt Nick threw the ball well," Banister said. "Moved the fastball around. The secondary pitches, he didn't get in the zone as well as he would like. We'll go back and look and analyze the pitches. There were some close pitches we felt they were going swing at that they didn't. That's a good ballclub."
Eric Hosmer's second-inning solo homer was the first home run allowed by Martinez this season. His 38 2/3 innings without a homer was the longest stretch in the Majors.
"I didn't miss, but I think it was the wrong sequence," Martinez said. "It was a 3-1 fastball. Location was where I wanted it, but he's the type of hitter where he's hunting fastballs, and he was all over it."
Regardless, Martinez looked solid through the first five innings, fooling Royals hitters with breaking balls and spotting his fastball. But in the sixth inning, with the heart of the Royals' order up for the third time, something finally gave.
Lorenzo Cain led off with a double and scored on a Hosmer single. Kendrys Morales followed with a double that scored Hosmer and tied the game at 3.
The Royals picked up an unearned run later in the sixth after an errant throw by shortstop Elvis Andrus allowed Salvador Perez to reach base and moved Morales to third. Omar Infante's sacrifice fly scored Morales with a go-ahead run.
"They hit my mistakes," Martinez said. "That's how they scored in that sixth inning. Had I made my pitches, it might have been a different outcome."
Despite the troubles, Martinez came back out in the seventh and struck out Alcides Escobar before getting pulled in favor of left-hander Alex Claudio, who gave up a homer to Mike Moustakas.
Martinez wasn't dominant, but he nonetheless delivered a quality start before handing matters over to a bullpen that couldn't quite get the job done in a hard-fought game.
"I thought I did well," Martinez said. "They capitalized on a few of my mistakes, but good teams are going to do that. You gotta find a way to keep fighting and do your best, try to go deep in the game and hopefully have the best chances."
Cody Stavenhagen is an associate reporter for MLB.com. This story was not subject to the approval of Major League Baseball or its clubs.