O'Sullivan makes dazzling play but takes loss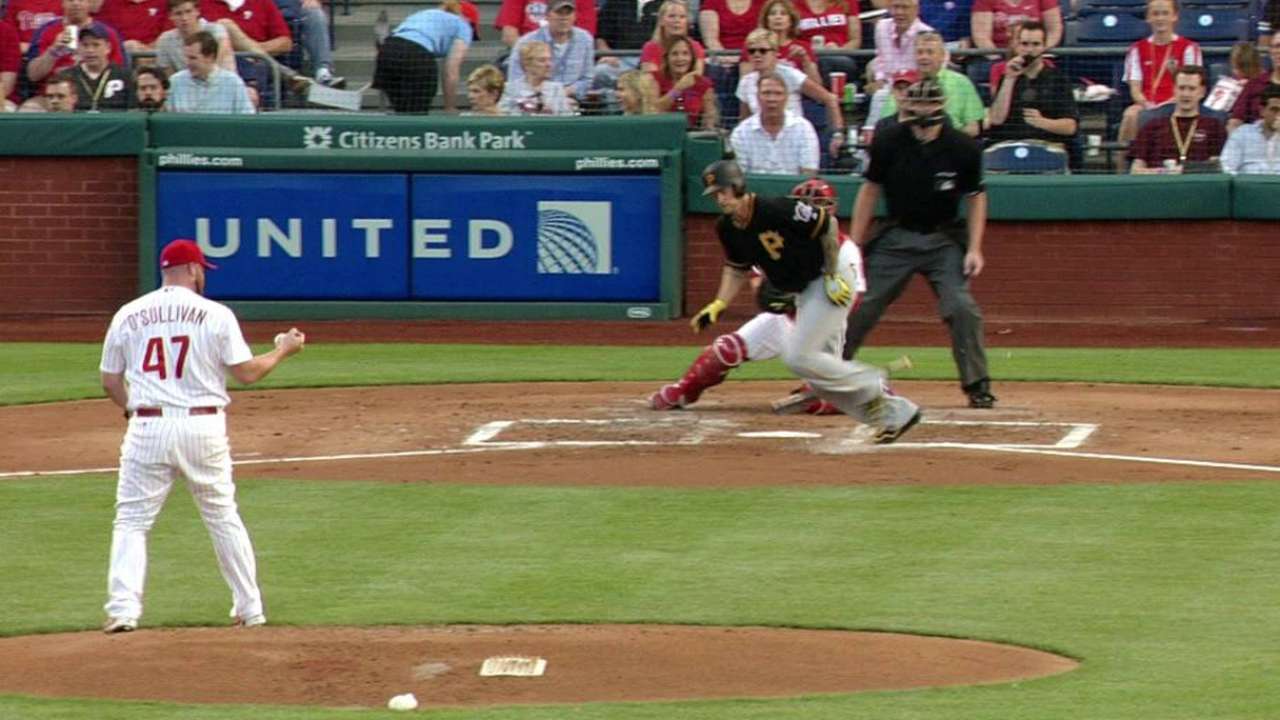 PHILADELPHIA -- Sean O'Sullivan picked up pretty much where he left off.
After missing nearly a month due to injury, O'Sullivan came off the disabled list Tuesday and lost his ninth straight decision dating back to 2011 as the Phillies lost 7-2.
He threw 88 pitches in five innings of work, allowing three runs, striking out two, walking one and hitting one batter. All three of the runs he allowed came on a home run by Josh Harrison in the fourth inning.
Despite the runs he allowed and his relatively advanced pitch count, O'Sullivan said he didn't just feel well, but he felt well enough to go back in for another inning.
"I was lobbying for them to send me back out there in the sixth, but they didn't want to stretch me too thin on my first game back," O'Sullivan said. "I only went 72 pitches or so in the rehab start. Hopefully next one they let me go full board."
The right-hander's performance Tuesday night didn't deviate too far from what he had done in his starts prior to the injury.
He threw the fewest number of pitches he had all season, but was just three pitches away from tying his season high. His three runs allowed sat nicely between the two he allowed in his first start and the four he allowed in his second start. He even hit a batter, something he did in both of his April starts as well.
But while O'Sullivan's numbers matched up well with his past outputs, his demeanor did not. When reflecting on his day, O'Sullivan mentioned that he succumbed to a few jitters early.
"I think a little bit [of jitters] in the first inning," O'Sullivan said. "But that may have been a little bit of over-anxiousness, you know first game back. I was fine the rest of the game."
O'Sullivan traded his first-inning anxiety for quick reactions in the second, as his most favorable highlight of the night came on a comebacker off the bat of opposing starter and former teammate A.J. Burnett.
Burnett half-swung at a pitch and sent it right back at O'Sullivan, who, having to react quickly, stuck his throwing hand in front of the ball and recorded the out.
The funny thing was, catching the ball wasn't even O'Sullivan's intention.
"I didn't really see what happened until I looked down and the ball was in my hand," he said. "It was just one of those things where I wasn't going to be able to get the glove to it, so I just stuck my hand out trying to just knock it down and I held on to it."
O'Sullivan said his hand felt fine after the catch, as did the knee he had injured. But despite how well O'Sullivan said he felt, Phillies manager Ryne Sandberg said he wouldn't be surprised if it took his starter a few more games to look 100 percent.
"Well, this was his first time pitching in a few weeks so I would imagine there was a little bit of rust there," Sandberg said. "We'll see how he does next time."
Nick Suss is an associate reporter for MLB.com. This story was not subject to the approval of Major League Baseball or its clubs.