Royals taking increased plunkings in stride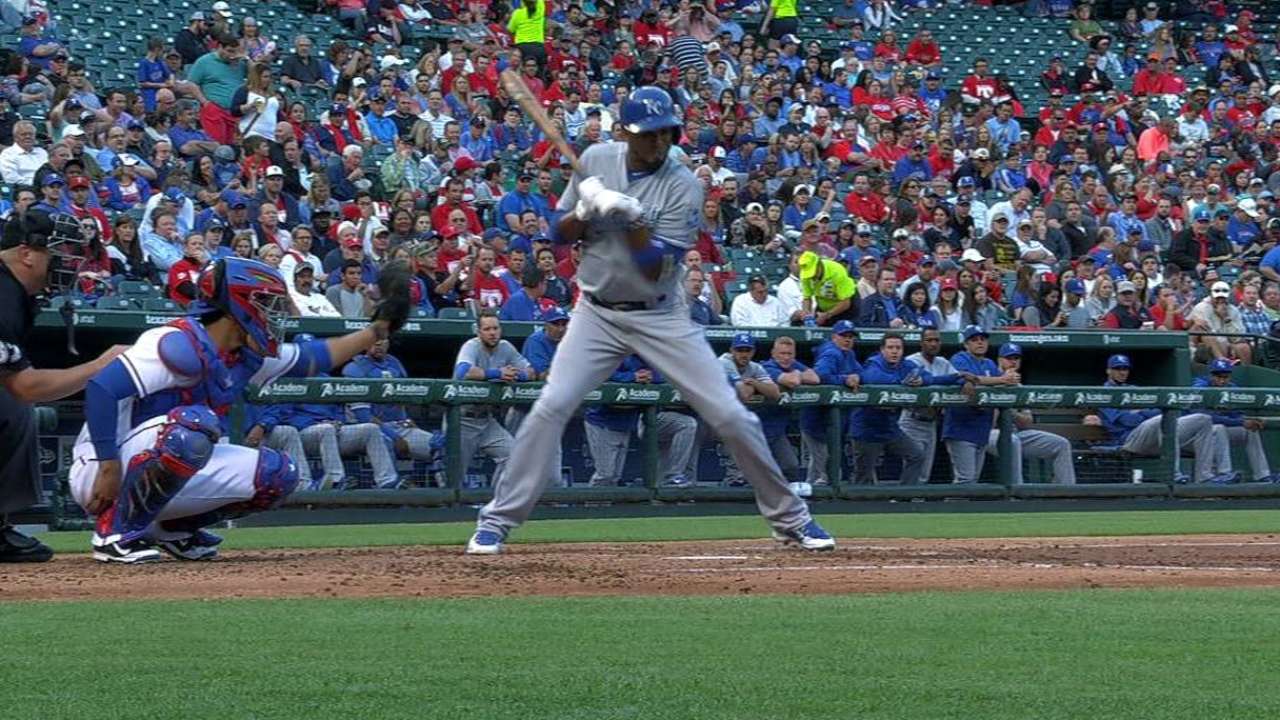 ARLINGTON -- Alcides Escobar got drilled on the left forearm by a fastball from Rangers starter Colby Lewis in the fifth inning on Monday night, the 25th time in 32 games that a Royals batter was hit by a pitch this season.
It took 81 games, the halfway point, for a Royals hitter to get plunked for the 25th time last season. Escobar was also hit by a pitch in the third inning of Tuesday's 7-6 win in 10 innings, running the season total to 26.
What in the world is going on here, you ask? Nothing, the Royals said before Tuesday's game against Texas.
"They're just trying to pitch us in a little more," manager Ned Yost said. When asked if it's anything more than that, Yost said, "Not really, for the most part."
Three Royals rank in the top seven among American League batters that have been hit -- Alex Gordon is leading with nine, Mike Moustakas is tied for second with six and Lorenzo Cain is tied for sixth with four.
The Royals are three hit by pitches ahead of the Rangers for the most in the big leagues.
"Pitchers who want to pitch inside don't want to miss over the plate," Moustakas said. "We don't think we're getting thrown at. Maybe a few times we've thought so."
The Royals were involved in dustups during a series with Oakland April 17-19 that involved several hit batters. And there were two April series against the White Sox that involved even more hit batters.
Gordon has taken the brunt of the punishment, taking 36 percent of the plunkings. His teammates said on Tuesday that Gordon can handle it.
"Alex is probably one of the toughest guys in baseball," Moustakas said. "He plays through injuries.
"Most of the time you don't have time to get out of the way," Moustakas said. "So you might look tough, but I don't care what people say, it still hurts."
Cain, who entered Tuesday tied for 10th in the American League with a .319 batting average, said it's the most he can ever remember getting hit.
"We've just got guys who can swing the bat," Cain said. "We're a very aggressive team."
Worth noting
• The Royals dropped their second straight series opener on Monday night in an 8-2 loss to the Rangers. Kansas City had won their first nine series openers this season, the longest such streak since Milwaukee did it in 1987.
• Kansas City entered Tuesday with a 2-8 record when held under four runs.
Todd Wills is a contributor to MLB.com. This story was not subject to the approval of Major League Baseball or its clubs.