MLB.com Columnist
Fred Zinkie
Fantasy Twitter Q&A: What is Correa's value?
MLB.com fantasy guru Fred Zinkie fields questions from fans at @Fantasy411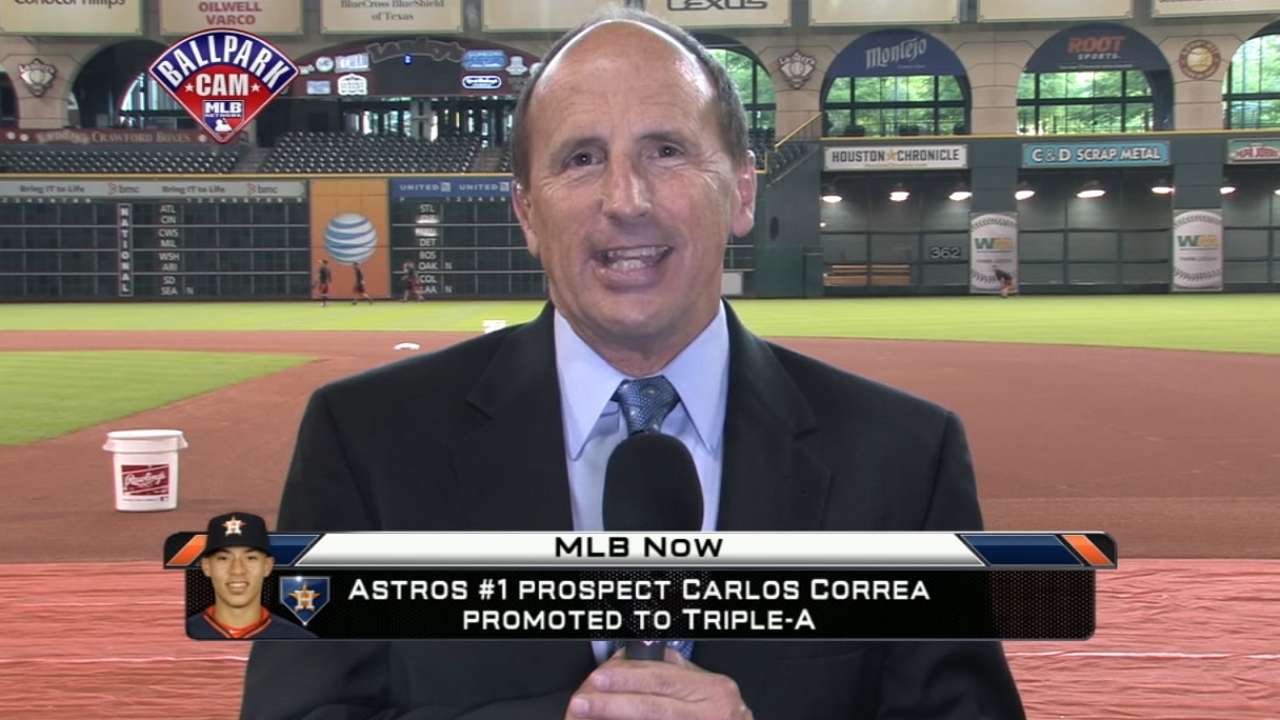 MLB.com fantasy guru Fred Zinkie fielded questions from fans during a live Twitter chat at @Fantasy411 on Tuesday. Check out the chat transcript below and check out the @Fantasy411 Twitter handle and MLB.com's fantasy home. Questions and answers have been edited for clarity.
Question: @fntsybballlguru Are Russell Martin and Danny Salazar too much to give for Corey Kluber?
Fred Zinkie: They aren't. But you may want to stick with your pair if you don't have another good catcher.
Question: @hey_bisen_14 I can only start two: Ian Kennedy, Carlos Martinez, or Carlos Carrasco? A limit of 12 pitchers a week.
Zinkie: In general, bench Martinez. But play the matchups each week.
Question: @genesdbacks Jay Bruce is off to a super slow start -- is it time to trade?
Zinkie: Probably best to bench him. His trade value is low right now.
Question: @SpiritofBronson What should I do with Carlos Martinez? Is he droppable for Carlos Correa or Maikel Franco? Have a pretty solid staff without him. 12-team h2h.
Zinkie: With strong pitching, you could drop him for either prospect.
Question: @BrittonGray Pick up Ubaldo Jimenez and drop Andrew Cashner?
Zinkie: No. Cashner should be a fairly stable starter.
Question: @sidemenxhockey Should I trade David Ortiz, Hanley Ramirez or both because Boston isn't doing well, or should I wait on them?
Zinkie: Boston's offense could get going at any time. Keep both.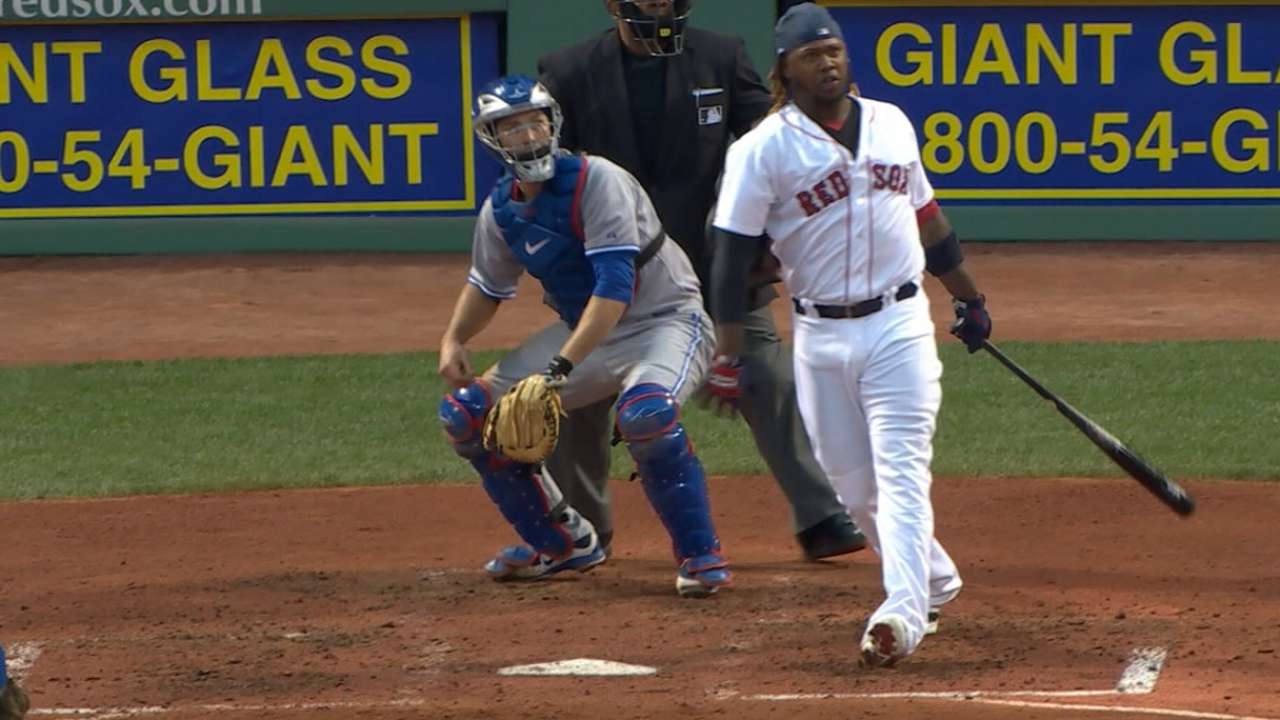 Question: @glenwarrick4 Who is an OF I could trade Corey Kluber for? And who is a player I could trade Chris Sale for?
Zinkie: Don't sell low on those starters. Sale=3rd round OF. Kluber=4th round OF.
Question: @jmessex25 Expectations for Noah Syndergaard tonight against the Cubs?
Zinkie: He could hit the ground running. Long-term role is uncertain, though.
Question: @pwombacher1078 Which Marlins RP are you adding as Steve Cishek continues to struggle?
Zinkie: A.J. Ramos should be owned in all leagues. Mike Dunn and Bryan Morris in NL-only.
Question: @bigsullyt Someone offered me Josh Reddick, Matt Holliday, Huston Street, and a 6th rounder for Jose Bautista, Dellin Betances, Carlos Gomez, and a 3rd rounder. Take it?
Zinkie: No. Stick with your studs. Gomez and Bautista will likely have great stretches.
Question: @tonycaruso6 Better long-term guy: Maikel Franco, Rusney Castillo, Corey Seager or Carlos Correa?
Zinkie: For future seasons, Correa and Seager. For 2015, Castillo.
Question: @CDub1519 Hold or drop J.D. Martinez? Thanks!
Zinkie: Hold if possible. The power is still there. You could bench him for now, though.
Question: @saurabhtaneja15 Michael Brantley for Mark Teixeira and Brandon Moss?
Zinkie: Stick with Brantley. He is a consistent, five-category contributor.
Question: @Ynal_Alouri Kenley Jansen is available in my league, should I snag him before it's too late?
Zinkie: Yes. Jansen should be owned in all leagues. Could be a top-tier closer by the end of May.
Question: @tuckmay47 C.J. Wilson or Dan Haren?
Zinkie: Similar value. Go with Haren, who should supply lower ratios.
Question: @brianle53115041 Trade Jacoby Ellsbury for Jose Bautista in 10-team roto league? I'm leading steals and runs and middle of the pack in BA, HR and RBI.
Zinkie: With Bautista ailing and Ellsbury thriving, you could probably do a little better.
Question: @Ynal_Alouri Should I pick up Ben Zobrist or Carlos Correa and drop either Brandon Moss, or Adam Lind? Or hold the two and wait?
Zinkie: Depends how important Moss/Lind are to you. If they are starters, stick with them. Production in May is important!
Question: @DAck_34 Picked up Carlos Correa. I have Ian Desmond and Xander Bogaerts. Trade Desmond for a good SP? Rest of offense is solid enough if Correa struggles.
Zinkie: That's a fine idea, if you can get an ace for Desmond.
Question: @witterman Can I drop Carlos Gonzalez yet?
Zinkie: CarGo is a big-name player. Before dropping, explore the trade market.
Question: @junxchung Head-to-head, rank J.J. Hardy, Zack Cozart, Marcus Semien, Carlos Correa, Addison Russell.
Zinkie: For 2015, Semien, Correa, Hardy, Cozart, Russell.
Question: @MancieRaines Got offered Anthony Rizzo, Carlos Gonzalez, Ian Kinsler for Adrian Gonzalez and Devon Travis. I'm loaded at OF, but should I take it anyway?
Zinkie: Yes, take it. Trade for value in the first half, need in the second half.
Question: @junxchung Rank Kenley Jansen, Joakim Soria, Jeurys Familia, John Axford, Brett Cecil.
Zinkie: Jansen, Soria, Familia, Cecil, Axford.
Question: @PG3Phil Crazy to have turned down a package of Sonny Gray, Maikel Franco and A.J. Pollock for Joc Pederson? 15-keep dynasty league.
Zinkie: That is a really good package. Joc is great, but you could take a second look.
Question: @mmledz Deal Eric Hosmer or Adrian Gonzalez for Stephen Strasburg? Can I trust the health/production of Strasburg?
Zinkie: Strasburg has enough upside to make him worth the risk. Trade Hosmer for him.
Fred Zinkie is the lead fantasy baseball writer for MLB.com. Follow him on Twitter at @FredZinkieMLB. This story was not subject to the approval of Major League Baseball or its clubs.