Hahn seeks blend of youth, veterans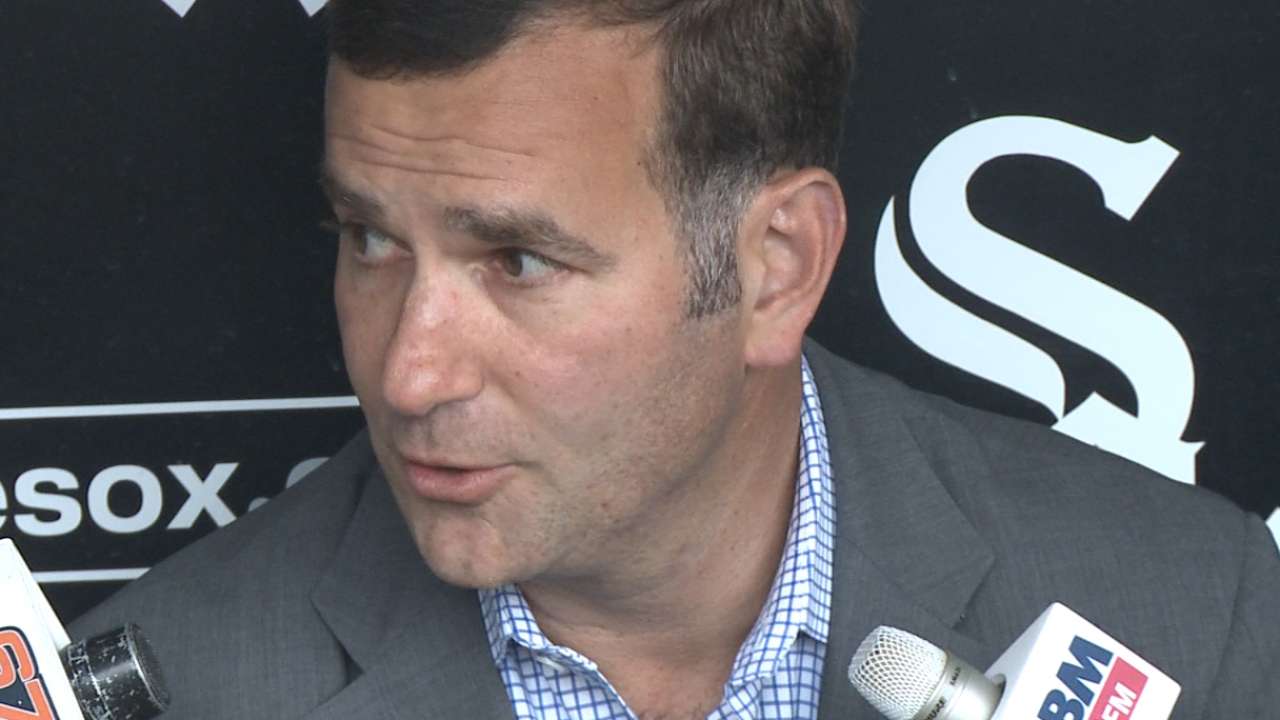 MILWAUKEE -- For the White Sox to be a contender in 2015 but also well beyond this season, they need such players as Micah Johnson to succeed. They want young, homegrown talent to supplement the veteran additions to help keep the organization on solid footing on a yearly basis.
Johnson continues to be a work in progress in terms of improving his defensive skills at second base, and he has improved them since as recently as Spring Training. But general manager Rick Hahn also understands the balance between developing a dynamic young talent and dealing with a few growing pains as part of a contending team.
"It's important for us to build something sustainable to introduce our own young talent on a pretty much annual basis," Hahn said. "The Braves did that on that long run of theirs, every year adding a homegrown piece that became a mainstay to their core as it evolved. That's where we want to get to.
"We anticipate and hope we're going to follow a model like that and have our own homegrown talent integrated in. At no point do we expect those guys to carry the load, so to speak."
Carlos Sanchez, a steady defensive presence at second, is hitting .369 for Triple-A Charlotte. Having Sanchez and Johnson ready at the same spot will be a good problem to have.
"We'd much rather have options, especially at premium positions, and Carlos is doing a great job," Hahn said. "If and when the need arises in Chicago, we know that Carlos at the very least will provide quality defense and be a tough out.
"There are some elements of Micah's game you can't replicate -- the pressure he puts on a defense in the way he's able to disrupt a pitcher's rhythm, which helps the hitters behind him when he's on base. That is why he's here now and he's the right guy."
• Hahn certainly doesn't see a difference in the hard work put in by the White Sox at home, where they are 10-5, compared with the road, where they were 2-12 entering Tuesday. He wants to see better results.
"Obviously, I was very pleased to see the fight in the club to battle back last night and make it a ballgame in the end. But we need to start playing more consistently on the road," he said. "There are no two ways about it.
"You guys who are with us regularly see how hard these guys work at home and on the road, how early guys are here and how much effort is involved and how the preparation isn't much different at home than it is on the road, but the results have been. Now is the time to get going."
Scott Merkin is a reporter for MLB.com. Read his blog, Merk's Works, and follow him on Twitter @scottmerkin. This story was not subject to the approval of Major League Baseball or its clubs.