Verlander throws 25-pitch bullpen session
Reliever Rondon throws 15-20 pitches as both hurlers continue rehabs
DETROIT -- Justin Verlander got back onto the bullpen mound at Comerica Park on Tuesday and threw 25 pitches in what he and manager Brad Ausmus called a light bullpen session. Bruce Rondon followed and threw about 15-20 pitches, by Ausmus' estimate.
For both pitchers, it was a small but important step in getting back from the injuries that have sidelined them since the start of the season. Even as Verlander grows a little weary of the daily updates, he acknowledges progress in increments.
"It's just another step that needs to happen for me to get back out there," Verlander said. "I think a big indicator will be -- and I hate to say this, because it means you guys will ask me tomorrow -- how my arm responds. Because going through the process [last month], I noticed that I was able to do almost everything I wanted, throwing-wise, but once I really threw an exaggerated bullpen or the simulated game, it was the day after when I noticed the difference. So it's something I'll be cognizant of moving forward."
Verlander, sidelined since the end of March with a right triceps strain, threw fastballs, changeups and sliders off the mound. The only pitch he hasn't thrown yet is the curveball, which is the one that gave him trouble when he threw to hitters on April 15 in Pittsburgh.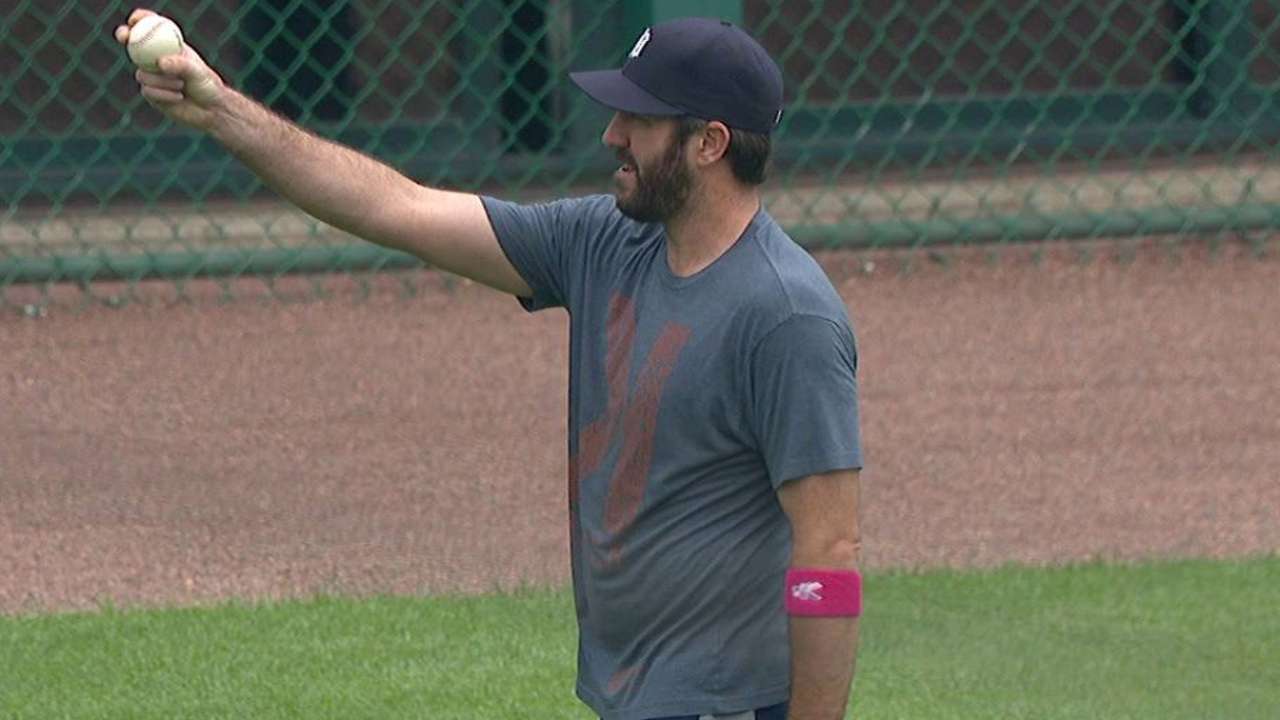 "We've been here before," Ausmus pointed out, "so I'm optimistic, but cautiously so. We've been here before where he felt good off the mound but just couldn't get past that facing-hitters phase. But he looked good today, looked free and easy, arm was good, said he felt good, no irritation or pain.
"All signs are pointing in the right direction, but I want to see him get over that last hump before we get him into games."
The next hump is a more intense bullpen session, which hasn't been scheduled yet but could come soon depending on how Verlander feels on Wednesday.
Rondon, who went on the disabled list with right biceps tendinitis at the end of Spring Training and has had flareups since, threw fastballs and changeups. He has thrown sliders -- a big pitch for him considering the Tommy John surgery he underwent last year -- off flat ground.
"He wasn't blowing it out [with the fastball]," Ausmus said, "but it still looked pretty firm."
Rondon, too, has been at this point before, throwing off the mound with no problem before soreness has sidelined him. A setback preceded his return last week to Detroit, where officials with the big club could get a firsthand look at his process and challenges.
Jason Beck is a reporter for MLB.com. Read Beck's Blog and follow him on Twitter @beckjason. This story was not subject to the approval of Major League Baseball or its clubs.