Francona talks to players about outfield logjam
Manager knows there may be frustration among guys used to being in lineup every day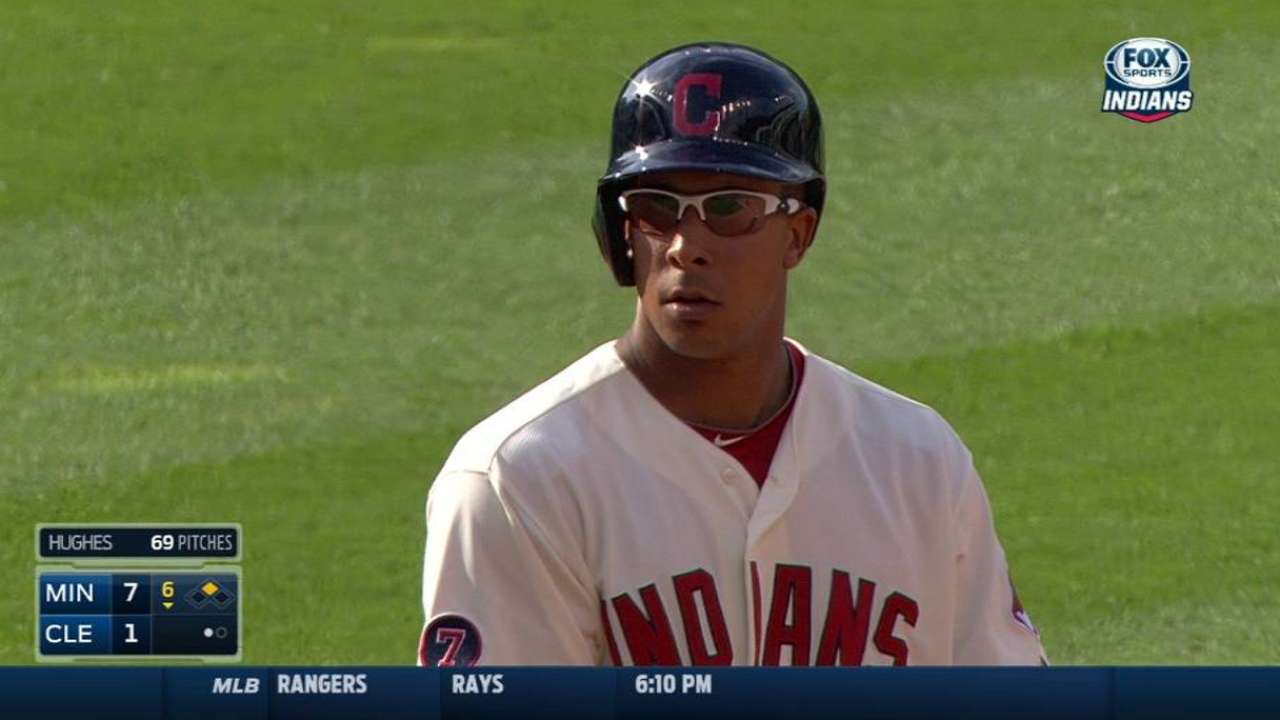 CLEVELAND -- Indians manager Terry Francona does not want each day's lineup to come as a surprise to any of his players. With a surplus of outfielders at the moment, though, balancing the playing time has become slightly problematic.
Cleveland has primary outfielders in Michael Brantley, Michael Bourn, Brandon Moss, David Murphy, Nick Swisher and Ryan Raburn. Due to the current circumstances, Francona had a meeting with each of the affected outfielders prior to Tuesday's game against St. Louis.
"I just said, 'Hey, look, as we're constituted now, there's an extra bat,'" Francona explained. "I said, 'I have an obligation to do what I think is best for the team, and also to communicate with you guys. And I'm going to ask you in return to try to be respectful of our team,' because a lot of these guys have never had to look at the lineup before."
"They're going to be asked to handle some things that maybe they never have had to before," he later added. "It doesn't have to be the end of the world. Nobody is going to sit very much, because you've seen, all our guys play. But it is maybe a little different for some of these guys, and I just wanted to let them know that I'm aware of it, and I care."
While the designated-hitter role helps divvy up the at-bats, Francona can only do so much with the other spots. Brantley is a lock to play either left or center field on a daily basis. On Tuesday, for example, Brantley shifted to center, allowing Murphy to play left and Moss to handle right, while Swisher served as the DH.
"Somebody's going to sit," Francona said. "And I don't want to just do it on a rotation, because, OK, that might be fair or whatever, but that doesn't necessarily put us in the best position to win that night. So, I just wanted them to hear that.
"I'm hoping and I'm confident that all the things that we believe in, and the foundation we've built, will get us through potentially what could be frustrating a little bit for guys, and they'll handle it. I really believe that. I believe in them, but I also think sometimes you need to explain things."
Worth noting
• Left-hander TJ House (on the 15-day disabled list due to inflammation in his throwing shoulder) threw a side session on Tuesday. If he bounces back well on Wednesday, House might be cleared to throw three innings either in a simulated setting or on a Minor League rehab assignment.
• Francona said he has seen progress at the plate from Bourn, who had a .306 average in his past 12 games, entering Tuesday. The manager said he is looking at matchups each day and offensive trends with the other outfielders, while determining whether the veteran center fielder will be in the starting lineup.
Jordan Bastian is a reporter for MLB.com. Read his blog, Major League Bastian, follow him on Twitter @MLBastian and listen to his podcast. This story was not subject to the approval of Major League Baseball or its clubs.