Wieters catches full extended spring game
Showalter targets June 4 for return; star backstop considers bat unaffected by injury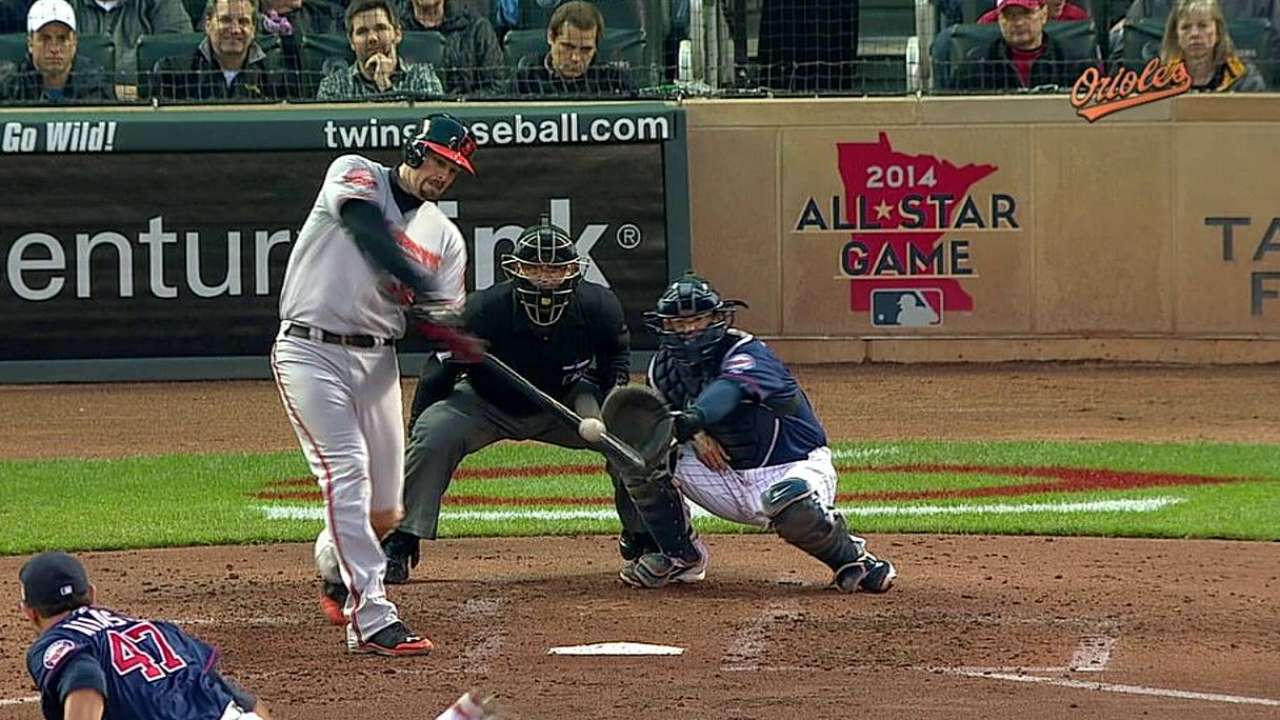 SARASOTA, Fla. -- The Orioles are hoping catcher Matt Wieters can rejoin the club on June 4, the first day the All-Star is eligible to return.
Working his way back from Tommy John surgery on his right elbow, Wieters caught all nine innings and ripped a single to right-center field during the eighth inning of the Orioles' extended spring game against the Red Sox on Tuesday. Wieters has yet to catch back-to-back games in camp, and manager Buck Showalter said on Tuesday in Baltimore that the club could get Wieters back behind the plate on an every-other-day basis at first.
"I was only going to catch him four out of seven [games] anyway," Showalter said of Wieters, who was transferred to the 60-day disabled list on Sunday. "We may do an every-other-day thing anyway, see how it goes. Let me get to [June 4] first. That's what I'm OK with. Having Matt every other day is better than not having him at all."
The O's original plan for Tuesday's game was to have Wieters catch eight innings, which would have been his longest outing of the season, but he was able to work the full game.
"It's kind of just, 'See how it goes,'" Wieters said of his status. "Get to nine, catch a couple of games and then go from there. It's going to be constantly building. The main thing is having it feel good, and it felt good today, and that's the big thing."

Wieters will take Wednesday off to see how the surgically repaired elbow responds to a full game, and he'll return to the diamond on Thursday, possibly for another nine innings, and again on Saturday. Right now, Wieters plans to be behind the plate every other day in Sarasota before ramping up to consecutive days.

Wieters, who was moved to the 60-day disabled list on Sunday, likened this part of his rehabilitation to the end of a typical Spring Training slate. He's monitoring how he feels after each game in an effort to build up a level of comfort that will let him return in the near future.

Wieters had the procedure done last June 16. Tommy John surgeries -- usually performed on pitchers -- typically require a recovery period of at least one year, and the O's are optimistic he can return behind the plate around the one-year mark.

Wieters said his elbow isn't affecting him at all at the plate -- he went 2-for-4 with two runs scored on Tuesday -- and that he just needs to get his timing down before returning to the Majors.
David Wilson is an associate reporter for MLB.com. Brittany Ghiroli contributed reporting. This story was not subject to the approval of Major League Baseball or its clubs.