Van Slyke piles up highlights vs. Marlins
Outfielder makes great defensive play, hustles to set up run, hits winning homer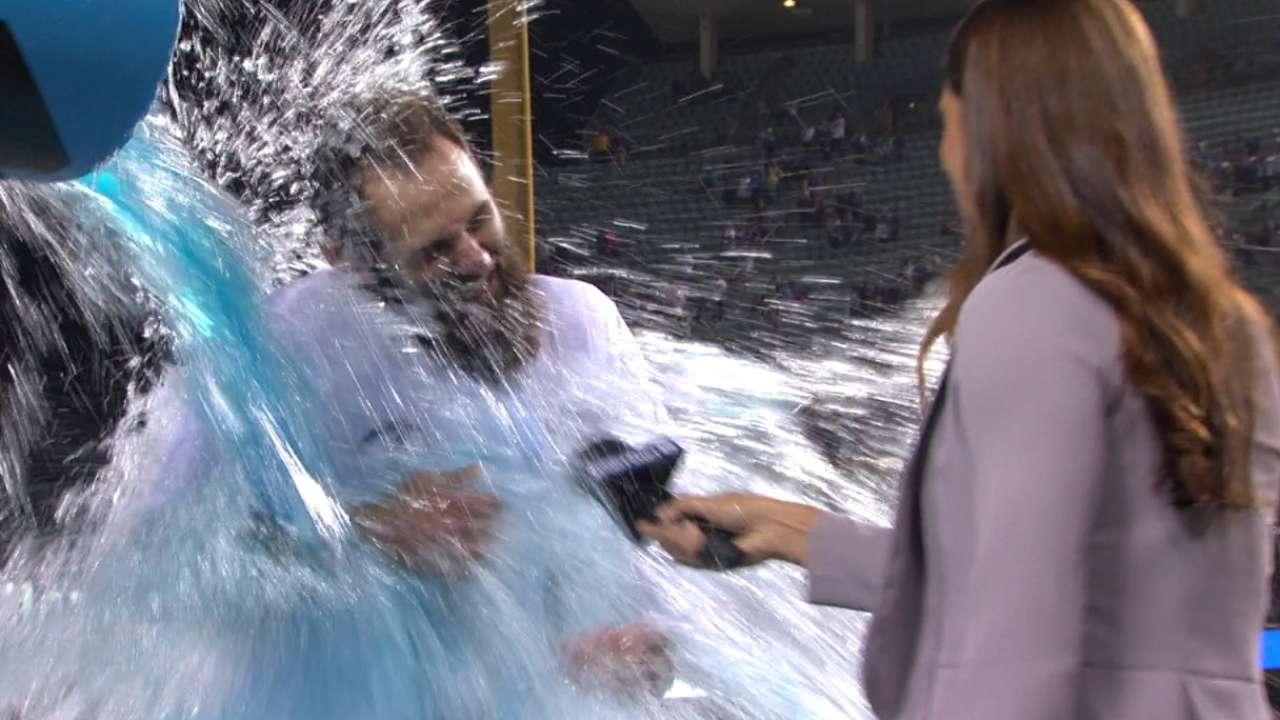 LOS ANGELES -- Manager Don Mattingly apologized Monday night for being late to his postgame media session after the Dodgers' walk-off, 5-3 victory over the Marlins, on Scott Van Slyke's three-run home run, at Dodger Stadium.
Mattingly was in a meeting with outfielder Chris Heisey, who was optioned to Triple-A Oklahoma City to make room for Tuesday night starter Mike Bolsinger. The manager was playfully asked if he was editing a Van Slyke highlight reel.
"Tonight would've been a good night for it," Mattingly said.
Van Slyke not only turned defeat into victory with his swing in the ninth off Marlins closer Steve Cishek, the left fielder made the Dodgers' defensive play of the game in the top of the seventh and added some hustling baserunning in the bottom of the seventh. Van Slyke had three hits and was a triple shy of a cycle.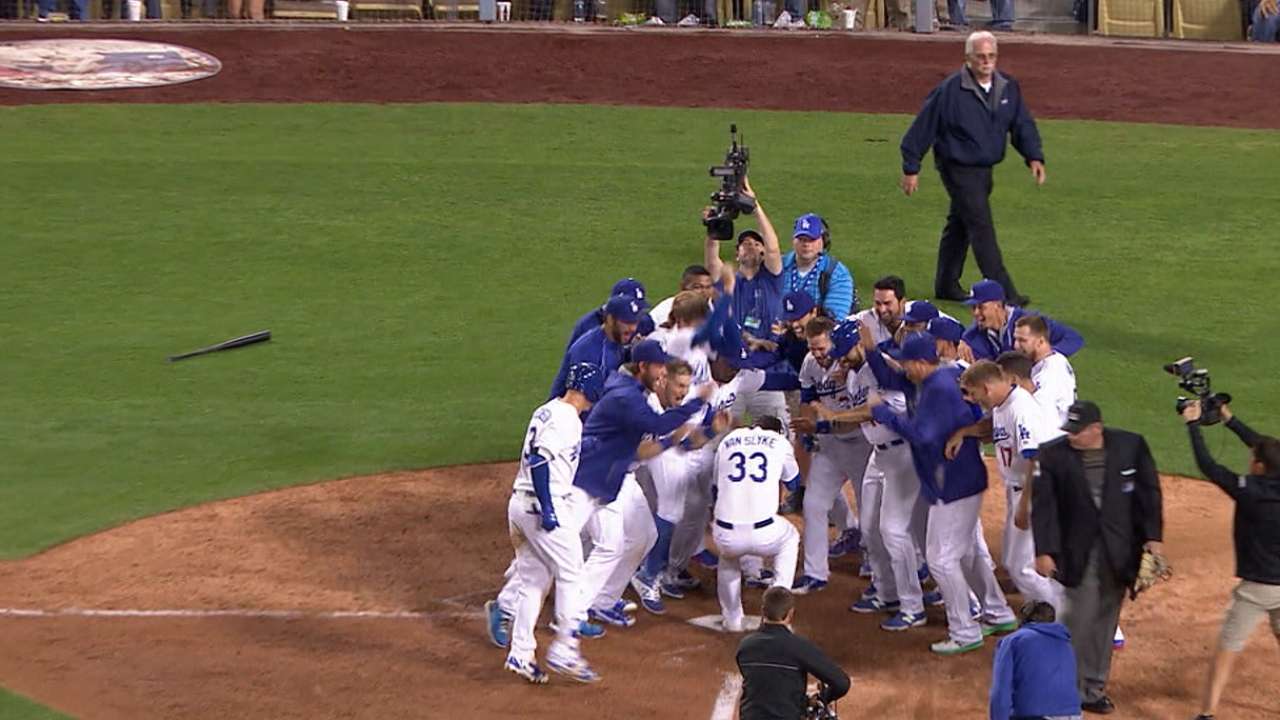 "I was looking hard, up," Van Slyke said of the 1-0 slider from Cishek he launched over the fence in left-center with two on, overcoming a 3-2 Marlins lead. "Luckily he threw me a slider for a ball on the first pitch. I got a good look at it, and then he threw the next one over the plate."
In the seventh, Van Slyke charged a sinking, one-out liner by Adeiny Hechavarria. Van Slyke gloved it and let fly a perfect strike to catcher Yasmani Grandal, who tagged a sliding Christian Yelich for an inning-ending double play. It kept the Dodgers even at 1, after the Marlins' Marcell Ozuna had touched Dodgers starter Zack Greinke for an equalizing home run earlier in the inning.
"When I let it [the throw] go, I knew it would be on line," Van Slyke said, "but I didn't know how well I threw it, because I had to throw it on the run."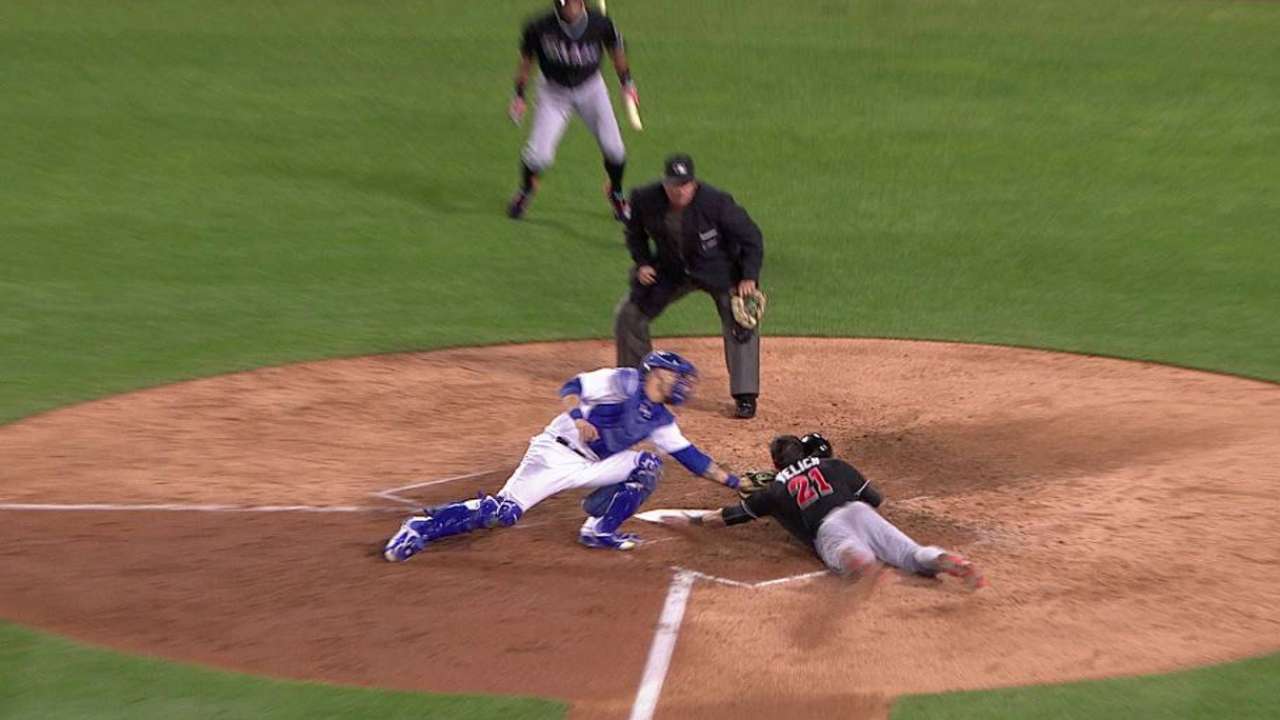 In the bottom of the seventh, with one out, Van Slyke dunked a single into left-center. Yelich bobbled the ball for an error, and Van Slyke -- admittedly, not the fleetest of foot -- hustled into second with a headfirst slide. An out later, Van Slyke scored a go-ahead run on Joc Pederson's two-out RBI single.
"After that [defensive] play, he got another hit," Greinke said. "I said, 'It looks like Scott's night.' He always does well in the outfield. I don't think he gets enough credit for it. He did a nice job out there."
Greinke went seven innings, allowing just the one run on Ozuna's homer. Greinke struck out five, allowed six hits and walked two in seven innings. The third Dodgers reliever, Yimi Garcia, got within two outs of a 6-0 start for Greinke.
But after a strikeout of Giancarlo Stanton and a walk to Ozuna, Yelich hit the Marlins' second first-pitch homer of the night, an opposite-field shot to left off Garcia, for a short-lived one-run Marlins lead.
Earl Bloom is a contributor to MLB.com. This story was not subject to the approval of Major League Baseball or its clubs.