Pierzynski playing key role in Miller's development
Right-hander fans eight over seven innings vs. Reds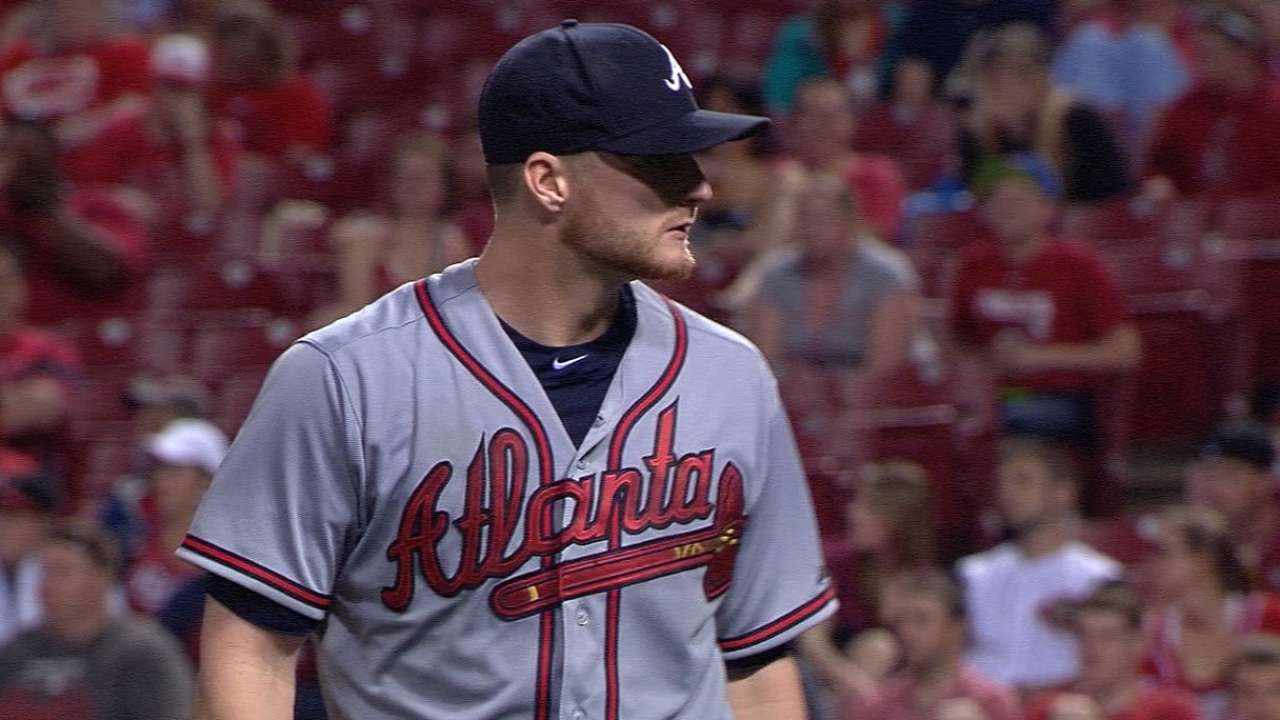 CINCINNATI -- As Shelby Miller exited the Citizens Bank Park bullpen before his Aug. 23 start against the Phillies, he told then-Cardinals catcher A.J. Pierzynski that he was ready to begin routinely throwing the sinker he had developed over the previous couple of weeks with Justin Masterson's assistance.
Now with the Braves nine months later, Pierzynski finds himself still influencing the impressive evolution Miller has made from thrower to one of baseball's top pitchers.
When Miller encountered trouble during the second inning of Monday night's 2-1 win over the Reds, Pierzynski comforted the young Braves pitcher and then saw him quickly regain the dominant form he has displayed throughout the early part of this season.
"He came out and just got me back to where I needed to be," Miller said. "He saw some things with my mechanics and fixed it from there. It's nice to have somebody who I've thrown to for a while who knows your mechanics and knows what to see in the pitcher."
Coming off last week's three-hit shutout of the Phillies, Miller opened Monday night's outing by walking Billy Hamilton, and then uncorked an errant pickoff attempt to an unguarded second base. He escaped that jam unscathed and then limited the Reds to just one run after they loaded the bases with none out in the second inning.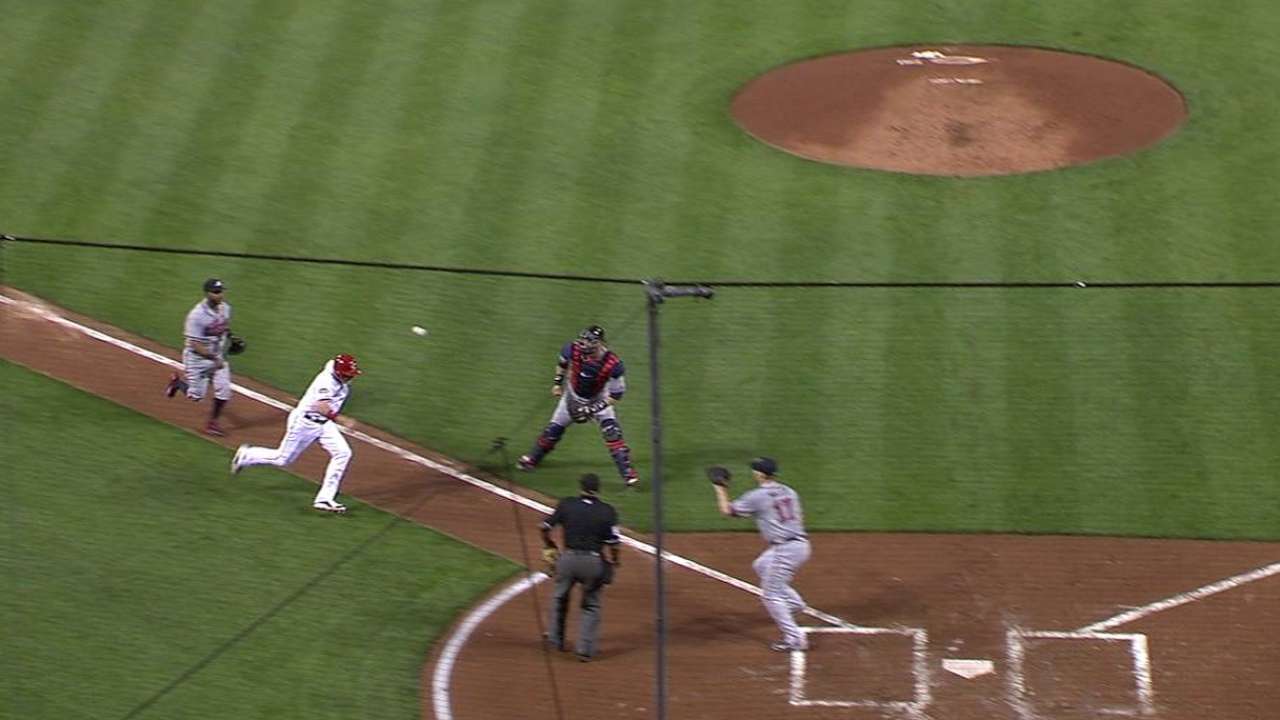 After Miller hit Kristopher Negron with a pitch to load the bases, Pierzynski quickly offered a few words of advice and then saw his pitcher retire each of the next 15 batters he faced.
"He controlled his emotions and did what he needed to do," Pierzynski said. "I wish we could have scored some runs so he could have gotten a win because he deserved it, the way he pitched."
The three hits the Braves recorded off Aroldis Chapman in the decisive ninth inning might not have mattered had Miller not limited the Reds to three hits and just one run over seven innings. This strong 100-pitch effort lowered his ERA to 1.60 through this season's first seven starts.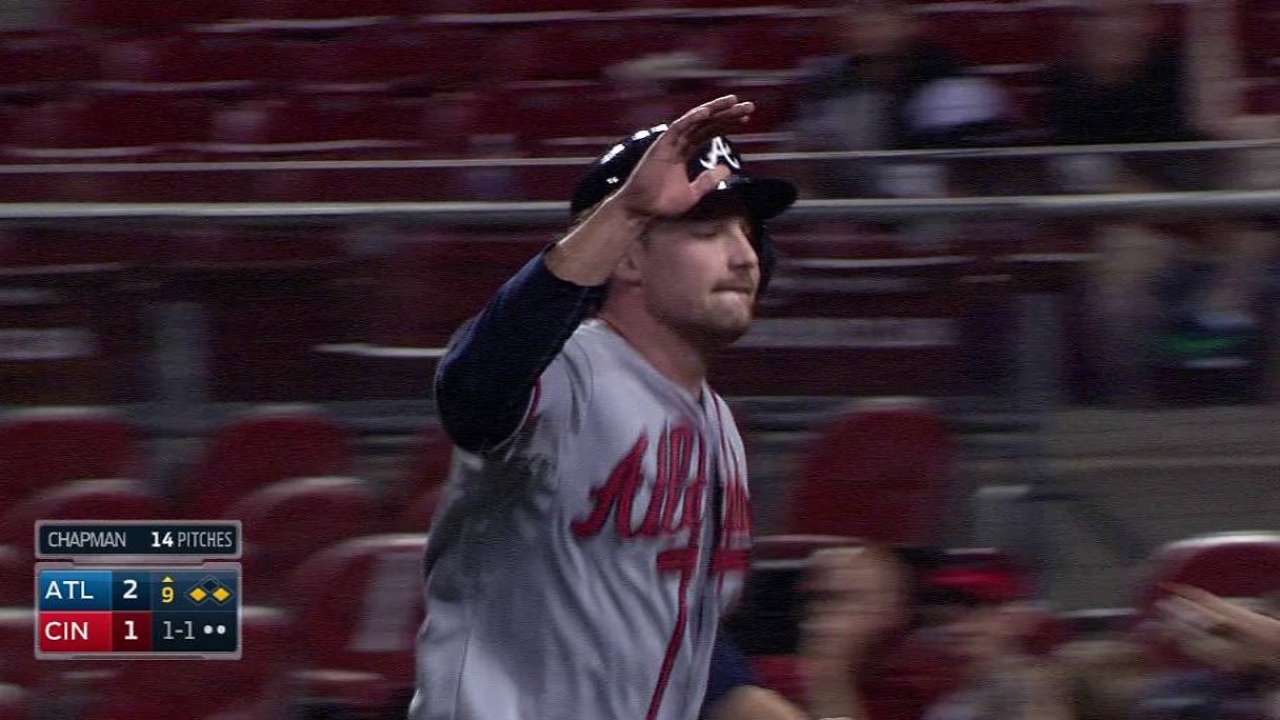 Miller has produced a National League-best 1.83 ERA (min. 12 starts) in the 14 starts he has made dating back to that Aug. 23 outing in Philadelphia, when he and Pierzynski were serving as batterymates for the Cardinals.
"The first two innings I was kind of rushing a little bit," Miller said. "[Pierzynski] saw some things with my mechanics, which was nice. After that we settled in pretty good. I was just trying to put up zeroes. We did a good job of that as well."
Mark Bowman is a reporter for MLB.com. Listen to his podcast. This story was not subject to the approval of Major League Baseball or its clubs.