Barnhart takes responsibility for game-deciding wild pitch
Chapman's errant offering in ninth allows winning run to score vs. Braves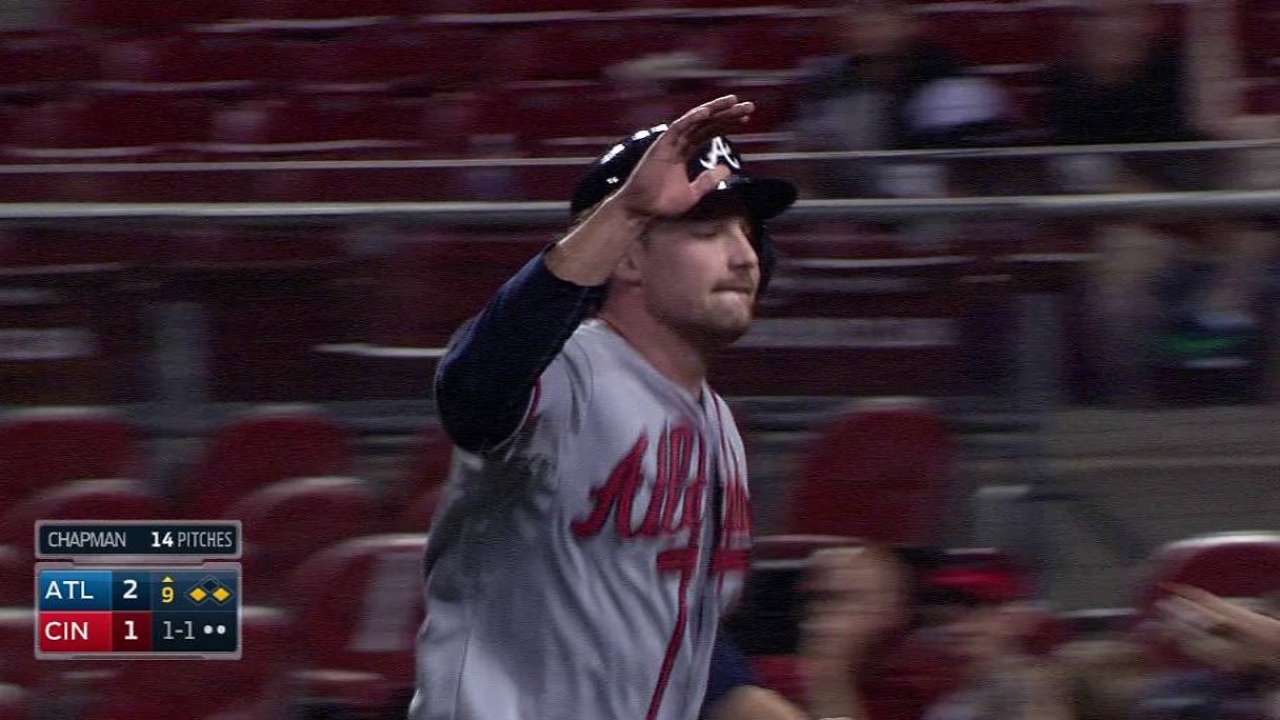 CNCINNATI -- The decisive play of a 2-1 Reds loss to the Braves on Monday went down as a run-scoring wild pitch by closer Aroldis Chapman in the ninth inning. Chapman also has the loss on his record.
But it was catcher Tucker Barnhart who was feeling the full weight of responsibility for the mistake. Chapman's 103-mph fastball outside to Freddie Freeman went through Barnhart's glove, enabling Phil Gosselin to score the go-ahead run that snapped a 1-1 tie.
"I've got to catch the ball, it's that simple," Barnhart said. "That doesn't matter -- 110, 120 [mph], it doesn't matter. That ball has to be caught. There's no excuse."
Chapman, who gave up three straight two-out hits to the White Sox for a 4-3 loss on Sunday, dropped consecutive games for only the third time in his career. The other times both came in 2012 -- on June 7 and 10, and again on June 19 and 24.
With one out in the ninth inning, Gosselin delivered a pinch-hit single through the middle and Nick Markakis followed with a single to center. Andrelton Simmons was batting when Gosselin stole third base.
"They took advantage of his slower delivery to steal third base," Reds manager Bryan Price said. "Things we have to work on, for sure, because we can't just give away third base there."
When Chapman's 0-1 fastball to Freeman got away from Barnhart, it kicked off of the screen. Barnhart said he and the pitcher did not have crossed signals.
"Nope, it was outside and I didn't catch it, and there's no excuse for that," Barnhart said.
Barnhart slipped and fell down as he grabbed the ball to prevent a play at the plate from happening.
"If I catch it, it doesn't matter," Barnhart said.
Chapman went from allowing no runs all season and having a 28 1/3 scoreless-innings streak to giving up two runs over the last two days.
"It was just a pitch that got away," Price said. "It's hard when you're throwing that hard and the ball cuts instead of sinks. It's a tough position to play with a guy that throws like Chappy does. It's a lot of velocity and a lot of action."
Mark Sheldon is a reporter for MLB.com. Read his blog, Mark My Word, follow him on Twitter @m_sheldon and Facebook and listen to his podcast. This story was not subject to the approval of Major League Baseball or its clubs.