Herrera announcing presence with authority
Clutch HRs easing disappointment of spring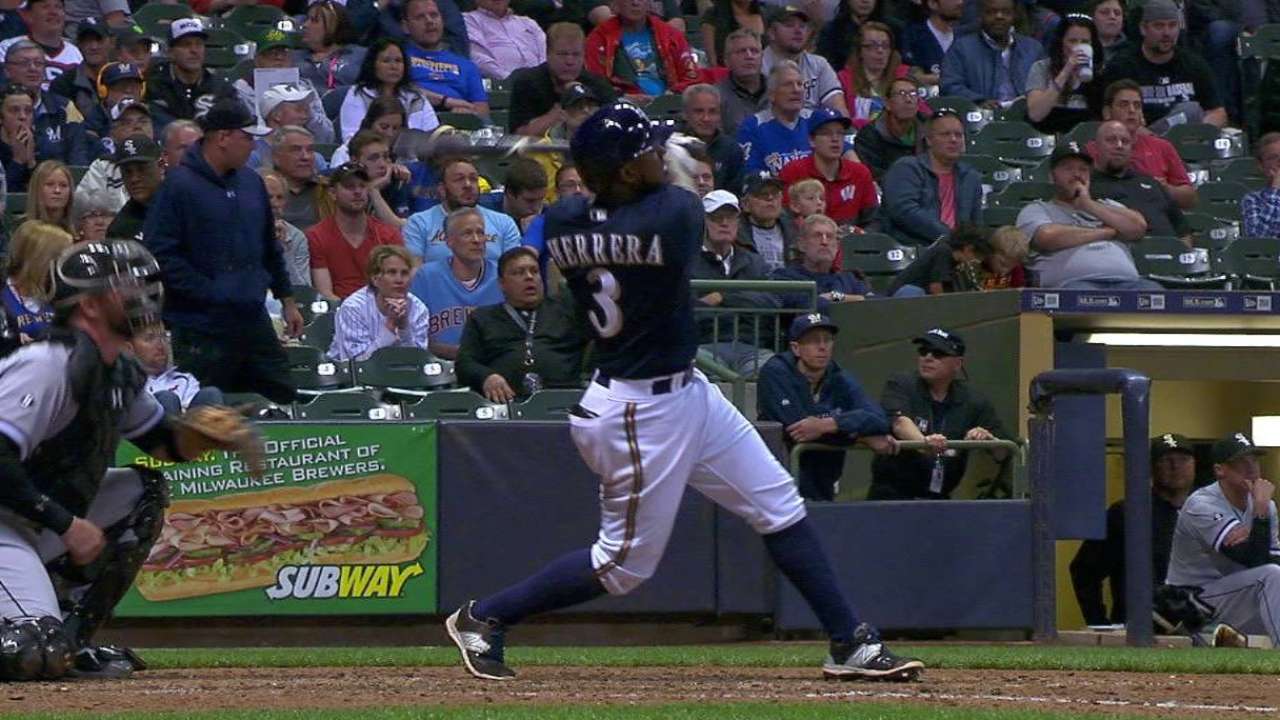 MILWAUKEE -- Elian Herrera's March frustration has turned to May elation, thanks to a recent dose of playing time and two big swings.
A day after his pink-bat home run helped fuel a walk-off win on Mother's Day against the Cubs, Herrera delivered in the clutch again on Monday night against the White Sox. His two-run home run snapped a tie in the bottom of the eighth inning, and sent the Brewers toward a 10-7 win at Miller Park.
"You know, everybody knows how I was in Spring Training after they sent me down," Herrera said. "I was kind of sad that all my life I've been in a situation like that and having a hard time to just stay in the team -- for me it was [something] to push me, say, 'You've got to do that.'"
Herrera, promoted to the Majors on April 21, has been filling in at third base for the injured Aramis Ramirez, and making the most of his playing time. He already has three home runs in 54 at-bats, tripling his total from 330 Major League at-bats entering this season.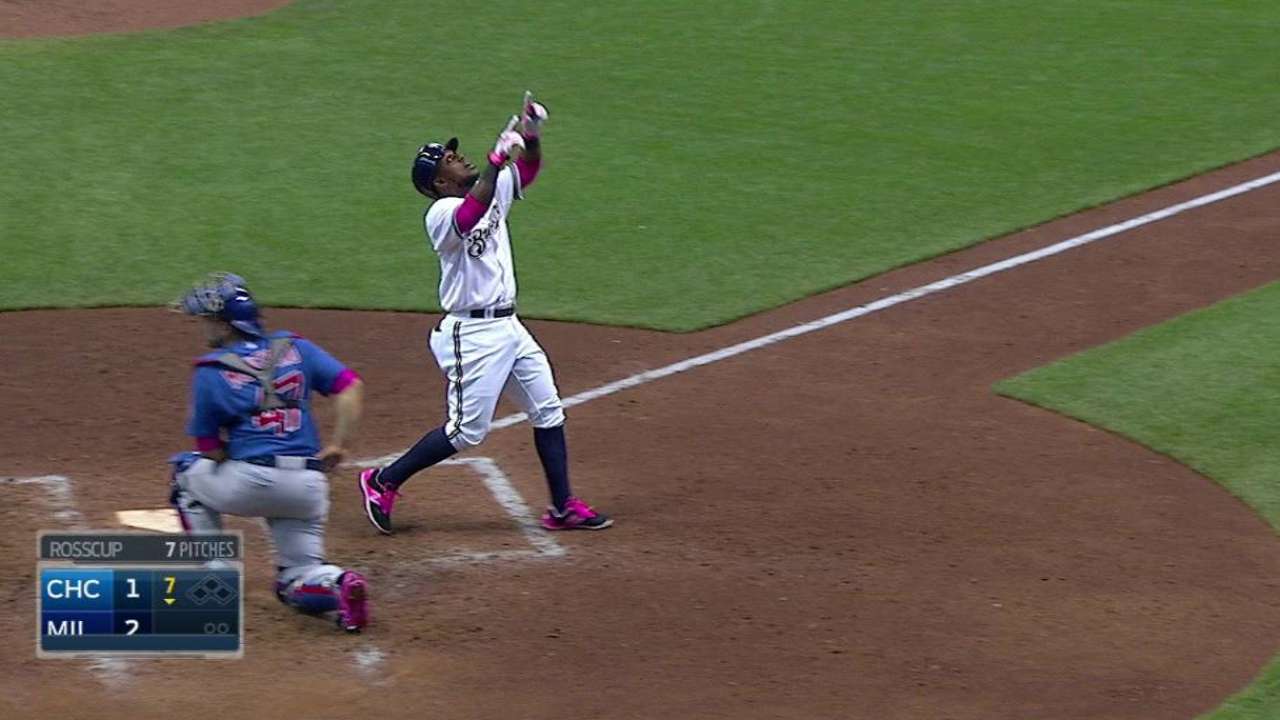 Ramirez remains day to day with lower back tightness.
"I think the good thing for Elian right now -- for any of these bench guys -- is he's getting consistent at-bats," Brewers manager Craig Counsell said. "We're on Day 3 or 4 of at-bats and you can just see him getting more comfortable. The home runs are a bonus, no question about it. The other thing is he played a real nice third base tonight."
A day earlier, Herrera hit the second of the Brewers' first back-to-back home runs this season in a 3-2 win over the Cubs. He connected with one of the pink bats players used to raise awareness for breast cancer research, and planned to send one to his mother, Gladys Ramirez.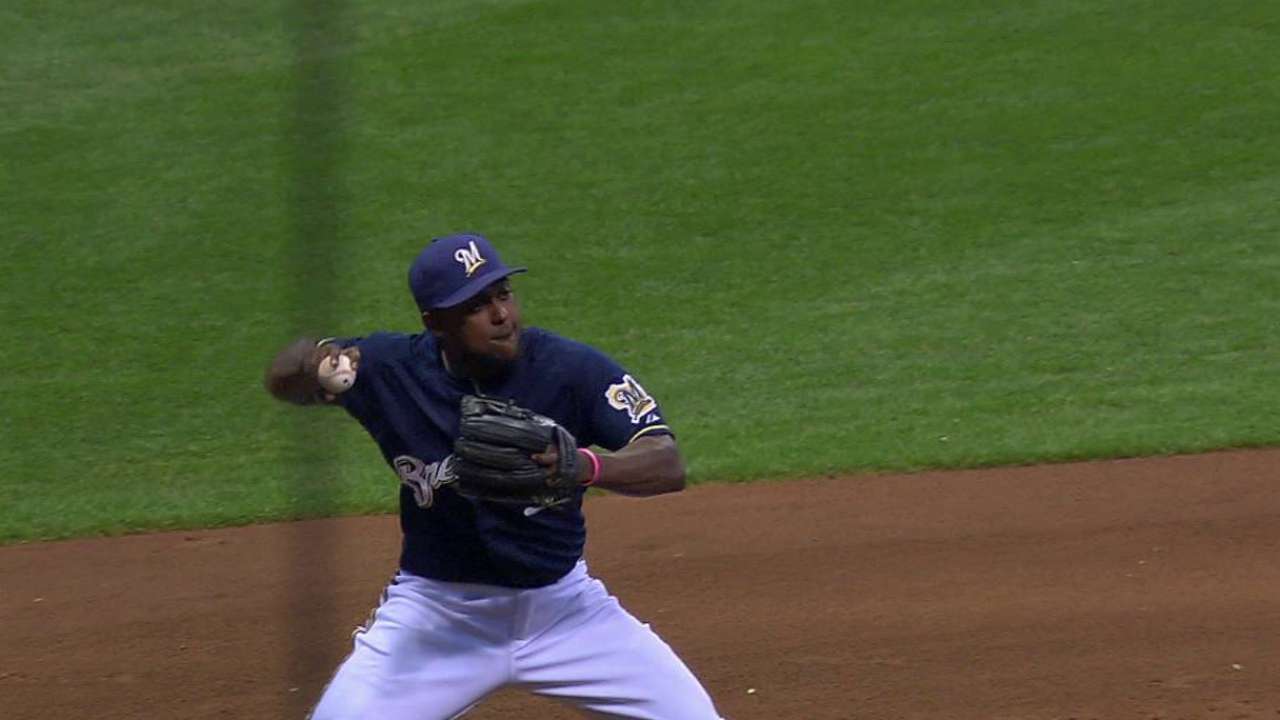 On Monday, he was rounding the bases again.
"I got good help from my teammates," Herrera said. "They were trying to help me, they saw me like I was trying to do too much, [Carlos] Gomez and [Gerardo] Parra and the hitting coach [Darnell Coles], they were trying to talk to me and say, 'Hey, you don't have to worry. Just play the game you know how to play and control what you can.' This is what I've been trying to do."
Adam McCalvy is a reporter for MLB.com. Follow him on Twitter at @AdamMcCalvy and listen to his podcast. This story was not subject to the approval of Major League Baseball or its clubs.