Jimenez rolling along, racks up 9 K's in win
Right-hander attacks zone vs. Blue Jays to continue consistent campaign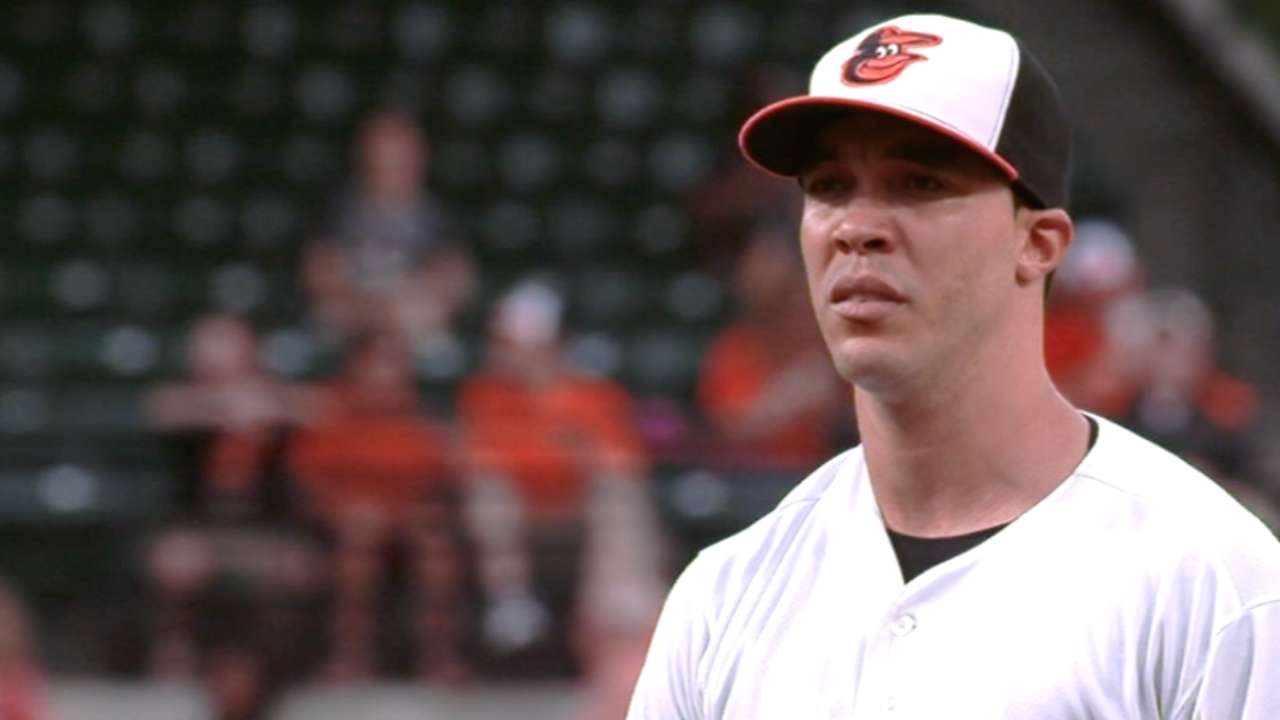 BALTIMORE -- Ubaldo Jimenez could hear the whispers in Spring Training about whether he would make the cut in the Orioles' starting rotation.
He certainly understood the doubters, after struggling for much of last season and eventually being demoted to the bullpen. This year, however, Jimenez has been able to put those struggles behind him and emerge as the Orioles' most reliable pitcher.
The right-hander had another solid outing in Monday night's 5-2 victory over the Blue Jays to pick up his third win in six starts. He set a season high with 9 strikeouts, and perhaps as important, he issued just two walks -- an area in which he has struggled since joining the team.
Jimenez said the difference has been better command and pitching well on a regular basis. He is 3-2 with a 2.41 ERA on the season.
"That's what I want," Jimenez said about his consistency. "As a starting pitcher, that's something that you take a lot of pride in doing. That's what you work for, and hopefully I'll keep being consistent with it."
With the victory, Jimenez improved to 6-0 with a 2.14 ERA in his last seven starts at Camden Yards. An earned run in the fifth snapped a streak of 18 2/3 innings without allowing a run in his home ballpark. It was especially uplifting, considering the Orioles were coming off an extended road trip because of the recent unrest in Baltimore.
Jimenez could feel the excitement from the fans.
"It felt great," he said. "It felt good to be back, having some pride. All of the people that came to the game tonight, they were into the game since the first pitch. So that definitely motivated us to play. You're going to have good fans out there cheering the whole game. It felt really good."
Orioles manager Buck Showalter was impressed by the way Jimenez was able to stay ahead of hitters.
"He had a lot of counts in his favor, a lot of strike ones," Showalter said. "Very aggressive. He threw a lot of fastballs that started as balls and came to strikes, and then some strikes that went to balls. When he's doing that, he's got a chance to have a pretty good outing. Mixed in the split and the breaking ball and he was able to get ahead of some guys early."
Todd Karpovich is a contributor to MLB.com. This story was not subject to the approval of Major League Baseball or its clubs.