MLB.com Columnist
Lyle Spencer
'Great guy' Gordon embraced by Marlins
Second baseman showing all-around excellent game in first season with Miami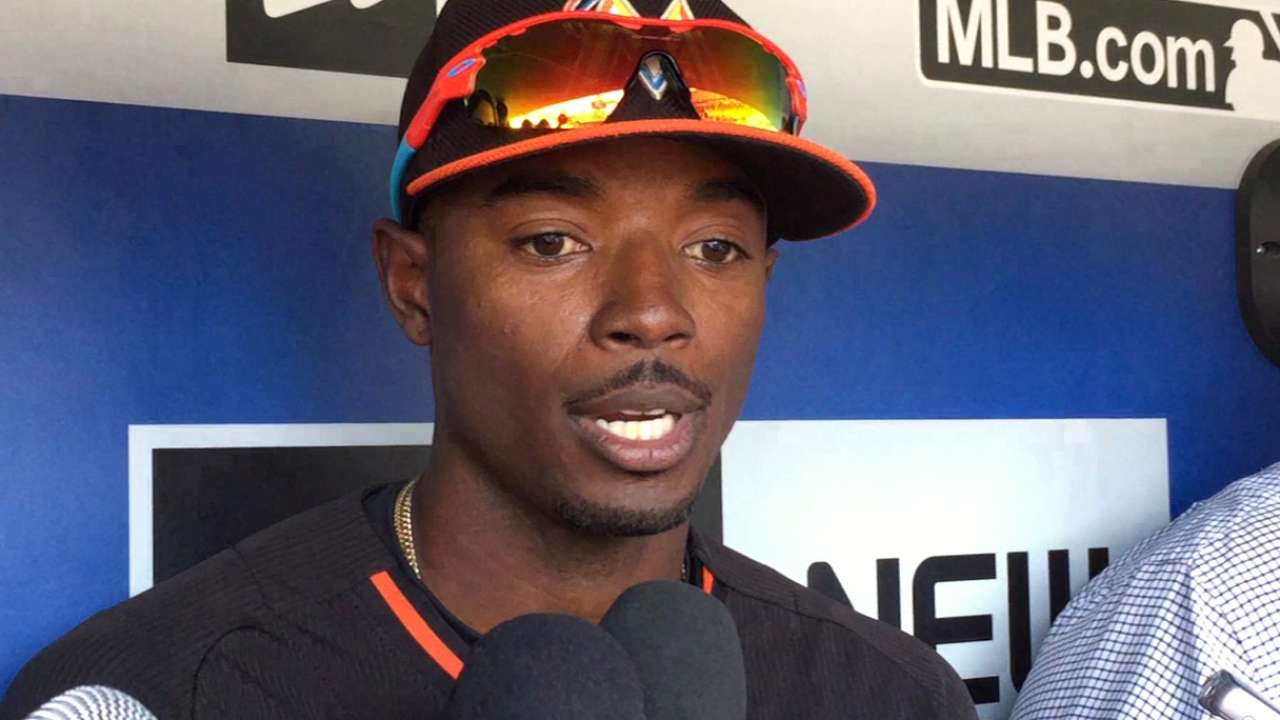 LOS ANGELES -- Watching Marlins teammate Dee Gordon tear up National League pitching this season has taken the great Ichiro Suzuki back 15 years to when he was Gordon's age, an acclaimed 27-year-old Japanese import gracing a Mariners uniform.
Ichiro had a 2001 season that players dream about but rarely experience. He led the American League in hitting at .350, in hits with 242, in steals with 56. Ichiro scored 127 runs, won an AL Silver Slugger Award and was a Gold Glove winner in right field, showcasing a laser arm that rang up eight assists before baserunners got smart and stopped testing him.
"He does," a beaming Ichiro, 41, said in English on Monday when asked if Gordon, the former Dodger, reminds him of himself as a young man. "Very similar, the way he hits, runs. I think I was like that. He can bunt, go the other way. He's exciting, fun to watch. A very good player."
Gordon, the reigning Major League stolen-base king, returned to Dodger Stadium leading the NL with his .439 batting average. Billy Hamilton, Jarrod Dyson, Peter Bourjos or Mike Trout might be faster, but until we get them in sprinter's gear for a 60- or 100-meter dash, we'll never know. Just know Gordon can fly. So could Ichiro, at 27 and deep into his 30s.
"I don't know," Ichiro said, understanding there's no way to determine if he was as swift in his prime as Gordon is now. "He's really fast."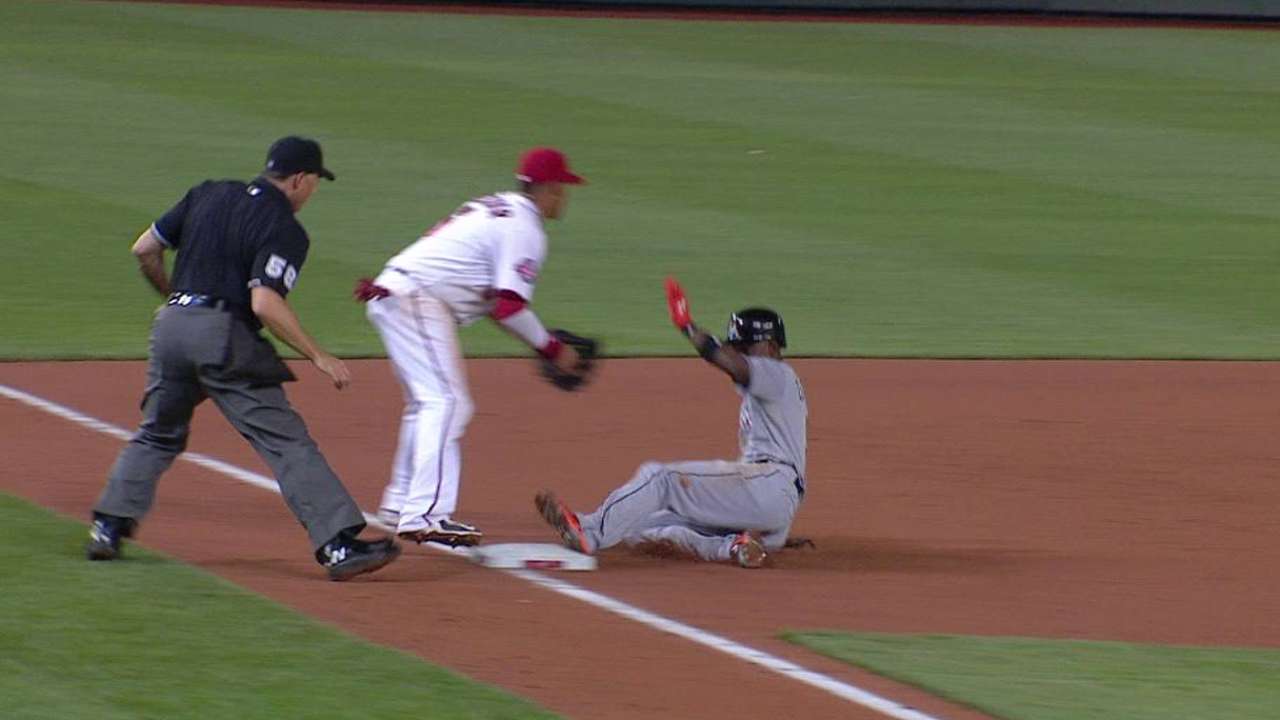 Returning to his home state in the winter swap, Gordon has enjoyed six weeks playing on a level with Ichiro's six months in 2001. The second baseman and son of former Major League pitcher Tom "Flash" Gordon, Dee has been as electric as Pops, just in a different fashion.
Mike Redmond, the Marlins' manager, said he understood Gordon's desire to have a "monster series" against his old team. Redmond sees the flash in Gordon, but he seems to value most his old-school virtues.
"He's just such a great guy," Redmond said. "Great teammate, great player. He looks like a kid having fun playing the game. His consistency for our ballclub has been huge."
Given a rousing ovation by his old fans when he stepped up to lead off the game, Gordon lifted his cap to the crowd, settled into the batter's box and ripped Zack Greinke's first pitch right back at him. The 2014 NL Gold Glove winner used his exceptional reactions -- he was a star shortstop in high school -- to rob Gordon of a hit.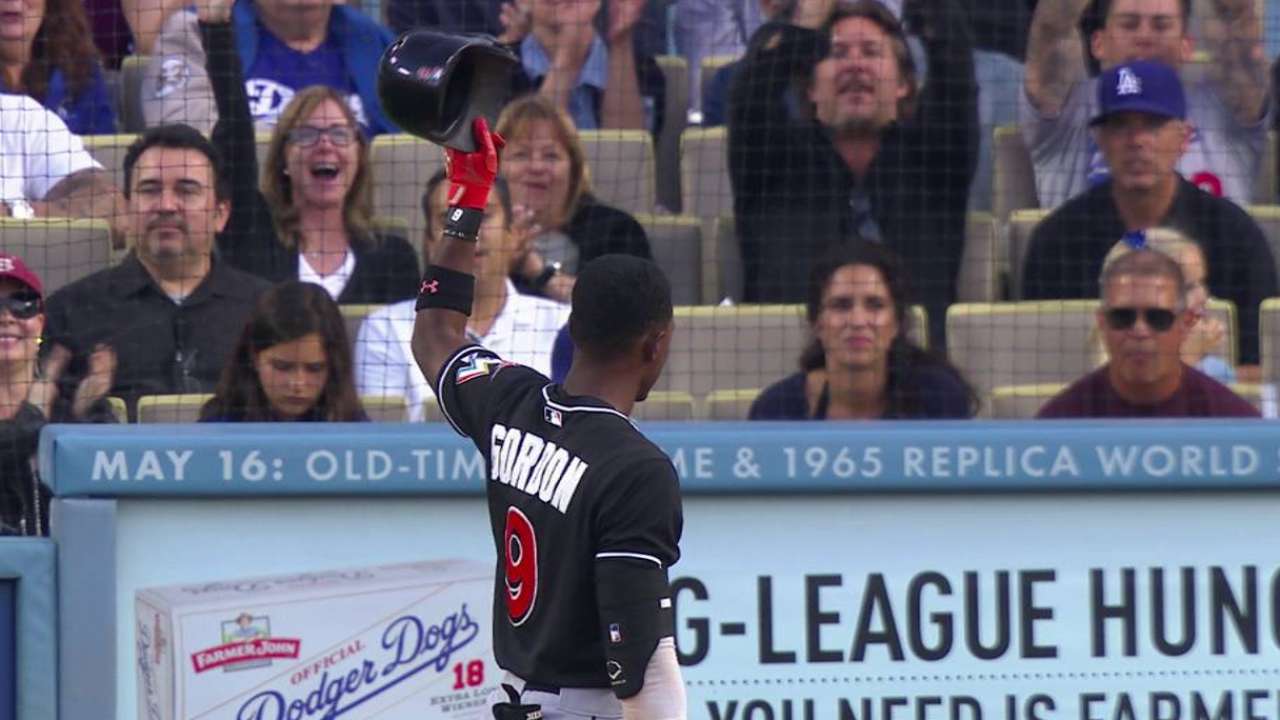 Even with two strikes in his next at-bat, Gordon saw third baseman Justin Turner creeping in on the infield grass, aware of the threat presented by his speed. Drawing a walk, Gordon was shot down trying to steal by Yasmani Grandal.
Gordon's bunting ability, encouraged and cultivated by Dodgers legend Maury Wills during Spring Training sessions in Arizona, has given him an edge by opening space on the left side of the infield. He has learned to slash doubles the other way, between the drawn-in third baseman and the bag.
"He's probably not going to hit .400, but if he makes contact, with his speed, there's no reason he can't put up some big numbers," said Dan Haren, who came to Miami with Gordon in the deal that brought four players to Los Angeles and led to the acquisition of Howie Kendrick from the Angels to handle second.
Haren (4-1, 2.68 ERA), who has excelled along with Gordon and will work Tuesday night's middle game of the series, has seen the growth in his teammate's total game.
"He's way better defensively now," Haren said. "He's doing some great things with the glove. Dee's such a great athlete, just a pleasure to watch play and have as a teammate."
Giancarlo Stanton, who is to the Marlins and the NL what Trout is to the Angels and the AL, took an instant liking to Gordon.
"Everybody's always different when you get to know them as a teammate," Stanton said. "You get to know the person as well as the player. There's no question about what he's shown with the Dodgers and with us so far. You have a young guy like that, the sky's the limit. You can always get better and learn from previous experiences.
"Defensively, I knew he was solid. Those two up the middle [Gordon and shortstop Adeiny Hechavarria], I'd put them up there with anybody."
Hechavarria stole a hit from rookie Joc Pederson behind Tom Koehler in the third inning Monday night. Few teams in the sport are as athletic as Miami, with Gordon and Stanton leading the way as perhaps the swiftest and strongest men in the game.
Gordon has a large support group with his parents and five siblings in Orlando, Fla., staying in constant contact. He especially appreciates the unconditional love of his 5-year-old niece, Londyn Gordon.
"She's on my side no matter what," Gordon said. "Good or bad, she doesn't care."
Lyle Spencer is a national reporter and columnist for MLB.com. Follow him on Twitter @LyleMSpencer. This story was not subject to the approval of Major League Baseball or its clubs.