MLB.com Columnist
Paul Hagen
Kang heating up, rewarding Bucs for patience
Pirates infielder keeps cool through slump to start MLB career; Hurdle sticking with his hot bat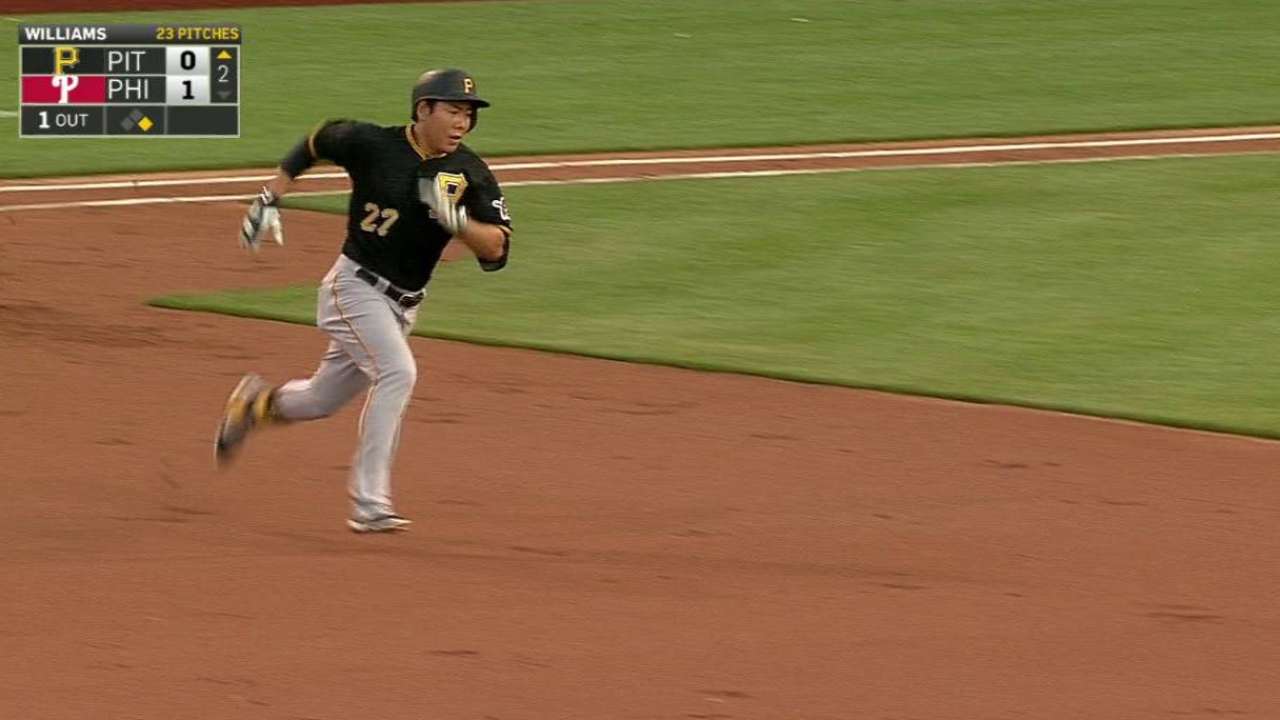 PHILADELPHIA -- Things can change quickly in baseball. And if you don't believe it, just take a gander at the left side of the Pirates' infield.
When the season started, Josh Harrison was the third baseman and the Bucs doubled down on that by signing him to a four-year, $27.3 million contract during the first week of the regular season that includes club options for 2019 and '20 that could push the total value of the deal over $50 million. The shortstop was Jordy Mercer. Barely a month into the season, one of the hottest hitters on the team is Jung Ho Kang, who has started six of the past eight games, five at third for Harrison (.173) and one at short for Mercer (.186).
As onetime Cardinals All-Star pitcher Joaquin Andujar is supposed to have said, "In baseball, one word says it all: You never know."
Kang doubled in the second inning of Pittsburgh's 4-3 win over the Phillies at Citizens Bank Park on Monday night. In his past 13 games, he's 16-for-38 (.421) with two homers and 11 RBIs.
That's not a complete shock considering that Kang led the Korean Baseball Organization (KBO) in slugging percentage (.739) and OPS (1.198) while playing for the Nexen Heroes in Seoul. His 40 homers and 117 RBIs in 117 games set single-season records for a shortstop. The Pirates paid a $5 million posting fee on top of a four-year, $11 million contract to sign Kang.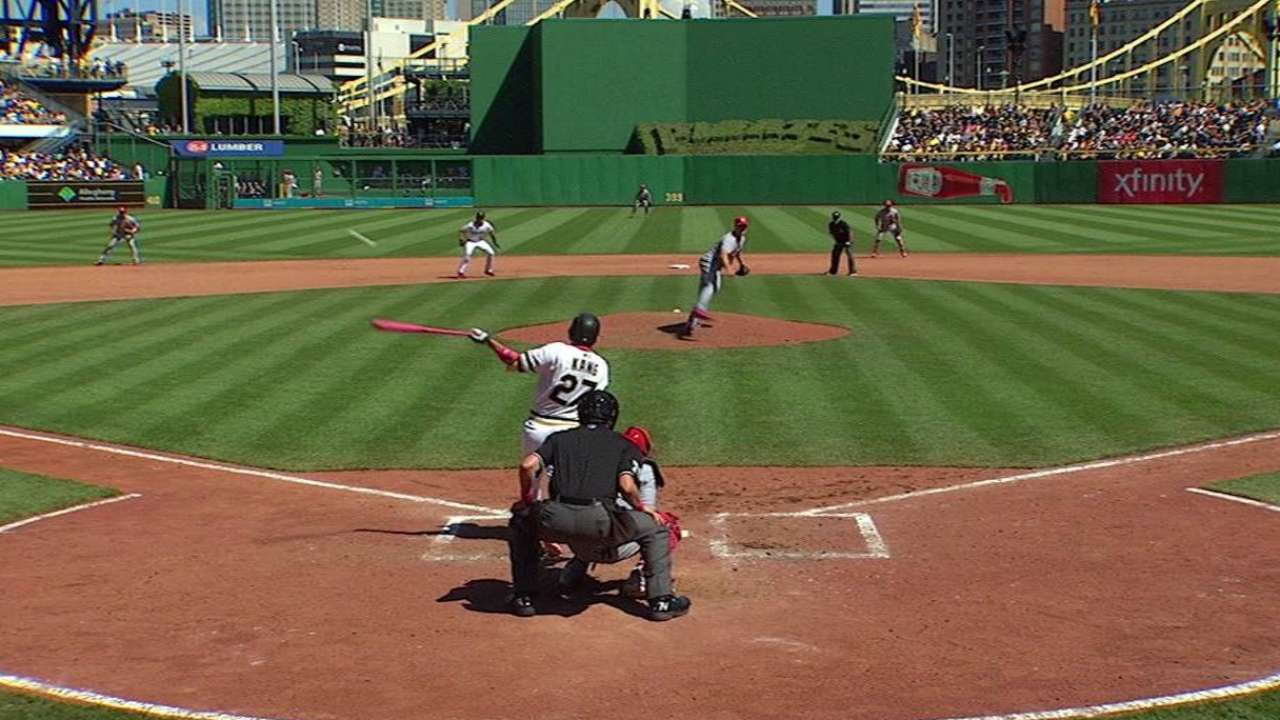 Still, when Kang hit .200 in Spring Training, some fans thought he should be sent to Triple-A Indianapolis. The grumbling grew louder when he was hitting .077 through April 20.
Patience is a word that's talked about a lot in baseball, especially early in the season. But that can be trickier in practice than it sounds. The Pirates were patient with Kang, and now it's paying off. But they'll also be patient with Harrison, who had a breakout season in 2014, and Mercer, who took over as the regular shortstop last season and helped the Bucs make it to the postseason for the second straight year.
And all that will play out against the backdrop of trying to win as many games as possible and cut into the lead of the first-place Cards, who have amassed a big early lead. That's why manager Clint Hurdle says he's just taking it one game at a time. Finding the proper balance can be difficult.
For his part, the 28-year-old Kang appears unfazed. Through his translator, he said he hasn't encountered any problems adjusting to the culture of the United States. Or been bothered by anything else, come to think of it.
Did Kang ever get discouraged by his struggles in the Grapefruit League or his slow start?
"I always believed in myself. Spring Training is part of the process," Kang said. "It's an experience."
Has the move to third base been an adjustment?
"It's not that big an adjustment because I've played third base before," Kang said.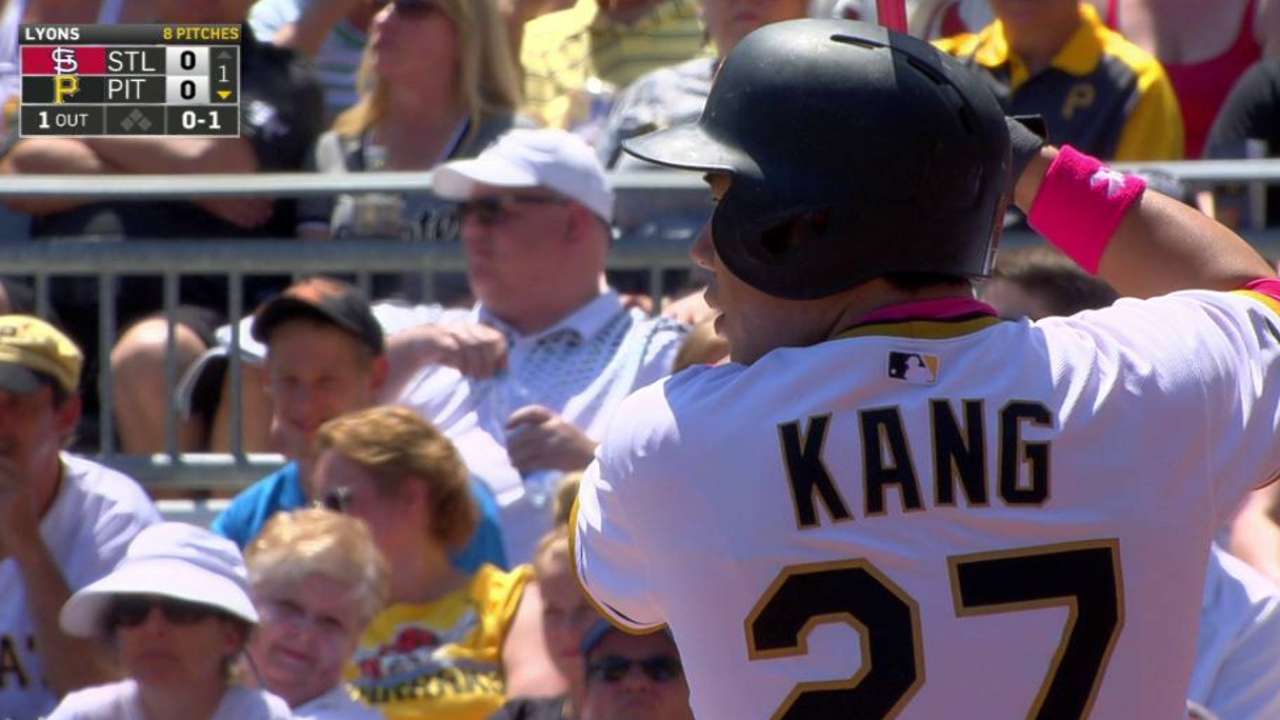 How does he feel about taking advantage of the opportunity he's gotten recently?
"It's fun to play every day," Kang said.
Why did he want to come to the United States?
"It's The Show," Kang said. "It's the best. All the players dream about playing Major League Baseball."
You never know. Well, that's not strictly true. One thing baseball teams know is that to compete and succeed over the course of the long, long season, they have to get production from all over the roster. The stars will be the stars, but they can't do it all, every night.
There are going to be ebbs and flows. And when there are slumps or injuries, somebody has to step up. Lately, Kang has been that person. Maybe he's hit his stride and will be a force for the Pirates for the rest of the season. Maybe Kang will cool off for a while and Harrison or Mercer or both will pick up the slack. That's baseball.
For the moment, though, Hurdle can't be blamed for wanting to stick with a hot bat. Before arriving in Philadelphia, the Bucs beat the Cardinals two out of three in an important May series; Kang had a homer and a game-winning single on Sunday.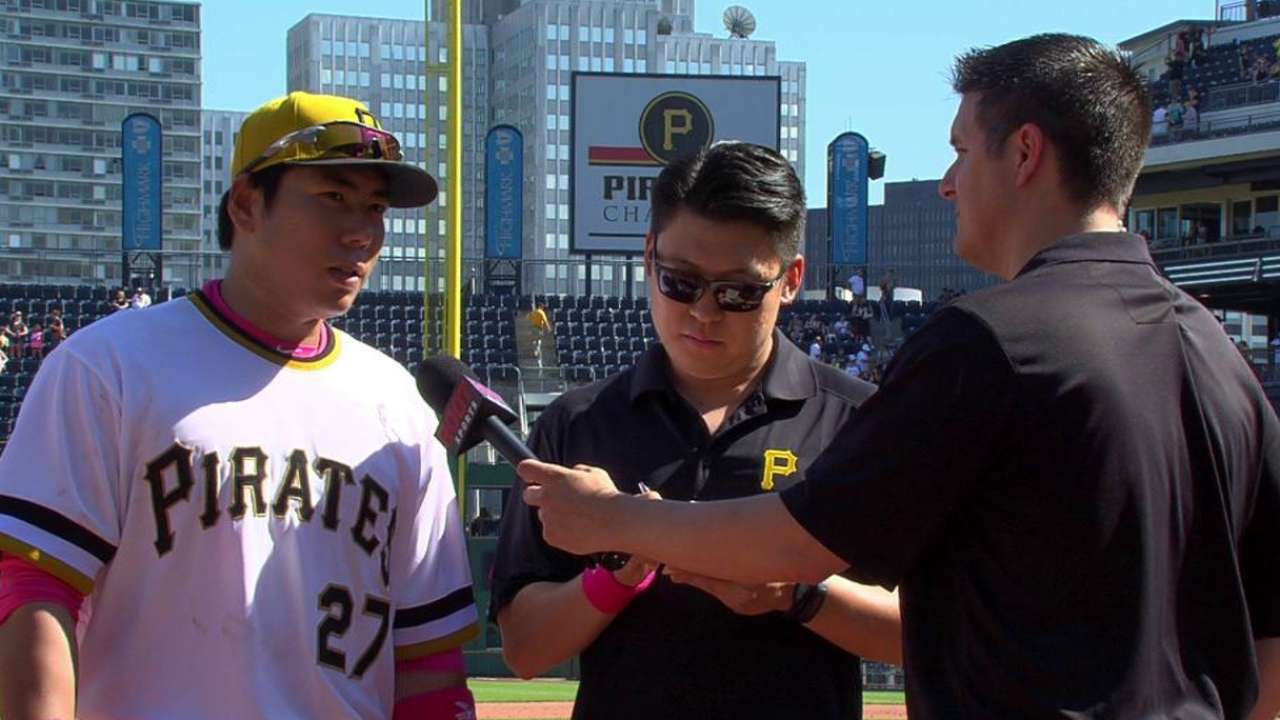 Having won four of their past five, the Pirates have a chance to take advantage of three more games against the last-place Phillies but then play six of their next eight against the Cubs and Mets.
Things can change quickly in baseball. Especially for teams -- and players -- who make the best of it when they get their shot.
Paul Hagen is a reporter for MLB.com. This story was not subject to the approval of Major League Baseball or its clubs.