Colome unable to slow locked-in Yankees
Rays righty allows 11 hits -- including four home runs -- in loss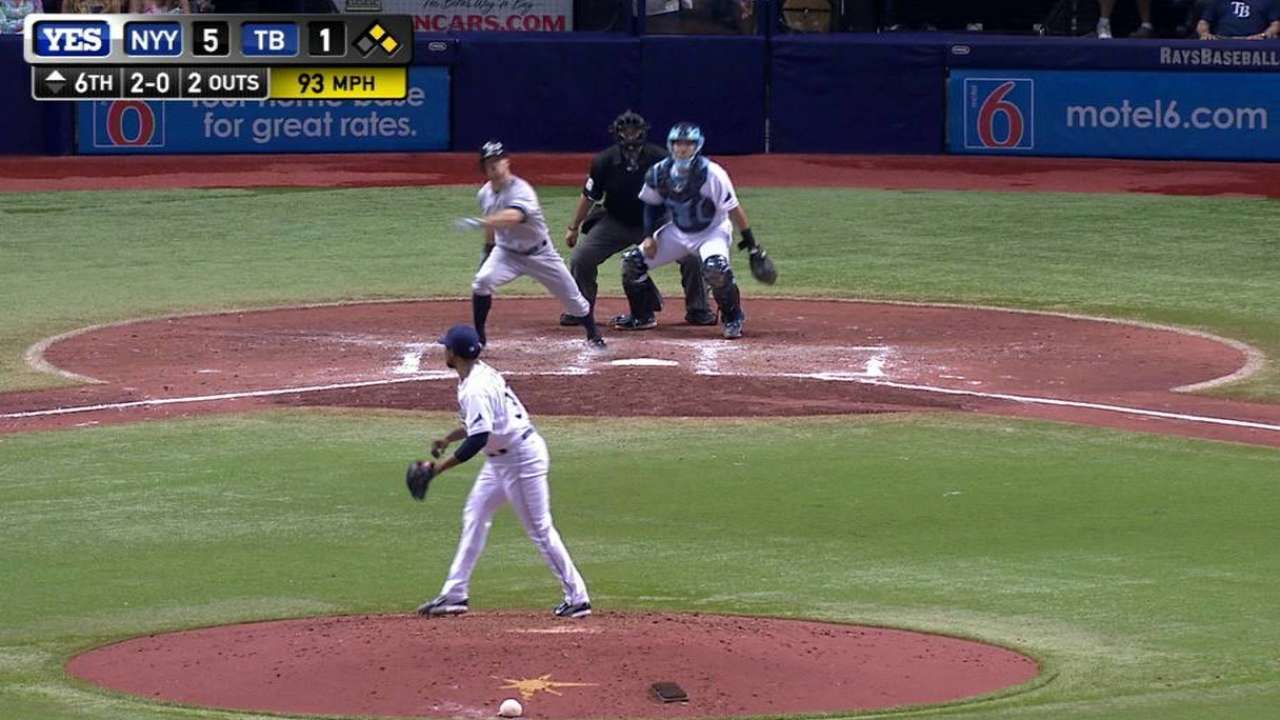 ST. PETERSBURG -- The bottom fell out for Alex Colome in the Rays' 11-5 loss to the Yankees on Monday night.
The right-hander allowed eight runs on 11 hits -- including four home runs -- to take his first loss of the season while watching his ERA surge from 1.80 to 5.63 in six innings.
"Obviously a tough one tonight," Rays manager Kevin Cash said. "Seemed like they were pretty much on everything Colome was throwing up there. Give them credit. They came out and swung the bats well from the first inning on. Seemed like they had a lot of good swings."
Colome entered his start with a chance to make history by becoming the first pitcher on record (since 1914) to begin his career against the Yankees with three straight starts without surrendering an earned run.
The history books went out the window in the first inning when Alex Rodriguez homered to give the Yankees a 1-0 lead.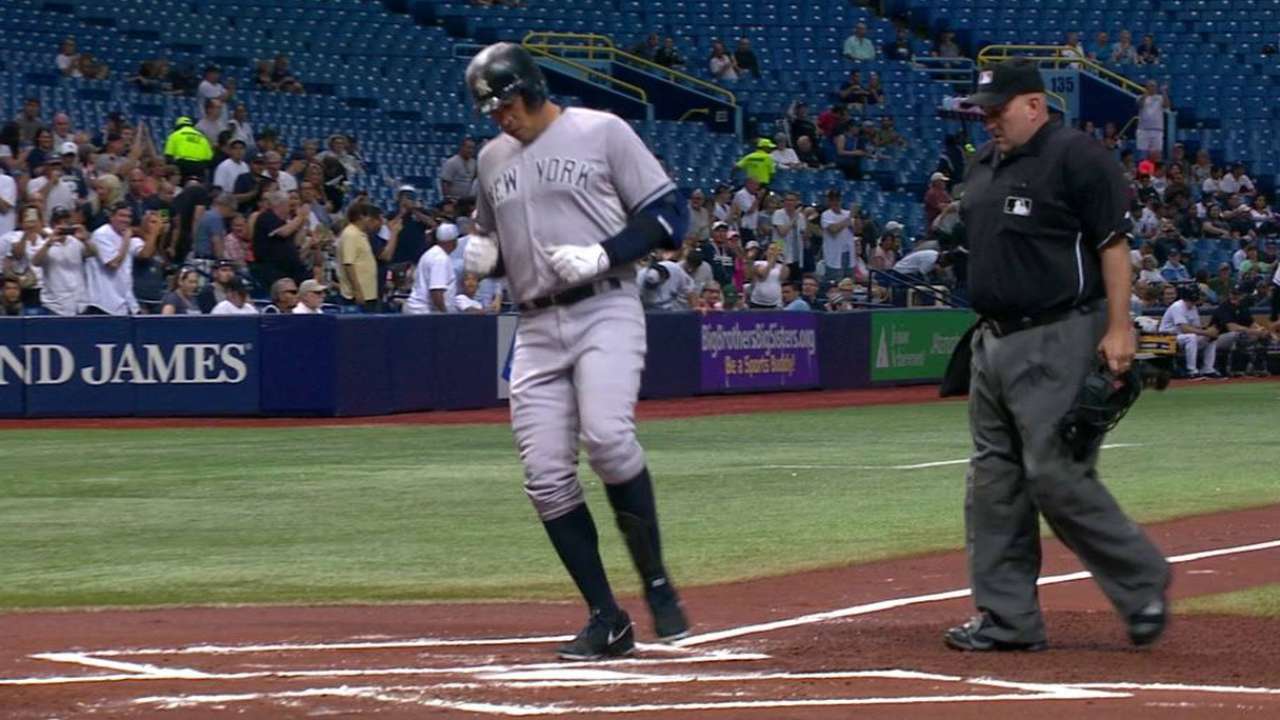 Chase Headley followed with a three-run homer in the fourth, Carlos Beltran added a solo shot in the fifth and Brett Gardner finished off the onslaught against Colome with a three-run homer in the sixth.
"I threw my pitches," Colome said. "I threw my cutter down. You know, they swing. I throw my fastball down and nothing I can do. Throw strikes and I can't do anything different."
"That lineup was pretty locked in on him," Cash said. "I just see it from the side. So I don't know exactly where all the pitches are. But it looked like they saw the ball well."
Cash cited the fact that Headley's home run came on a first-pitch changeup.
"That's a little surprising to be on that," Cash said. "But he put a good swing on it."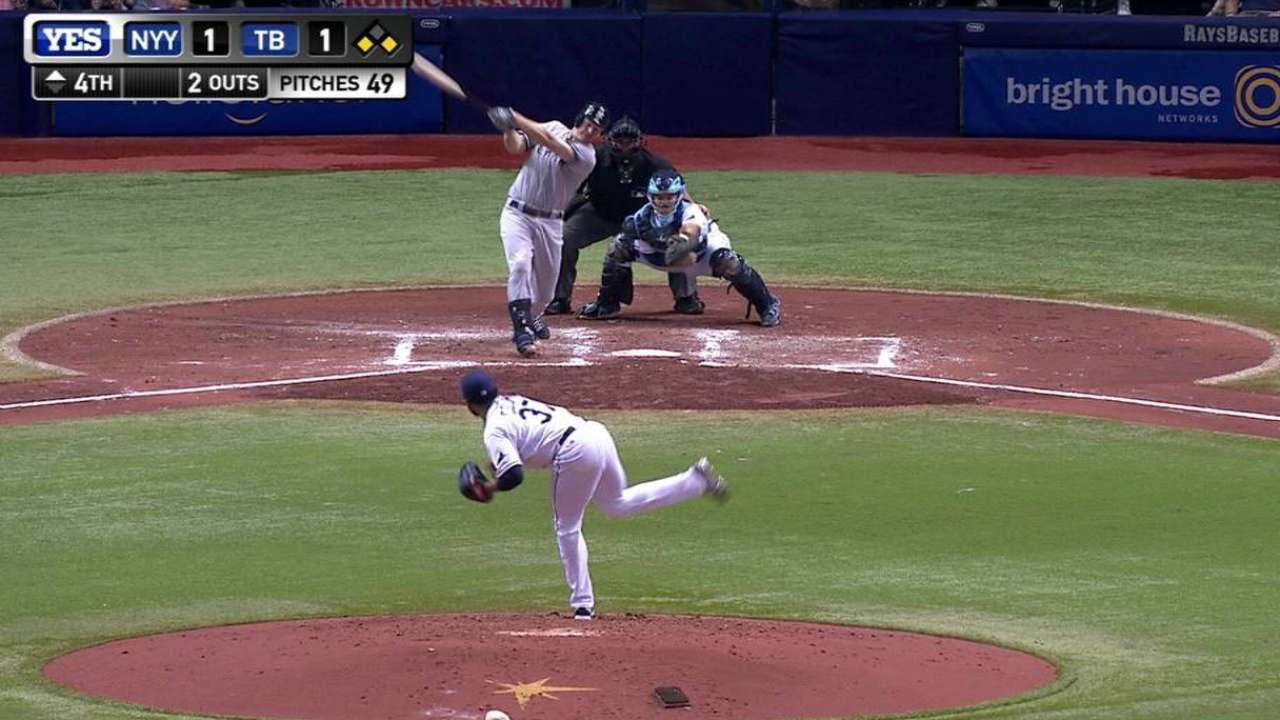 Such good fortune for the Yanks might have suggested that Colome was tipping his pitches. Cash did not think that was the case.
"I don't think so," Cash said. "You scratch your head over some things. But he might not have just had the velocity separation on his fastball to his offspeed pitches like he had the other night. Or in past starts."
Colome, who was sidelined in Spring Training with pneumonia -- including a six-day stint in the hospital -- insisted that the results from Monday night did not frustrate him.
"No, no," Colome said. "Because I feel good. My arm feels good. I feel great. I do what I want. Throw a strike and they swing."
Just one of those nights when too many of those swings caught the sweet spot.
Bill Chastain is a reporter for MLB.com. This story was not subject to the approval of Major League Baseball or its clubs.