Field is full of firsts with homer, stolen base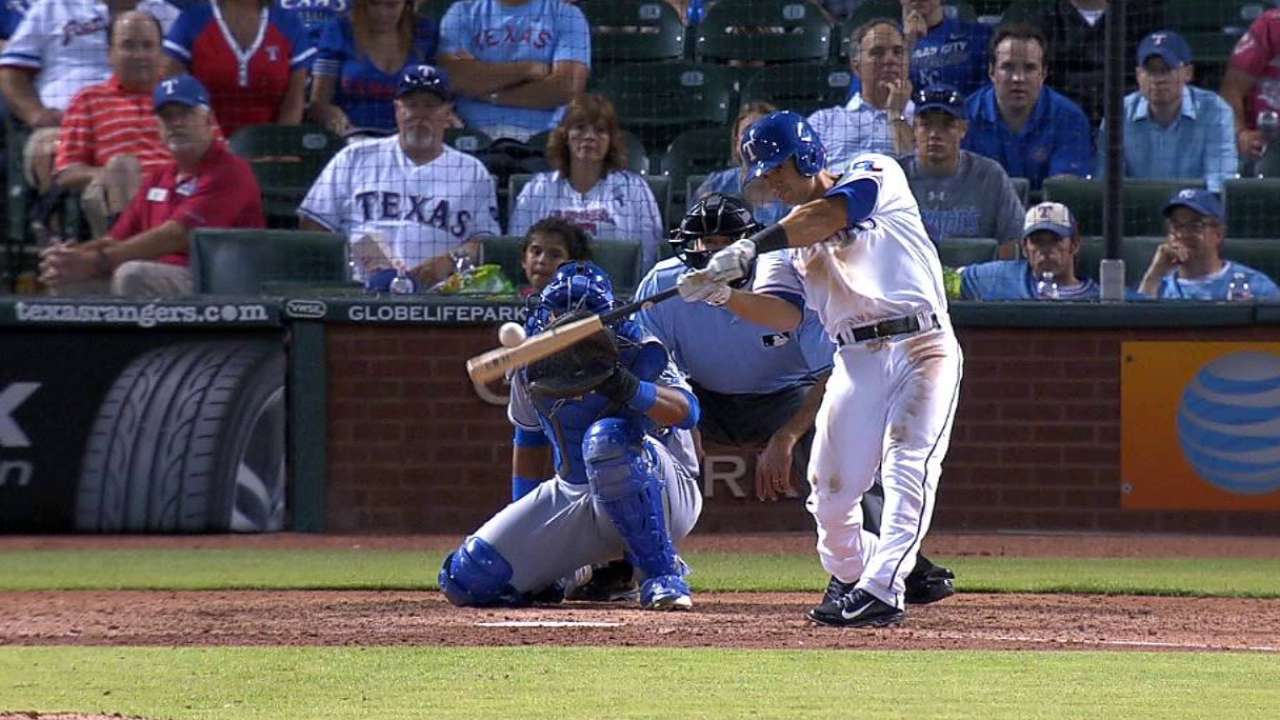 ARLINGTON -- Second baseman Thomas Field arrived at Globe Life Park close to 5 p.m. CT on Monday and put on a Rangers uniform for the first time.
A few hours later, that jersey was soaked in blue Gatorade courtesy of Elvis Andrus as Field hit his first career home run in the seventh inning of the Rangers' 8-2 victory against the Royals.
"The Gatorade shower was nice," Field said. "I've always envied the guys that get those, hit the walk-off or get the big hit. It was nice to finally get one."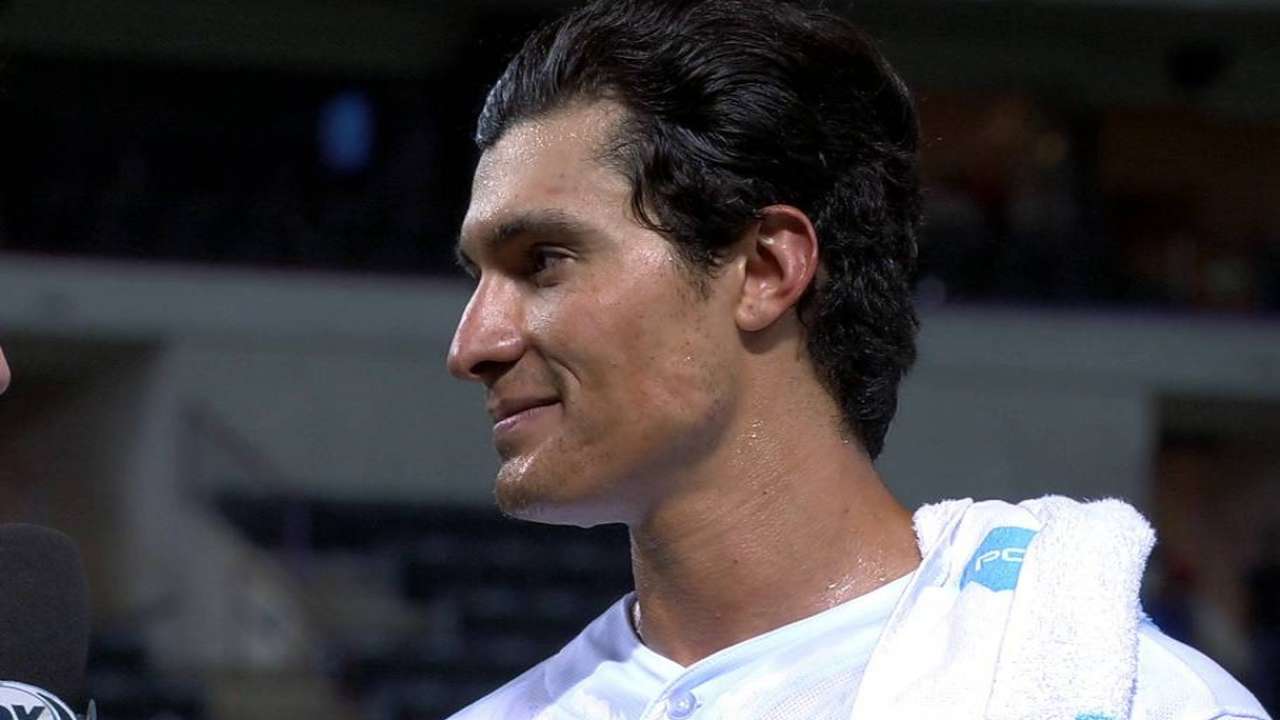 The Rangers purchased Field's contract from Triple-A Round Rock prior to Monday's game as the club optioned struggling infielder Rougned Odor. Field boarded a plane from Nashville, Tenn., not knowing for sure whether he would be in the Rangers' starting lineup when he arrived for the series opener.
"When I landed, my wife told me, 'Hey, you're in the lineup. Be ready,'" Field said.
Field entered with 33 games of Major League experience over three years with the Rockies and Angels, along with a .224 average in 76 at-bats. He also spent the entire 2014 season in the Minors. Still, Field impressed in Spring Training and was hitting .298 with five home runs at Round Rock this season.
On Monday, Field not only hit a 408-foot line drive into the left-center-field stands, but he also swiped his first stolen base in the big leagues. Field finished 1-for-3 with the solo home run, a walk and two runs scored.
Despite the day of firsts, manager Jeff Banister was most impressed with Field's defense and disciplined approach at the plate.
"To drive a ball out of the ballpark, yes," Banister said. "The other side of that is he played good defense and handled the baseball. Very attentive. The energy level should give him some good night's rest. Something to ride high on to come in tomorrow ready to play."
For a bonus, Field got to have his big night in front of family and friends who made the trip up from his hometown of Waco as soon as they found out the news.
"It's a great experience," Field said. "I couldn't ask for anything else. It was kind of like a dream come true having friends and family here to experience it as well.
"It's always important to get off on a good foot when you get to the Major League level. It's hard to stay up here, so you're going to want to come in and compete and have quality at-bats, and just perform well."
If Field kept an itinerary, it would look like a whirlwind of a day on paper. But he said he knows that comes with the territory, and Monday, he had no problem embracing it.
"It hasn't been that crazy," he said. "I realize that the travel is gonna be a little hectic when you get called up. Playing the game, it outweighs the travel and the hustle to get here."
Cody Stavenhagen is an associate reporter for MLB.com. This story was not subject to the approval of Major League Baseball or its clubs.