Duffy still experiencing issues with location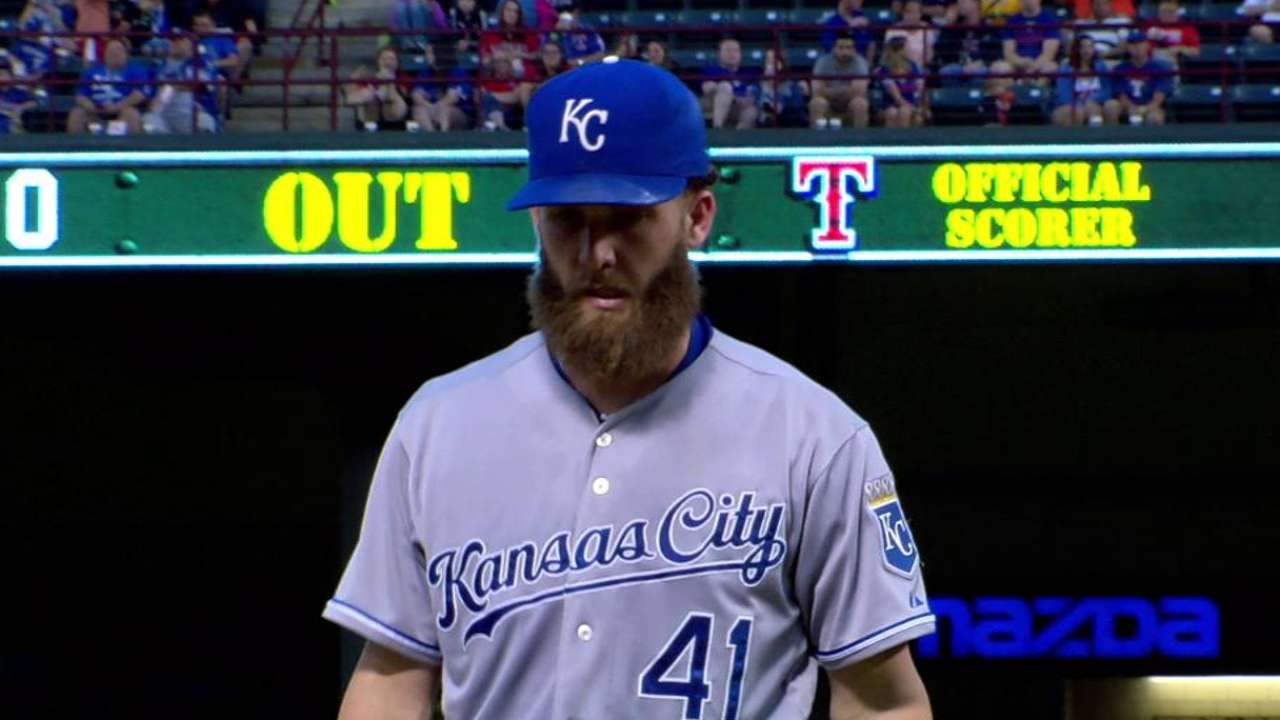 ARLINGTON -- Royals left-hander Danny Duffy finds himself in a place where's he heard pitchers go at some point in their career. He's ready to be done with it already.
The 26-year-old Duffy, who finished April by dominating the Tigers, had his second consecutive forgettable start in Monday night's 8-2 loss to the Rangers.
It wasn't like last Thursday against the Indians, when Duffy allowed four hits and plunked a batter to start the second inning before being pulled by manager Ned Yost. But this felt just as bad. Especially with another rocky second inning that saw Duffy walk the bases loaded to start the frame and allow a two-run single to No. 9 hitter Delino DeShields.
Another run scored on a wild pitch and Shin-Soo Choo singled up the middle for a 4-0 Texas lead.
Duffy needed 41 pitches -- he threw 97 overall -- just to get out of the inning.
"There's going to be stretches in your career, I've heard it from a bazillion people, that you just don't have your best every time you go out there," Duffy said.
Duffy elaborated on that more. He couldn't throw his curveball or changeup for strikes. He fell behind in counts, forcing himself to throw fastballs that he couldn't command.
"I just couldn't locate anything today. ... Nobody feels worse than me. I cost my team a few games," Duffy said.
Yost didn't take it easy on a pitcher who had the third-best road ERA (2.41) in the Majors last season when the Royals won the American League pennant.
"A lot of throwing," Yost said. "Not much pitching. He's gotten back, especially the last two games, to just raring back and firing. And it's really affecting his command of all three pitches. I don't think he threw a curveball or changeup for a strike until the third inning."
DeShields' two-run single was the crusher. Duffy left a fastball out over the plate, and DeShields, batting .200 with five RBIs entering the game, hammered it into left field.
"If you're not getting anything over, they know what's coming," Duffy said. "The heater is coming. You just have to get ahead. It was a 3-2 count, I'm not getting my slider over, what do you think is coming? He put a good swing on the ball, and from then on, I just didn't execute."
Duffy did put up zeros in the third and fourth innings. But with one on and two out in the fifth, he missed with a fastball and Adrian Beltre hit an opposite-field, two-run homer into the Rangers' bullpen -- career jack No. 399.
Duffy said he watched one pitch on video after the game, and it was of Beltre's first-pitch homer.
"I looked at where the pitch was to Beltre and that was about enough for me," Duffy said.
Yost was asked if he'd considering skipping Duffy's turn in the rotation, and the manager gave an emphatic "No." The Royals don't have an off-day this week, so Duffy is slated to face the AL East-leading Yankees on Saturday in Kansas City.
"He just needs to find that fine line between overthrowing and pitching," Yost said. "When he does, we've all seen what type of pitcher he is."
Todd Wills is a contributor to MLB.com. This story was not subject to the approval of Major League Baseball or its clubs.