Are they legit? A fantasy look at leaderboards
Some players are posting surprising numbers, but it remains to be seen if they keep up the pace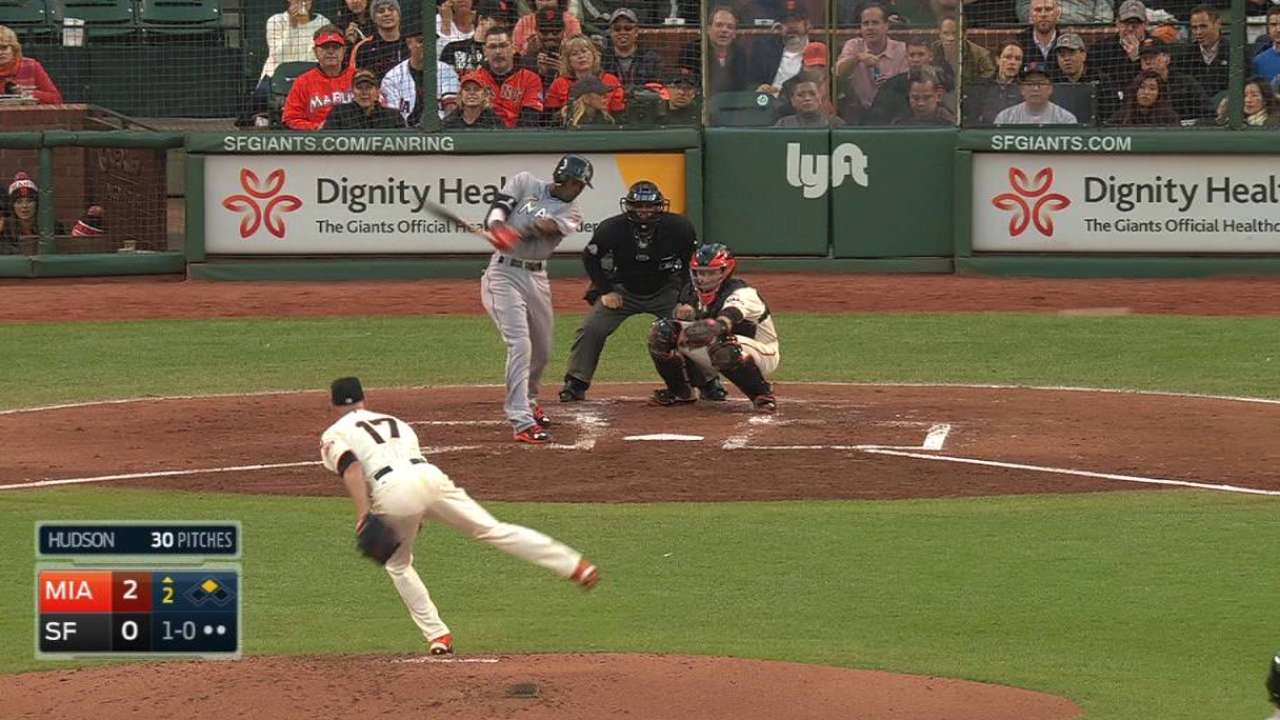 As fantasy players -- and fans of baseball in general -- leaderboards fascinate us. The rapid accumulation of counting stats and the volatile nature of early-season ratios typically lead to some wild swings and some unexpected names atop the league in various categories.
But how sustainable are those leads? Does a bit more than a month's worth of data tell us much? More often than not, the answer is no -- particularly in the five basic offensive fantasy categories. Remember, for instance, that at this time in 2014, both Charlie Blackmon and Alexei Ramirez had batting averages in the .340-.350 range. Both finished below the .290 mark when all was said and done.
The names atop some of the leaderboards are likely a surprise even to those players themselves. Dee Gordon surely didn't expect to be hitting like the second coming of Ted Williams, and one can imagine that Dallas Keuchel would have been happy with a 2.39 ERA -- let alone a mark of 1.39.
With that in mind, here's a look at the early leaders in each fantasy category, as well as a breakdown of why they are or aren't likely to find their name atop that same list in five months' time.
Batting average: Gordon, .425
That the Marlins second baseman is hitting for average isn't a surprise. He batted .289 in 2014 and possesses blistering speed that allows him to turn would-be groundouts into singles (31 infield hits in 2014). Few, however, would've believed that his average would be sitting at .425.
Even fewer should believe that Gordon's name will remain atop the leaderboard come season's end. Though he's given himself a nice head start, Gordon is sporting a borderline miraculous .495 BABIP, meaning nearly half the balls he's put into play have fallen for hits. That's around 150 points higher than his 2014 mark and roughly 200 points higher than the league average. It seems like a lock that Gordon will top .300 based on his torrid start, but his final average seems unlikely to lead the league.
Pick to lead the league: Michael Brantley -- Striking out in fewer than three percent of his plate appearances with a knack for line drives and power to leave the yard, Brantley could potentially sustain his current .340 pace.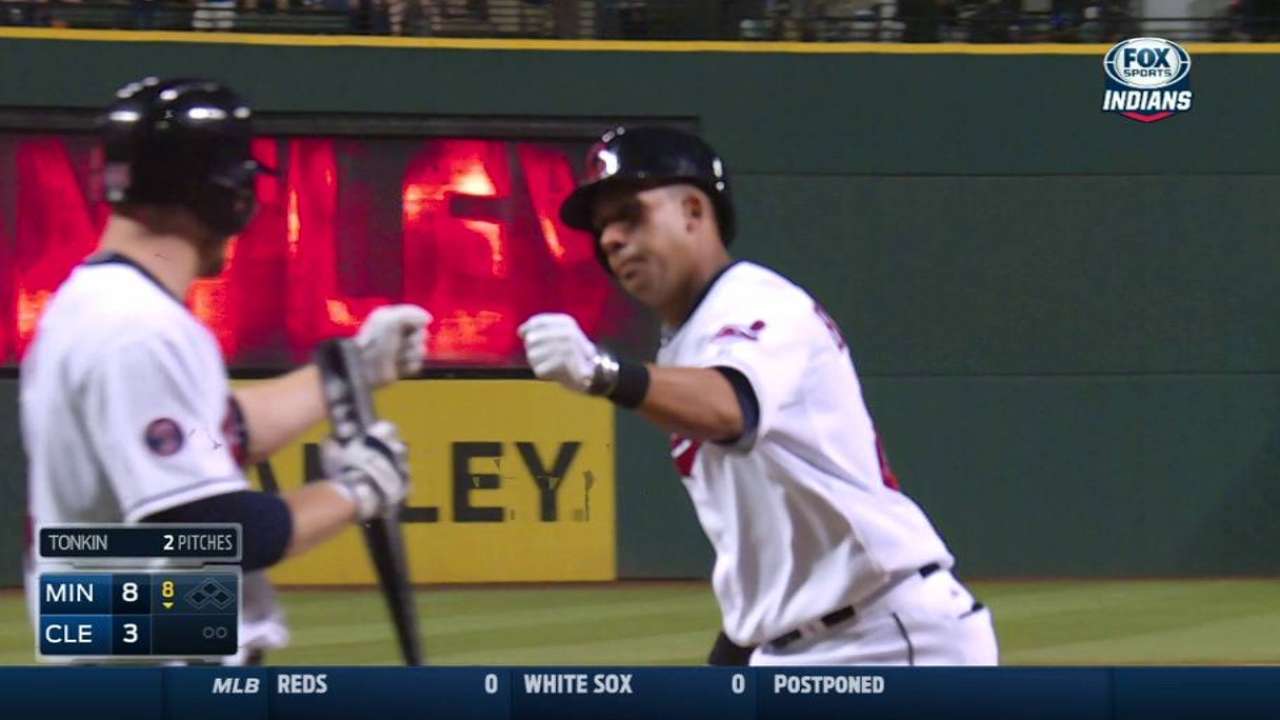 Runs: Wil Myers, 28
Lacking a prototypical leadoff man, Padres manager Bud Black slotted the promising Myers at the top of his batting order and Myers' fantasy owners have reaped the results thus far. However, despite the Padres' strong offensive output this season, Myers isn't likely to remain at the top of in runs scored. The 24-year-old has walked in just 6.3 percent of his plate appearances, and the resulting .340 OBP might not afford him enough opportunities to touch home plate.
And according to Fangraphs.com, he's striking out at just an 18.1-percent clip, compared to his career 23.6 percent career mark despite a nearly identical swinging-strike rate to 2014. If his strikeout rate creeps upward, his average and OBP will suffer further.
Pick to lead the league: Mike Trout -- Picking Trout is hardly going out on a limb, but there's a reason that the speedy slugger led the American League in runs each season from 2012-14. He boasts a career .396 OBP and has 35-homer power, so even with a diminished supporting cast in 2015, he's still just two runs behind Myers at this time.
Home runs: Nelson Cruz, 14
Many assumed that the move to spacious Safeco Field would drastically reduce Cruz's home run total, but Baseball Prospectus' park factors told a different story. Cruz's home park in Baltimore was actually exceptionally tough on right-handed home runs in 2014, so the move to Seattle likely had a smaller impact than many would have assumed. He's blasted 14 home runs on the heels of his 40-homer campaign in 2014, and some of his closest competitors -- specifically Mark Teixeira and Hanley Ramirez -- have lengthy injury histories.
If anyone gives Cruz a run for his money, it could be the white-hot Bryce Harper, who launched six long balls in a three-game stretch last week. At this point, they're the two favorites. Giancarlo Stanton might have more raw power than anyone, but he's dug an early hole, as he's already seven homers behind.
Pick to lead the league: Cruz or Harper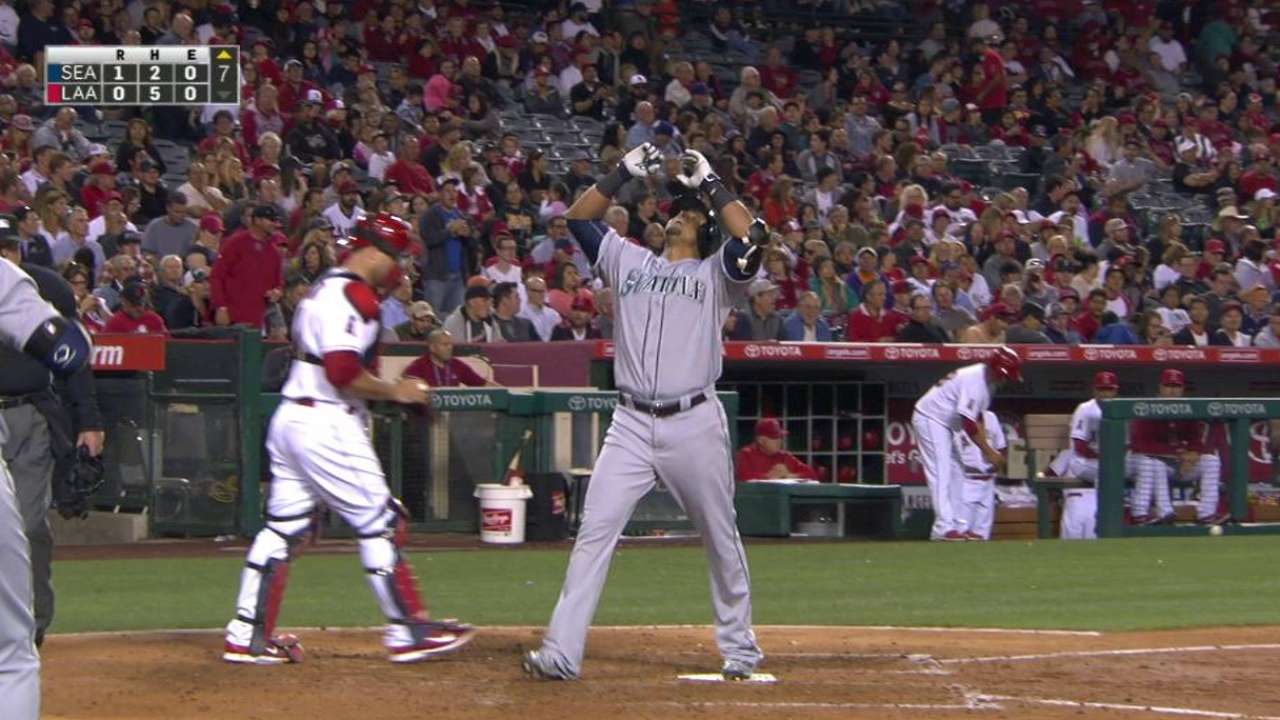 RBIs: Stanton, Harper and Adrian Gonzalez, 29
Stanton will probably finish with 30-plus homers once again, but he's seeing an inordinate number of RBI opportunities right now thanks to Gordon's unsustainable batting average/OBP stats. Stanton figures to be among the league leaders in RBIs at the end of the season, and because of his 40-homer power, he can never be ruled out from leading his league in RBIs.
Tied with Stanton atop baseball's RBI leaderboard is Gonzalez, who currently leads the National League in slugging. Additionally, A-Gone's Dodgers as a team have an .828 OPS that is 55 points higher than the second-place Orioles. And Harper added another RBI on Monday night to follow his torrid week and make it a three-way tie at the top.
Pick to lead the league: Gonzalez -- Jimmy Rollins' OBP in front of Gonzalez should rebound and, if not, the Dodgers can begin deploying the high-OBP trio of Joc Pederson Yasmani Grandal and Howie Kendrick in front of Gonzalez's powerful bat, as they did at the end of last week. Meanwhile, Stanton's RBI chances will likely lessen as Gordon cools off.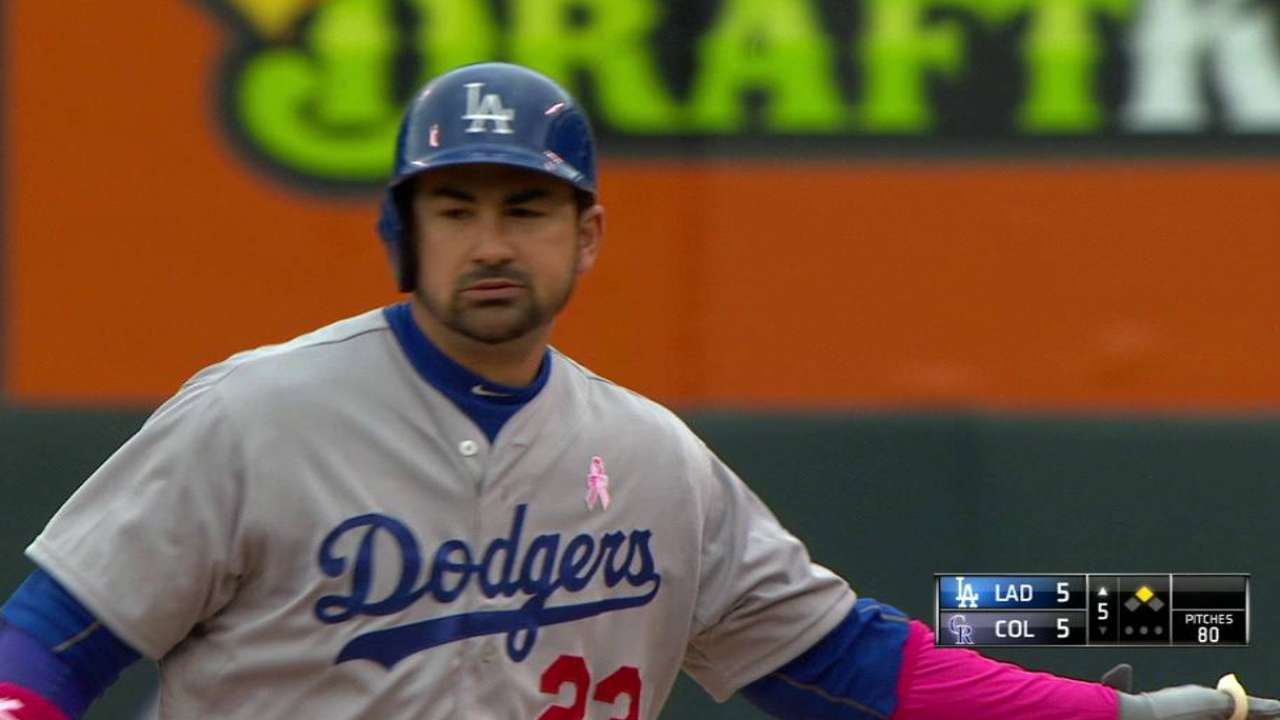 Stolen bases: Billy Hamilton, 17
With all due respect to Gordon -- an elite basestealer in his own right -- this race, so to speak, is Hamilton's to lose. Hamilton is an almost immaculate 17-for-18 in stolen-base attempts to start the season despite a paltry .258 OBP, while Gordon is 12-for-19. Hamilton's average on balls in play -- .239, compared to his career .298 -- is quite low, and he's improved both his walk and strikeout rates thus far. His OBP should increase as his fortunes turn, and if he can reach even the .320 range, Hamilton could swipe 80 or more bases.
Pick to lead the league: Hamilton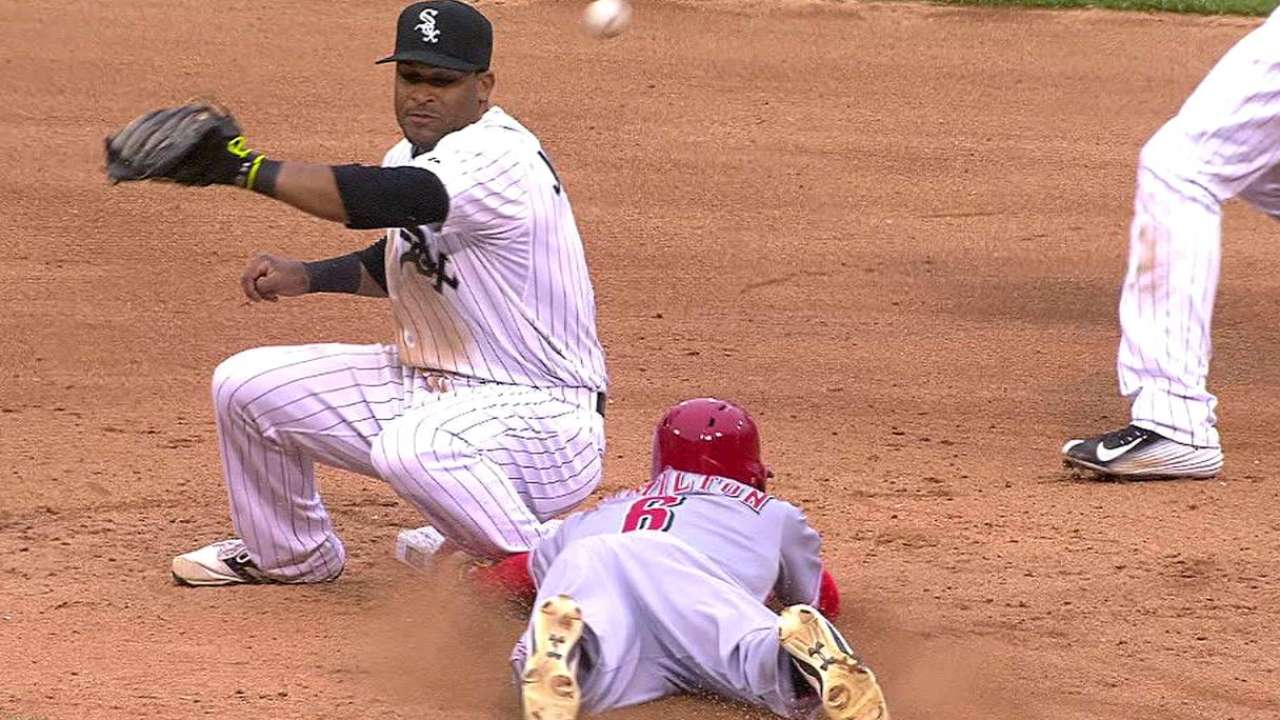 Steve Adams is a fantasy writer for MLB.com. Stats and leaders accurate entering play Monday. This story was not subject to the approval of Major League Baseball or its clubs.