MLB.com Columnist
Phil Rogers
Syndergaard's debut further signals Mets' arrival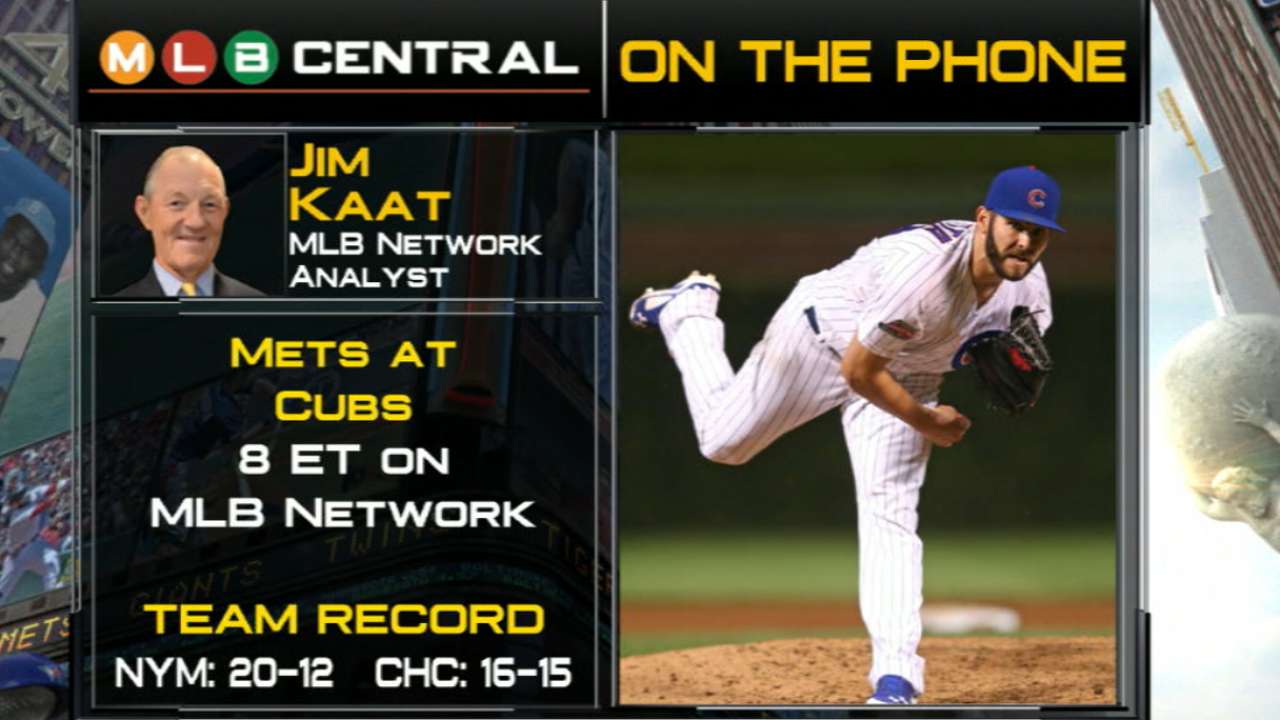 CHICAGO -- Sometimes an organization can get lucky. It's happened for the Mets before.
But this isn't 1967, when an infant franchise was awarded the services of Hall of Famer Tom Seaver in a lottery. This time around, they've hit Wrigley Field with a young, promising starting rotation that is the result of Sandy Alderson's patient planning.
Noah Syndergaard, promoted from Triple-A Las Vegas to replace the sidelined Dillon Gee, will make his long-anticipated big league debut on Tuesday, in an MLB Network Showcase game on MLB Network at 8 p.m. ET. He works one day after Jacob deGrom, the 26-year-old reigning National League Rookie of the Year Award winner, and one before Matt Harvey, who at 26 has returned from Tommy John surgery looking like a future NL Cy Young Award winner.
"It's exactly what we've been building toward -- these young, powerful arms who know how to pitch,'' manager Terry Collins said. "It's what every organization tries to [build].''
Hired to replace Omar Minaya at the end of 2010, Alderson came to New York at a time when the Mets' ownership was scaling back payroll dramatically. He committed to a slow, patient rebuild that wasn't always popular.
Instead of signing top-dollar free agents or trading 21-year-olds for 31-year-old All-Stars, the Mets were the team stocking up on kids, especially ones with strong arms. The reward, they feel, is coming later this season and for years to come.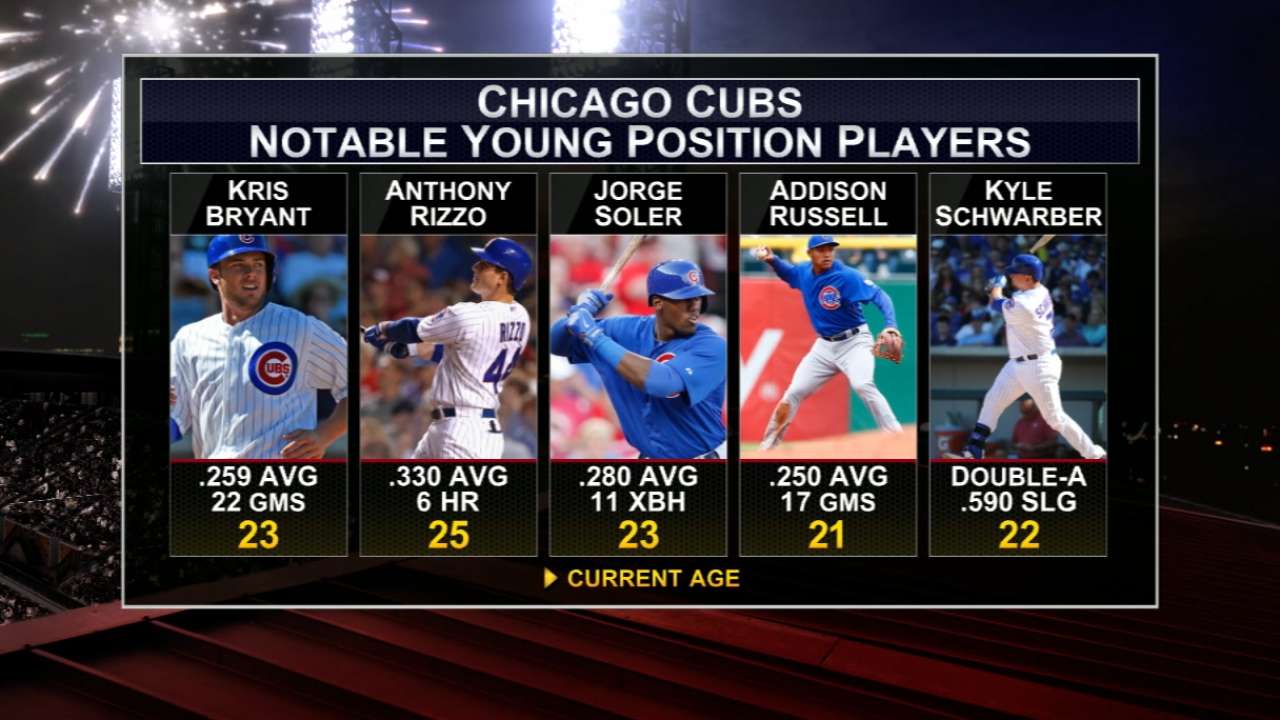 "It's been tough,'' Collins said. "There have been times there are big names out there [available in trades or free agency] and we said, 'We have to hold tight, we have to be patient. Our guys are coming, and when they get here, we're going to be good for a long period of time.' And I think that time is right around the corner. I hope it starts tomorrow.''
Syndergaard is ranked as the Mets' No. 1 prospect and No. 11 overall, behind only two other pitchers (the Nationals' Lucas Giolito and the Dodgers' Julio Urias), according to MLB.com. He's got a high-90s fastball and swing-and-miss breaking stuff, and the Mets wisely let him make 31 Triple-A starts rather than rush him to New York after he created a buzz in the Grapefruit League two springs ago.
Syndergaard joined the Mets over the weekend in Philadelphia, and Collins' message to him was a simple. He told him he wasn't in the Major Leagues "to get some attention'' but because he's capable of helping the Mets compete for a postseason spot.
"I'm excited to see this kid pitch because I'm a fan,'' Collins said. "But first and foremost, I'm the manager of this team, and I think he's good enough to be here or he would not be out there. It's not a show. This is not a Broadway play [where] we're going to throw this kid out there and see how he sings. We know how he sings. How's it going to play during the game?''
If it's somewhere near the level of Harvey and deGrom -- or even Bartolo Colon and Jon Niese -- the Mets could be looking at a very special summer.
Here's an amazing fact about the Mets: They have seven pitchers on the disabled list (including 25-year-old starter Zack Wheeler) and lost closer Jenrry Mejia to an 80-game PED suspension, yet pitching has carried them to a 20-12 start and an early lead in the NL East.
They entered Monday night's games ranked second in the NL in staff ERA -- behind the Cardinals -- but had a 2.99 rotation ERA, the best in the Major Leagues. And despite the run of injuries, they still have an impressive stable of arms in the pipeline.
The decision to promote Syndergaard was made after 23-year-old lefty Steve Matz received strong consideration. Another young starter, 24-year-old right-hander Rafael Montero, is among the seven pitchers on the DL.
"It tells you where we've come in four years,'' Collins said about the Mets' success overcoming pitching injuries. "I applaud our front office who made the deals to get these guys, some of 'em, and I applaud our scouts who recommended 'em and the people who developed 'em. This is why we say what we say -- that it's time to win. We know it's time for them to come up here and play like big leaguers, and they have.
"Noah's just another guy. It says a lot about our organization. There's more to come. Noah and Steve Matz have the biggest names. There are some other guys flying under the radar right now who have just as good stuff as these guys. It's exciting to think this organization is going to have this type of pitching, because that's where this game starts and ends, really.''
Harvey, selected with the seventh overall pick in the 2010 Draft from the University of North Carolina, and deGrom were gifts to Alderson from the Minaya regime. But a pair of trades that were unpopular when they were made brought Wheeler and Syndergaard.
Wheeler, who had been the sixth overall pick in the 2009 Draft, was given up grudgingly by the Giants to add Carlos Beltran at midseason in 2011. Syndergaard came from the Blue Jays along with catcher Travis d'Arnaud in a deal for knuckleballer R.A. Dickey, who had just won the NL Cy Young Award.
It's time to find out just how good Syndergaard can be. Nothing will be more fun on Tuesday than watching him pitch to the Cubs' talented young hitters, Kris Bryant in particular. Collins said Bryant got a staggeringly good endorsement from Wally Backman, the Mets' longtime Triple-A manager.
"I think Wally Backman is as good of an evaluator of talent as I've been around,'' Collins said. "He couldn't say enough good things about Kris Bryant. He said he's the best young hitter he's ever seen, and that says a lot. This guy has seen a lot of players in the years he's spent in the Minors. That's a big statement.''
This may be Wrigley Field, not Broadway, but on Tuesday night, it will be showtime, for sure.
Phil Rogers is a columnist for MLB.com. This story was not subject to the approval of Major League Baseball or its clubs.