Five takeaways from Angels' first five weeks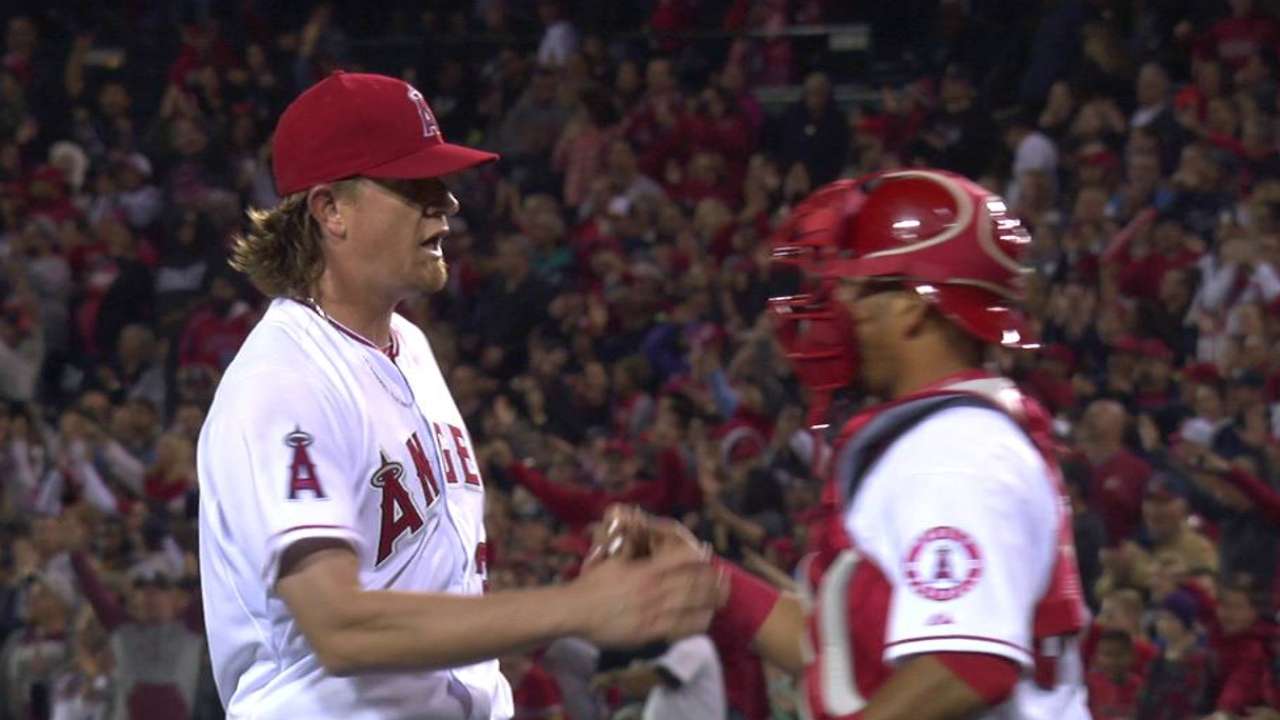 ANAHEIM -- Five weeks down, 21 to go, and the Angels are treading water.
Coming off a Major League-leading 98-win season, they're 15-17, five games behind the first-place Astros in the American League West but only one game off last year's pace. They rank 17th in the Majors in run differential and 22nd in Wins Above Replacement, according to FanGraphs.
Below are the five biggest takeaways thus far.
1. Out in left field
Erick Aybar is batting .235, David Freese is at .231, Albert Pujols is at .230, C.J. Cron is at .195, Matt Joyce is at .140 and Chris Iannetta is at .101. They're all going to hit better. And the Angels' offense -- with the second-lowest OPS in the Majors -- will improve, simply by progressing to the mean. But they're also limited, and it's pretty clear they'll eventually need to make an addition from the outside, preferably a power left-handed bat who can play left field every day.
If that sounds a lot like Josh Hamilton, it should. The Angels' plan going into the season was to have the left-handed-hitting Joyce and the right-handed-hitting Cron platoon at designated hitter, with Joyce occasionally filling in for Hamilton in left field and Cron periodically stepping in for Pujols at first base. Even with Hamilton in Texas, the Angels would still like to find an outfielder who would make that happen.
Ideally, they'd find someone who can be a long-term fit, because outfield has become the Angels' greatest organizational need.
2. Believe in Weave?
Right-hander Jered Weaver had a very encouraging start against the Astros on Friday, earning his first win of the season and throwing his first shutout in 32 months. His ERA dropped from 6.29 to 4.98.
Prior to that, pundits wondered if it may be time for the 32-year-old Weaver to reinvent himself, because his velocity was at an all-time low and his results were an all-time worst. Told of that, pitching coach Mike Butcher said, "You don't reinvent guys when there's only one like him. For what, to make him look like everybody else?"
But some believe that Weaver should throw even slower on purpose.
Jamie Moyer's first question, when told of Weaver's early-season struggles and velocity dip, was: What's the variance between his fastball and changeup?
The answer? Eight to nine mph, as opposed to 11 to 12 mph last season.
"There has to be a decent amount of a gap there," said Moyer, who carved out a 25-year career with a low-80s fastball. "If they're getting closer together in speeds, then it's going to be really tough. Velocity no longer matters, but he needs the velocity in his fastball to determine the variance between his fastball and changeup."
3. Trout is Trout
Mike Trout has a .307/.407/.596 slash line, is one of 10 players with an OPS over 1.000 and he already leads the AL in Wins Above Replacement, according to FanGraphs.
Ho-hum.
Here's a more surprising stat: seven stolen bases.
Trout stole 49 bases in 2012, 33 in 2013 and 16 in 2014. He was clearly on the same course as such players as Willie Mays and Andre Dawson, five-tool players who stole fewer bases as their power became more pronounced. But Trout went into this season wanting to get that stolen-base total up again, and now he's on pace for 35.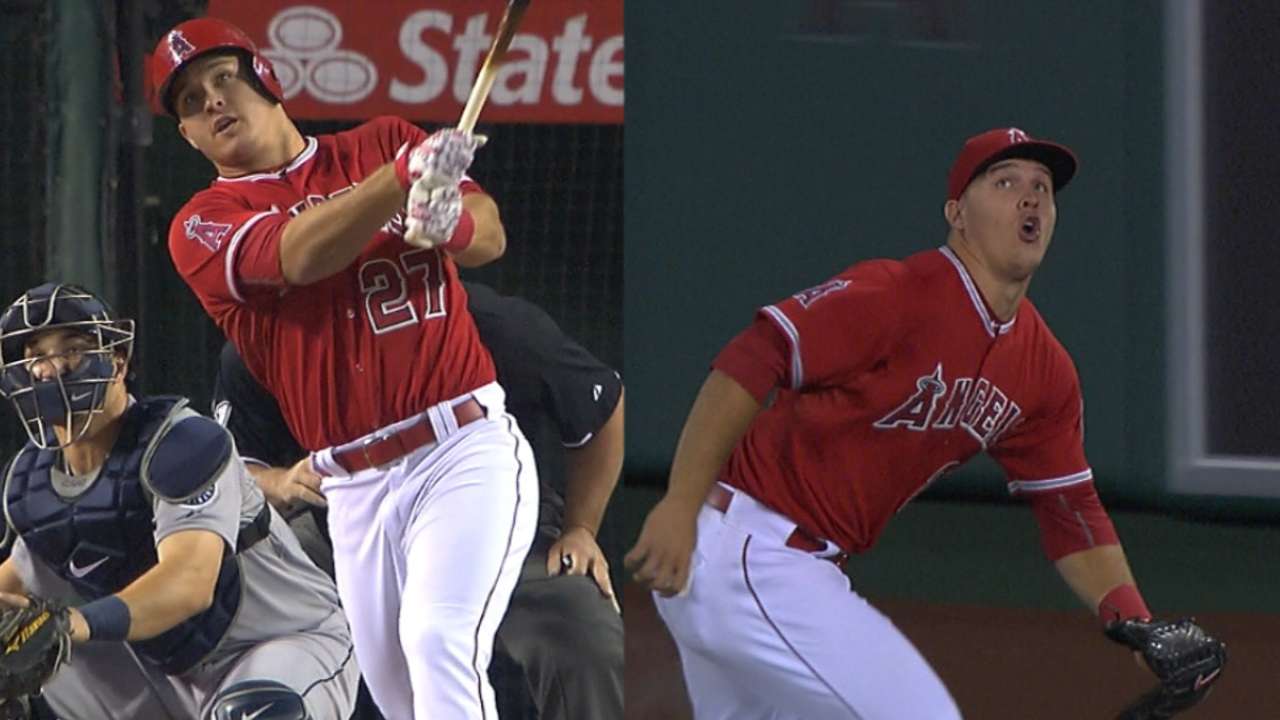 Some, like Tim Salmon, believe Trout shouldn't bother stealing a lot of bases, because they "take a toll on your body" and can thus hurt the rest of your game.
"If you're stealing 50 bags a year, you're putting more of a beating on yourself when you're doing that than just about anything else you can do on a baseball field," general manager Jerry Dipoto said in Spring Training.
"Mike can steal 100 bases if he wants to. But what does he have to give up to be that guy?"
4. Garrett is Garrett
The most encouraging sign for the Angels, by far, has been the success of right-hander Garrett Richards.
Richards, 26, was an AL Cy Young Award candidate before his left patellar tendon ruptured at Fenway Park on Aug. 20, and he's the only pitcher on the Angels' staff -- starter or reliever -- who throws above 92 mph. He may only affect one of every five games, but he was considered a potential difference-maker this season, for obvious reasons.
So far, Richards has responded.
Richards carried a no-hitter into the seventh inning on Sunday and has a 2.27 ERA in his first five starts, giving up eight earned runs on 18 hits and 15 unintentional walks in 31 2/3 innings while striking out 29. He is throwing his fastball at 95.8 mph, tied for second-highest among starters, and is maintaining that velocity deep into his pitch count.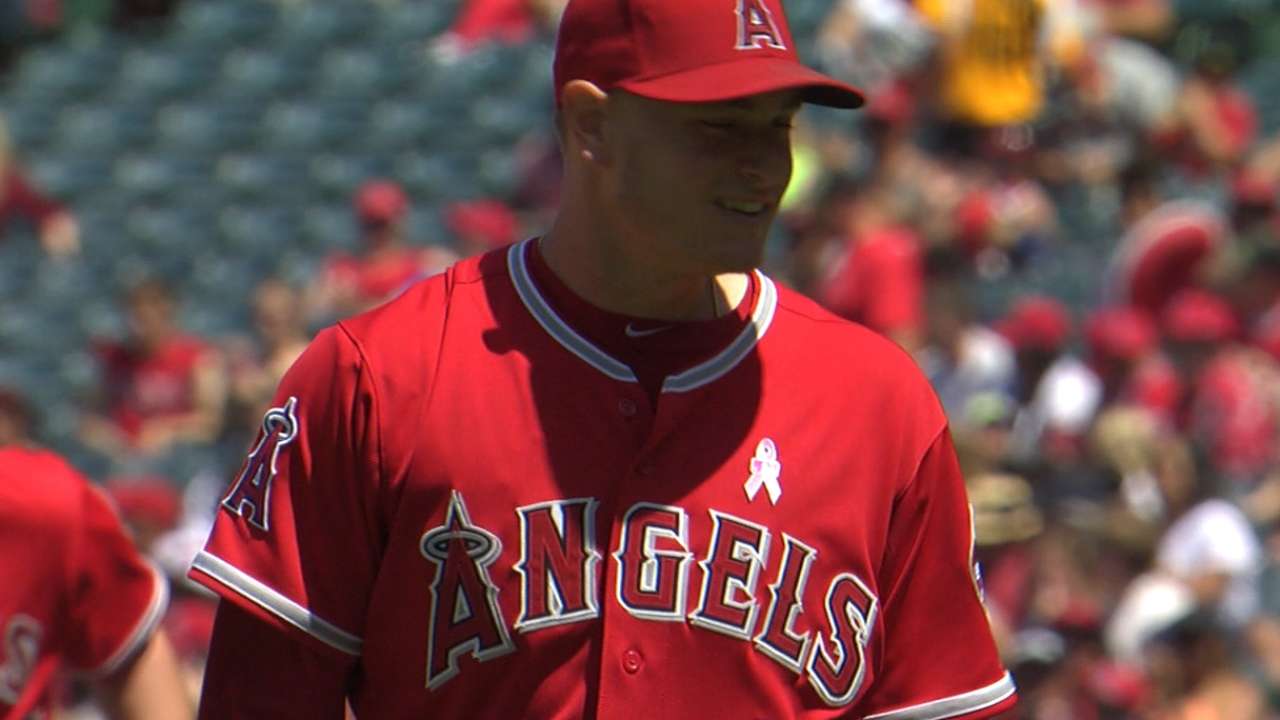 But Richards' strikeout-to-walk ratio is only 1.81. His command isn't all the way back yet, which is to be expected for somebody coming off a really long rehab. And there's no reason why it shouldn't improve.
5. The 'pen is mightier
A few rough outings notwithstanding, the Angels are perfectly fine with Joe Smith in the eighth and Huston Street in the ninth -- a vast improvement from where they were to start each of the last three seasons.
But what comes before that is still a little hazy.
Manager Mike Scioscia is still looking for a stable bridge to the final six outs and has mostly tried to get there with matchups. Cesar Ramos and Fernando Salas have been used against lefties, Vinnie Pestano and Mike Morin have mainly been used against righties. So far it's hit and miss, but few teams have the luxury of a set seventh-inning reliever.
A rival evaluator pointed to perhaps a bigger deficiency in the bullpen: "They don't have one guy who can come in and get a strikeout."
Angels relievers are tied for 16th in the Majors in strikeout rate. Not surprising, given that their hardest-throwing reliever -- Morin, who mostly relies on his changeup -- throws 92 mph. Former seventh-inning man Kevin Jepsen had the big fastball last season, but he was sent to the Rays for Joyce in December.
Cam Bedrosian, with 16 strikeouts in 12 1/3 innings at Triple-A Salt Lake, could eventually be an important piece.
Alden Gonzalez is a reporter for MLB.com. Read his blog, Gonzo and "The Show", and follow him on Twitter @Alden_Gonzalez. This story was not subject to the approval of Major League Baseball or its clubs.