C. Gomez adds hops back to Brewers' lineup
Delivers spark while hitting fourth for first time this season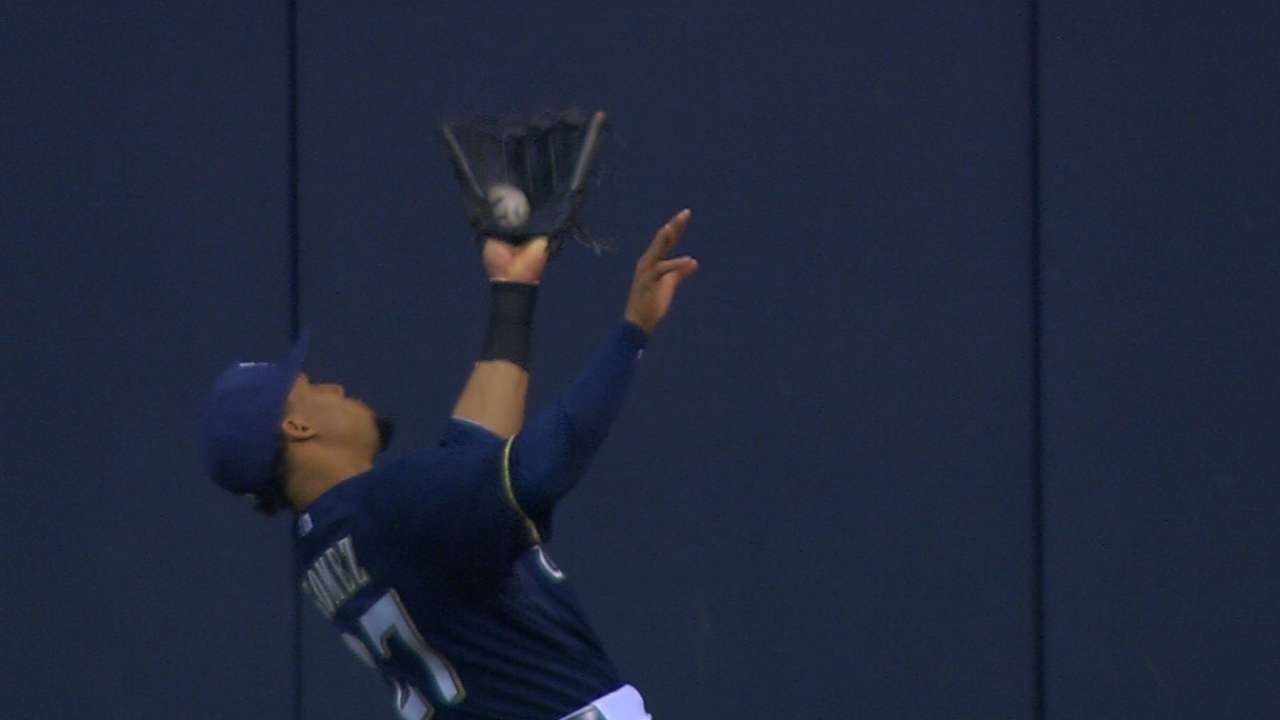 MILWAUKEE -- Carlos Gomez may have moved into the Brewers' cleanup spot Monday, but that didn't mean he surrendered his speed.
He played the part when he smacked a two-run home run in the first inning. But Gomez also circled the bases on a triple and a White Sox error in the fifth, then raced back to make an over-the-shoulder catch in the eighth that might have been his biggest contribution to a 10-7 win over the White Sox. His banner day started when Gomez arrived at Miller Park and, for the first time this season, saw his name penciled into the four-hole.
"I feel sexy hitting [cleanup]," he said with a smile. "It's a different feeling. I go to the plate like, 'I'm the man.'"
The move came as part of new Brewers manager Craig Counsell's first significant lineup shuffle. He dropped Gomez from the leadoff spot to a run-producing role, batting Gerardo Parra first instead, and moved Ryan Braun and Adam Lind up in the order one spot apiece.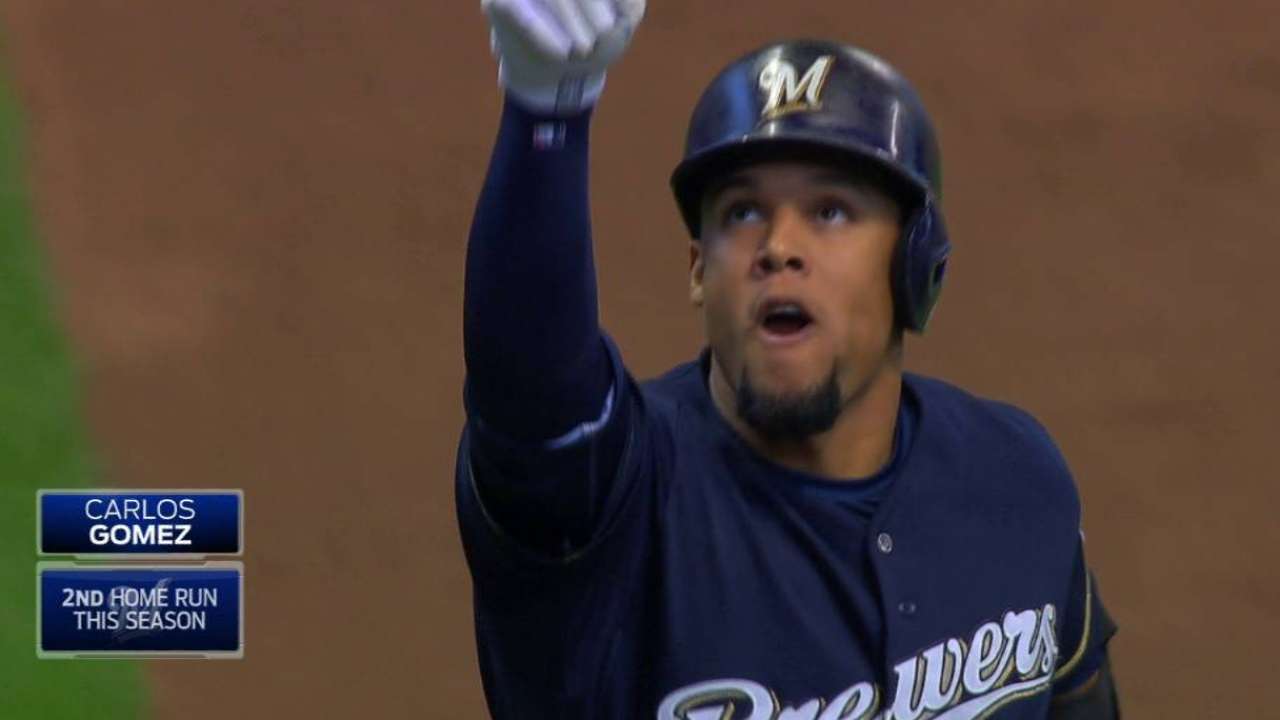 It produced early results. The Brewers led, 5-0, after two innings and 7-2 after the fifth. The White Sox rallied to tie the game in the eighth before Gomez made his critical catch, and Elian Herrera and Kris Davis put the Brewers back in front in the bottom of the inning for Milwaukee's third straight win, and seventh in 10 games.
"We're going the right way," Gomez said.
He played a large part in that on Monday night.
In the first inning, Gomez hit a hanging slider from Chicago starter Jeff Samardzija for his first home run since returning from a two-week stint on the disabled list for a hamstring strain.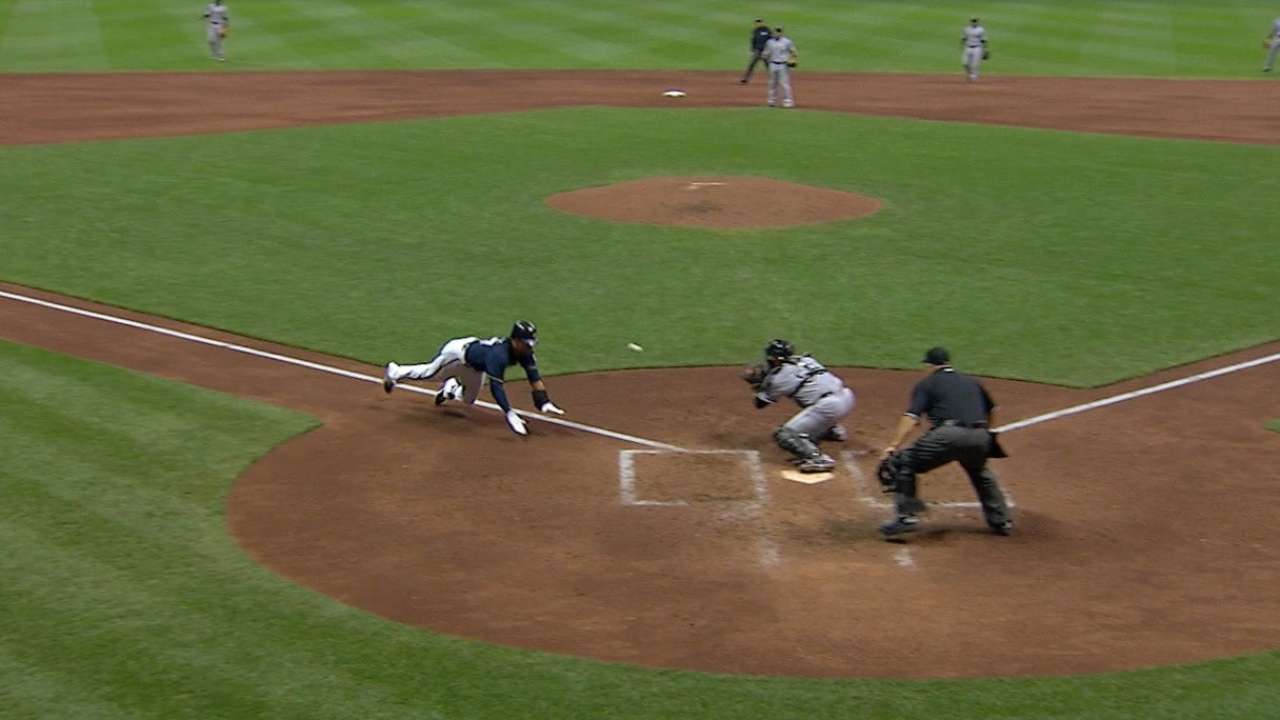 In the fifth, Gomez circled the bases again. He hit a triple to the right-field corner and then scampered home when White Sox outfielder Avisail Garcia's throw skipped past the relay man. Gomez scored with a headfirst slide and was called safe by home-plate umpire Brian O'Nora, a ruling that stood after Chicago asked for a replay review.
"I went all the way to third and I see my third-base coach send me. I was like, 'What's going on?' because the ball was behind me," Gomez said. "I give everything I had, and finally I made it."
According to Statcast™, Gomez reached a top speed of 19.9 mph (not quite Jarrod Dyson speed, as he topped out at 21.0 mph on his triple Sunday night), and it took him 15.0 seconds to make it around the bases.
The catch came three innings later, after Chicago scored twice against Brewers reliever Jonathan Broxton to tie the game at 7. With two runners aboard, including the speedy Adam Eaton at first base, Melky Cabrera hit a line drive toward the center-field wall. Gomez sprinted back and made the inning-ending catch.
"That's how you win games, make a big play," Gomez said. "That was a key moment in the game, so you have to be more watching and paying attention. He hit the ball and I turned around, put my head down and run, and when I took a peek again, I throw up my glove and got it. Paying attention to the game and being in the game, that's how you make a great catch like that."
Adam McCalvy is a reporter for MLB.com. Follow him on Twitter at @AdamMcCalvy and listen to his podcast. This story was not subject to the approval of Major League Baseball or its clubs.