Nats' Escobar in rare five-hit company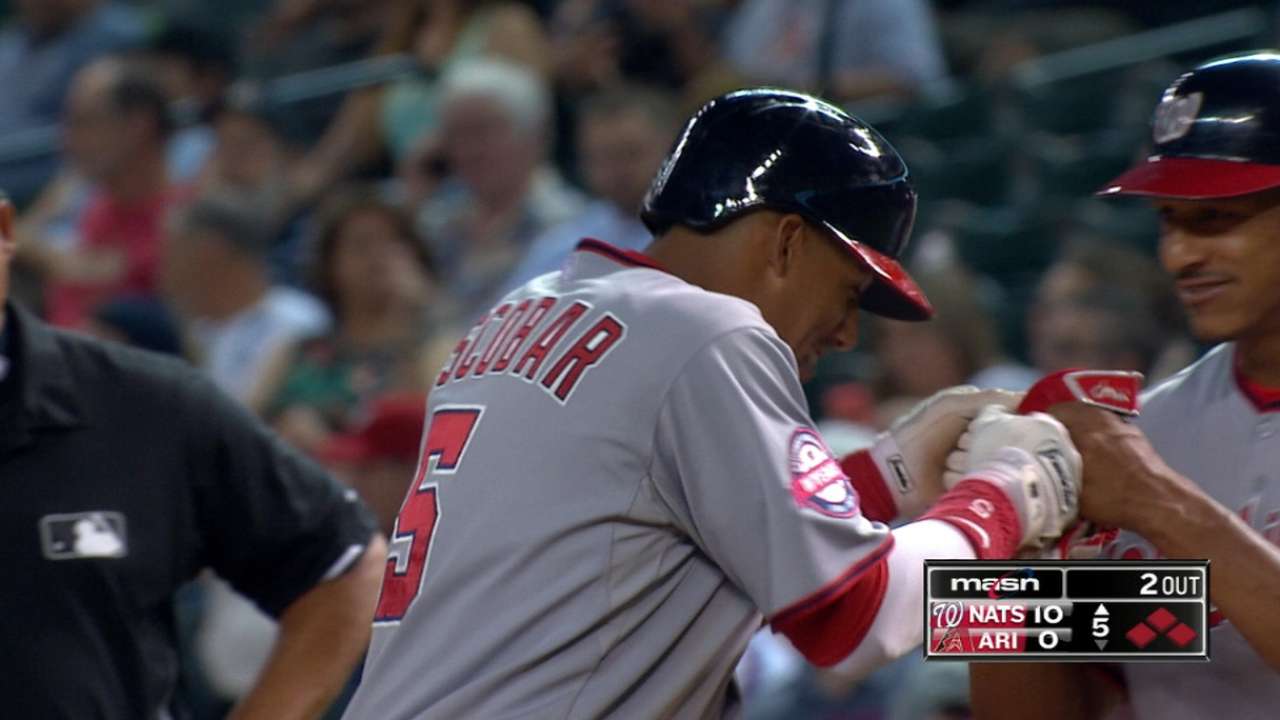 PHOENIX -- Nationals third baseman Yunel Escobar left Sunday's game after three innings because of a sudden stomach virus. But manager Matt Williams knew Escobar was ready to play on Monday at Chase Field when he saw him before the game in the players' lounge chowing down on a big plate of food.
Williams put Escobar back in the lineup. Of course, at that juncture, Williams had little clue that Escobar was about to pound out five hits for the second time in a week.
"It was nice to see him get back in there today," Williams said. "He feels good. That's all I care about. Regardless of how many hits he gets, he feels good."
Escobar feasted on D-backs pitching, going 5-for-5 -- all of the hits singles -- in Washington's 11-1 win. Escobar also had five hits in as many at-bats on May 4 against the Marlins at home.
With Monday's effort, he became the first player since the Nationals moved from Montreal in 2005 to log a pair of five-hit games in a single season. And with 129 games to go, there's plenty of time for a third.
Escobar is the first Major League player to have five hits in games played one week apart since Ichiro Suzuki did it in his halcyon days with the Mariners in 2004, and the first National Leaguer to do it since San Francisco's Robby Thompson in 1993.
"I'm very happy I've had the opportunity to do that," Escobar said through a translator. "I'm very happy I was able to do that for the team."
Escobar has been on a tear of late. In the eight games since May 3, he's batting .516 (16-for-31) with six RBIs and six runs scored, raising his overall batting average to .342. He said the sudden surge doesn't necessarily have anything to do with him.
"It's the bat, it's not me," he said. "I'm going to protect that bat."
He also said he wasn't anxious to hit again on Monday night and try to make it 6-for-6.
"I didn't want to hit anymore, enough is enough," he said. "My timing is so perfect right now. Sometimes I don't want to do too much."
Williams, though, said the hot streak can hardly be attributed to the bat alone.
"He's calm and he's just taking what's given to him," Williams said. "He's hitting the ball in the middle of the diamond, which creates opportunity. You stand at the plate and it looks like the most crowded spot on the diamond, but it's actually the biggest. He understands himself. He takes the ball the other way when he has to. We've seen him, over the course of this season, get a bunch of big hits for us."
Barry M. Bloom is a national reporter for MLB.com and writes an MLBlog, Boomskie on Baseball. Follow @boomskie on Twitter. This story was not subject to the approval of Major League Baseball or its clubs.