Collmenter's rough night allows Nuno to shine
PHOENIX -- There were still six-and-a-half innings to play, but realistically, the game was over in the second inning for the D-backs when they handed the Nationals and ace Max Scherzer a 10-0 lead.
Scherzer, the former D-backs first-round pick and 2013's American League Cy Young Award winner, put things on cruise control from there as the Nationals recorded the 11-1 win.
"It was over early," D-backs manager Chip Hale said. "But it just counts for one loss. Hopefully we'll be better tomorrow. I know we will be, but it just wasn't our night."
It was a bad night for D-backs starter Josh Collmenter, who was only able to get one out in the second inning.
"Fastball command is the beginning and ending of everything that I do well," said Collmenter, who fell to 3-4. "And tonight, it was up in the zone and flat, and when it's like that, it's pretty easy to hit, as evidenced by tonight."
Indeed, Denard Span homered on the second pitch of the game and the Nationals were off to the races.
"They're good hitters, and you've got to be on," Hale said. "[Collmenter's] ball didn't have the same movement that it usually has. They were able to get on him, and they did a nice job."
With a bullpen depleted after a heavy workload over the weekend, the D-backs were hoping Collmenter would pitch deep into the game. That, of course, did not happen, but just in case, the team had called up pitcher Vidal Nuno from Triple-A Reno earlier in the day.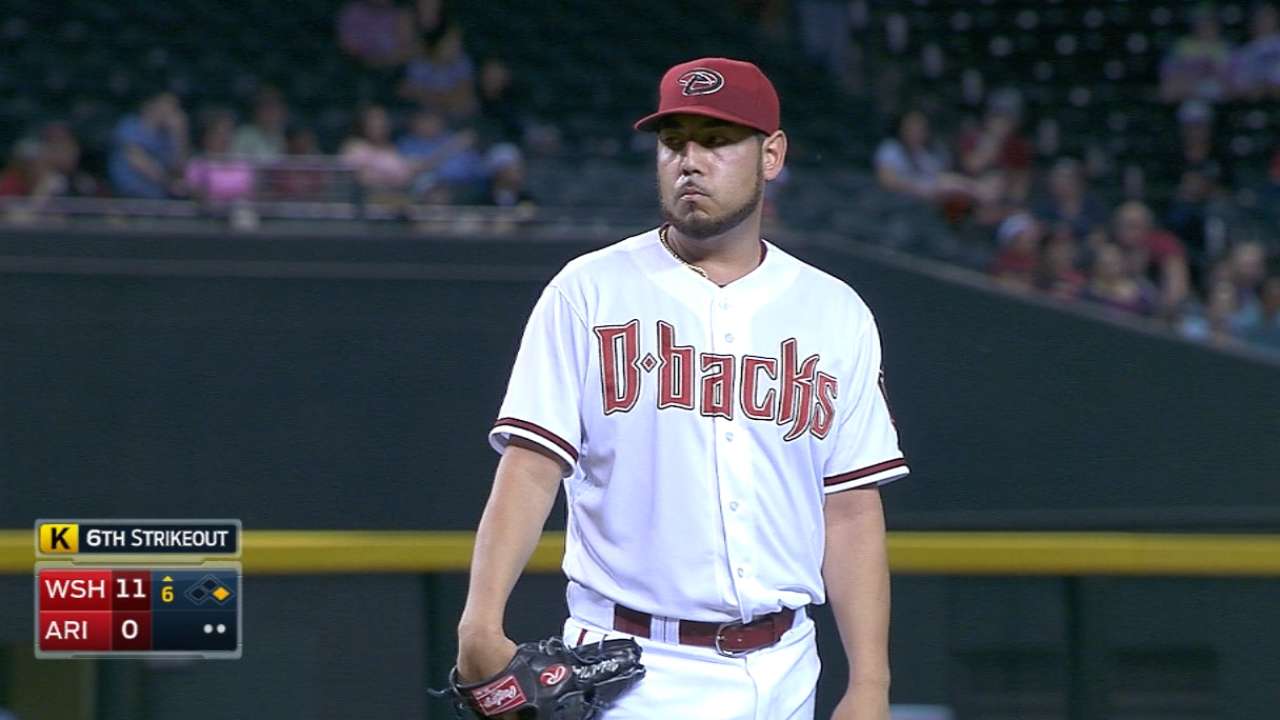 Nuno started games in Reno, and he was thrust into action practically before he was able to get the keys out of his rental car.
"You never know what's going to happen," Nuno said. "Sure enough, they came out swinging and scored a lot of runs and I heard the phone ring and it was me. So I was just doing my job. and tried to keep [myself] in the game as long as possible, keep my pitch count down and try to go and finish the game."
Nuno came pretty close to doing just that, as he saved the bullpen with a 6 2/3-inning performance, allowing just two runs while setting his career high with eight strikeouts.
"Great, great job," Hale said. "That's why we brought him up, for length. He saved us. He put our bullpen back into play for the rest of this series, obviously, and then we have the off-day Thursday, so everybody should be able to go [Tuesday]."
One of the things the D-backs asked Nuno to work on when they sent him to Reno was his changeup. He changed his grip on the pitch, and the results have been noticeably better.
"He used it and got some strikeouts," Hale said.
Steve Gilbert is a reporter for MLB.com. Read his blog, Inside the D-backs, and follow him on Twitter @SteveGilbertMLB. This story was not subject to the approval of Major League Baseball or its clubs.