Kung Fu flashback: Panda returns to Bay in style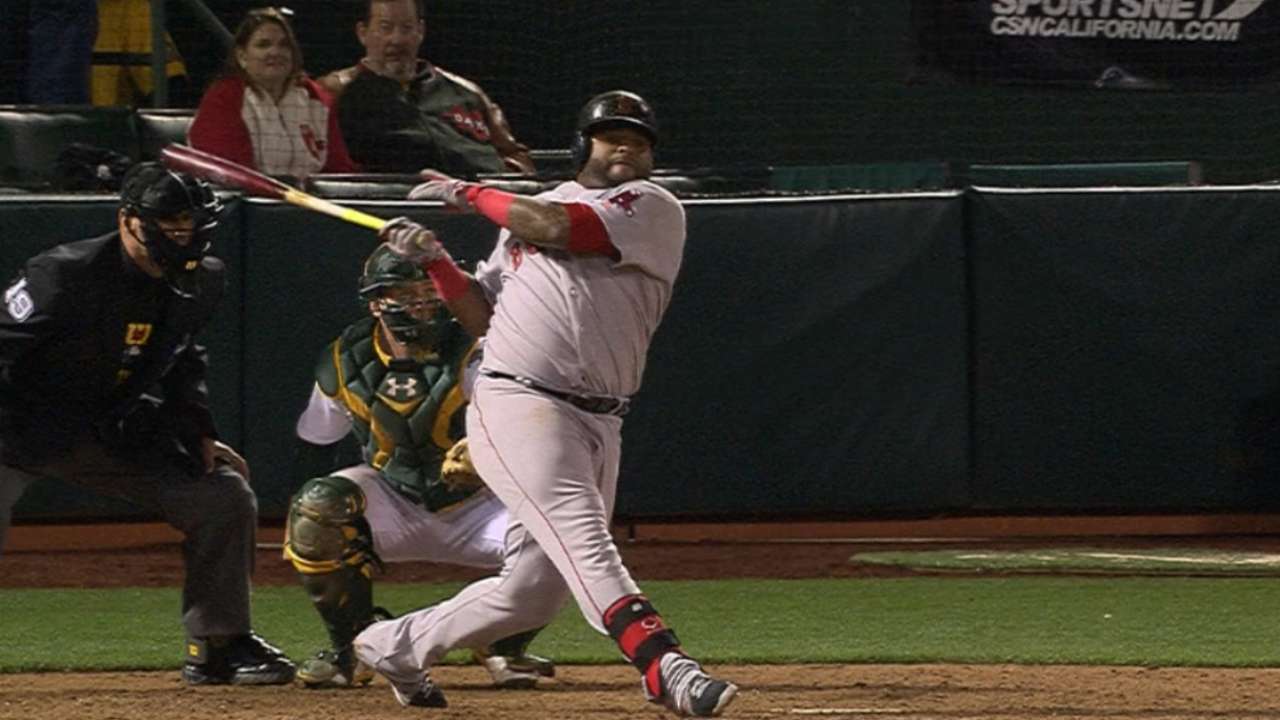 OAKLAND -- It had already been a fruitful return for Pablo Sandoval, who arrived in San Francisco on Sunday night and collected his third World Series ring.
Making his first trip to the Bay Area as a member of the Red Sox, Sandoval ventured over to Oakland on Monday and in the top of the 11th inning, he became the home run hero.
Sandoval turned on an 0-2 fastball from Angel Castro and belted a low liner over the wall in right to snap a tie and lift the Red Sox to a 5-4 victory over the Athletics.
"It's exciting," said Sandoval. "A lot of emotions. I got the ring and hit a homer, too. It was a big day for me."
It was a big one for the Red Sox, too, as they need every win they can get to overcome a slow start.
"Hopefully this was a little bit of a homecoming for him," Red Sox manager John Farrell said of Sandoval. "Not only to the area, but for what he's had with the Giants and the ability to meet with so many people last night when we got in -- today was a special day for him."
Last night, the #SFGiants presented @KFP48 with his 2014 World Series Champions Ring pic.twitter.com/xN7IQJYEMT

- San Francisco Giants (@SFGiants) May 11, 2015
As for the informal ring presentation, Sandoval was greeted by Giants manager Bruce Bochy, owner Larry Baer and general manager Bobby Evans.
"Excited," said Sandoval prior to Monday's game. "Excited to get my third ring. Excited to see Bochy and those guys out there. You learn a lot of things from them. You have to appreciate all the things that you work hard for."
The relationship between Sandoval and Bochy remains strong.
"We talked for 20 minutes," Sandoval said. "We text back and forth during the season. It's one of those things, I've never lost communication with Bochy. Every time I've needed advice, I've asked him for advice, and he's there for me."
Though Sandoval was critical of the Giants in an interview during Spring Training -- particularly with what he perceived as their lack of effort to bring him back -- he mainly took the high road on Monday.
"It probably came out the wrong side. I accept what I said, I agree with what I said," Sandoval said. "There's probably nothing wrong because if I tell every name that I miss, it's going to be long interviews. I just said those names because Bochy is like my dad. He always believed in me. And Hunter [Pence] is the greatest player I've played [with]. It's not about my teammates, it's not about the fans' support. Probably things come out the wrong side."
How does Sandoval feel about the Giants now?
"I feel great. They give me opportunity to be in professional baseball. They give me opportunity when I was 16 years old," Sandoval said. "They opened the door for me to be in the big leagues. They give me three rings. What am I going to be sad about?"
Sandoval was all smiles after Monday's game.
"It's early. It's early in the season. We've been through a lot during the season, but we've tried to be patient to get some wins, don't try to do too much out there, have some fun. That's important, too," said Sandoval.
Ian Browne is a reporter for MLB.com. Read his blog, Brownie Points, and follow him on Twitter @IanMBrowne. This story was not subject to the approval of Major League Baseball or its clubs.