Noesi's role fluctuates with Rodon's presence
Right-hander wants to be starter, asked to be available out of bullpen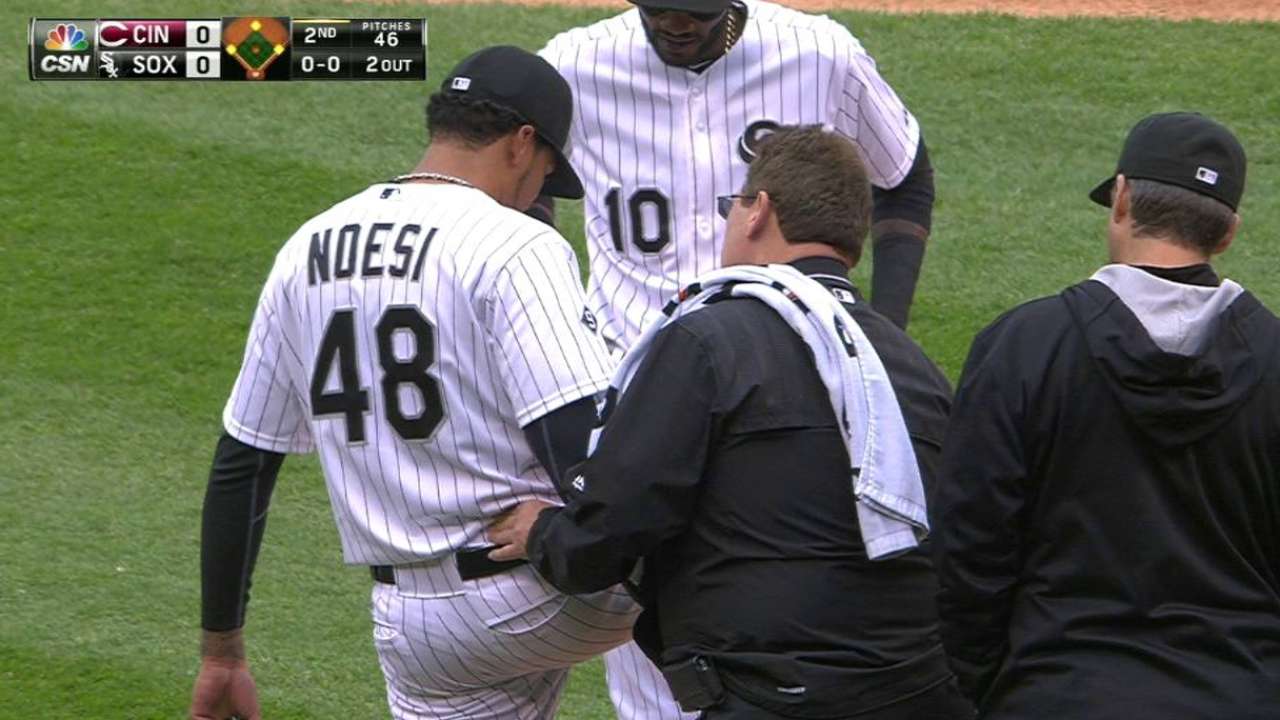 MILWAUKEE -- Hector Noesi felt better Monday after taking a Billy Hamilton line drive just above his right hip during the first game of Saturday's doubleheader against the Reds. Noesi departed after just 1 2/3 innings.
With Carlos Rodon unavailable until this weekend in Oakland and White Sox manager Robin Ventura still wanting to give Scott Carroll and Dan Jennings another night off, Noesi was ready out of the bullpen for the series opener against the Brewers.
"I want to be a starter. I came here to be a starter," said Noesi. "I don't make the decision. I have to do whatever they tell me. I've got to be in the bullpen today, so I don't know when my next start is going to be."
Noesi doesn't know if the rotation departure is permanent, meaning Rodon, the club's No. 1 prospect and No. 15 overall, according to MLB.com, moves in full-time. Ventura wouldn't commit to anything past Jeff Samardzija, Chris Sale and Jose Quintana during the three games in Milwaukee.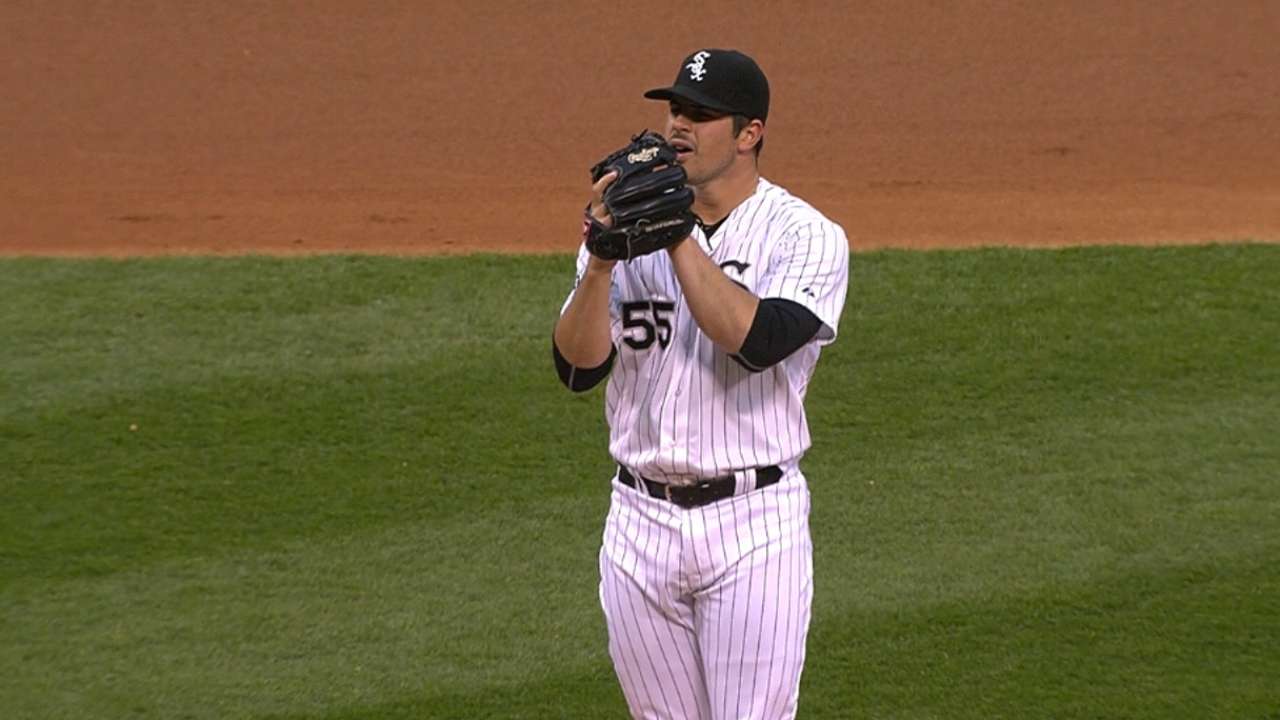 Some of that decision depends on how the starters pitch and how much Noesi is needed.
"Actually, we'll have a better idea Wednesday, depending on how today and tomorrow go," Ventura said. "[White Sox general manager] Rick [Hahn] is up here, so we'll be talking about that and how we shake it out."
White Sox fans want Rodon, 22, to take what they view as his rightful place in the White Sox rotation. Fates have not been kind to Noesi, who went from April 10 to April 21 between his first two starts, and then pitched again on May 2 and on Saturday.
Noesi, who retired the only batter he faced in the eighth inning of Monday's 10-7 loss, proved to be a viable starter last season, with an 8-11 record and 4.43 ERA over 27 starts for a team that won only 73 games. But Rodon is meant to be a starter, and as he mentioned Saturday, currently is going through the transition from the bullpen to make that move.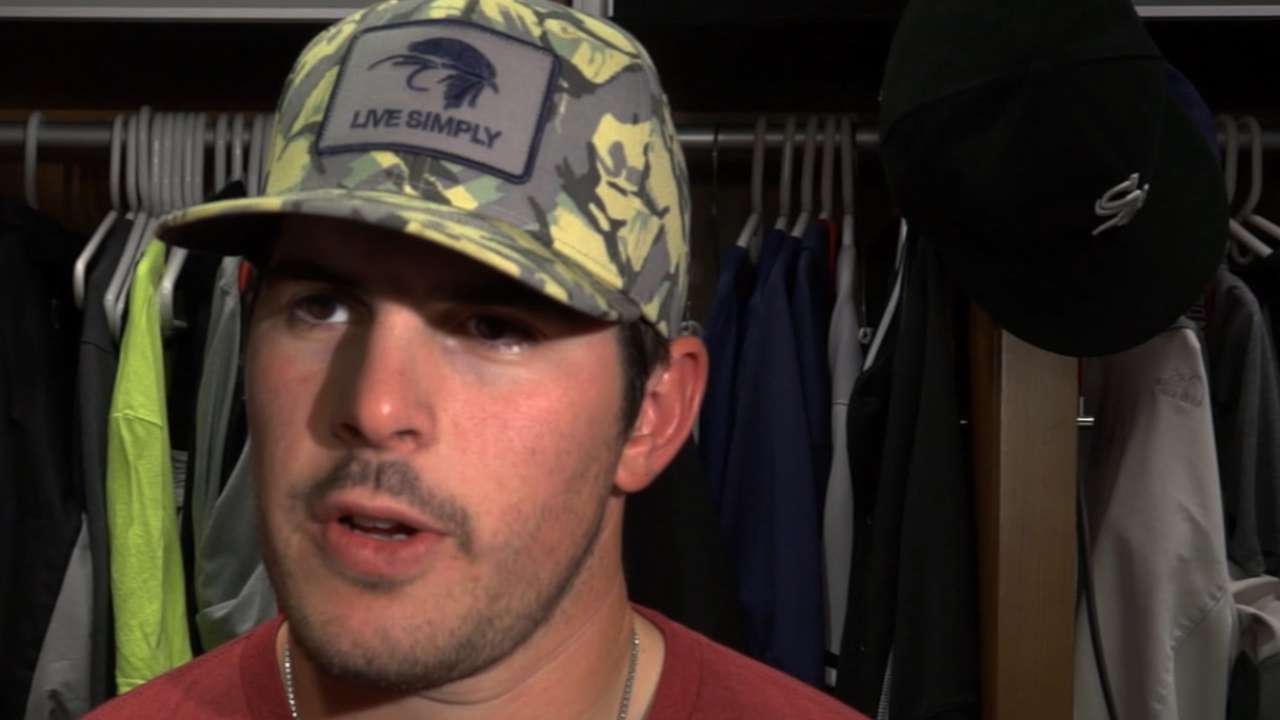 Rodon's first-year innings total, with 10 thrown at Triple-A Charlotte and 12 1/3 thrown with the White Sox, remains a constant focus. But his eight-strikeout effort over six innings Saturday night against the Reds also provided a glimpse of the high impact he possesses.
"We know where we'd like him to end up. It's not a thing where we don't know that," said Ventura of Rodon's innings. "You're trying to make sure you can stay within that. There are too many variables right now of who we've got, where he's at, what's best for him, us, all those things. We continue to discuss that.
"Any time you have [Rodon] on your team, it's a nice problem to have. He can do a lot of things for you. We all know his starting is going to be happening at some point in the future.
"Whether it's now or later, that needs to be discussed, and we need to have a definite plan with that," Ventura said. "Over the last weekend, it's a little tougher, just arm usage of a lot of guys who are out there. The future for [Rodon] is a starter, that's for sure."
Scott Merkin is a reporter for MLB.com. Read his blog, Merk's Works, and follow him on Twitter @scottmerkin. This story was not subject to the approval of Major League Baseball or its clubs.