Eaton working hard to regain last year's swing
Leadoff hitter collects four hits Monday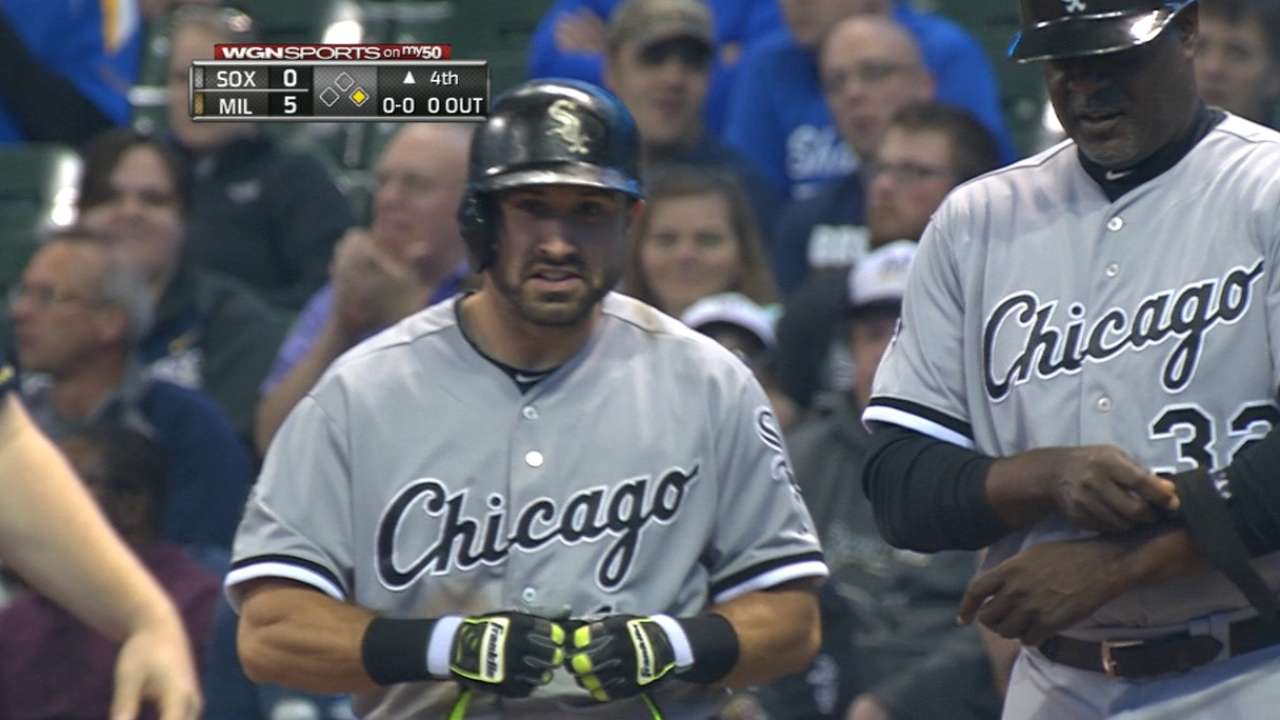 MILWAUKEE -- Adam Eaton is doing everything possible to try to end his season-opening slump, with part of that plan involving watching video of last year's swing with White Sox hitting coach Todd Steverson.
It seems to be working based on Eaton's sixth career four-hit effort in Monday's 10-7 White Sox loss to the Brewers at Miller Park. His average jumped to .225, and he picked up his first two RBIs of the season after 101 at-bats, including a game-tying single off of Jonathan Broxton in the eighth.
"That's the plan," Eaton said before the club's seventh straight road loss. "I don't know how I fell asleep Christmas night and all of a sudden I lost the ability to stay behind the ball and hit the ball in front. But it's kind of a crazy thing called baseball, and sometimes rhyme or reason, it doesn't add up.
"We'll add a little more workload on the swing and hopefully we can get back to it. I will say this, looking at film, it's night and day between my swing now and what it was early last year. Just getting back to that and staying consistent and building it up."
Eaton entered Monday's action with a .175 average with three walks leading off an inning this season, compared to a .298 mark in that category during 2014. He had the day off Sunday, coming off of a two-walk effort in a White Sox victory during the nightcap of Saturday's doubleheader against the Reds.
"As long as I'm getting on base, it's always the plan," Eaton said. "Getting on base is important for me any way, shape or form. So if I'm not hitting, drawing walks and trying to put pressure on the defense and score runs is always important.
"[Manager Robin Ventura] gave me a day off yesterday, and he knows best. I watched the game and tried to learn from the other guys, who played well. It was good to see."
Scott Merkin is a reporter for MLB.com. Read his blog, Merk's Works, and follow him on Twitter @scottmerkin. This story was not subject to the approval of Major League Baseball or its clubs.