With Avila on DL, the future is now for McCann
Catching prospect known for keeping meticulous notes on pitchers, hitters
DETROIT -- Sometimes Brad Ausmus likes to throw a joke into his pregame media sessions. Other times, he just likes to see if anybody is paying attention. So when Ausmus was asked if he felt rookie catcher James McCann was ready to handle the Tigers' pitching staff, he threw a punchline out.
"James can handle it," Ausmus said. "I think his dad's a rocket scientist."
The usual news conference laughter ensued. Ausmus was smiling, but apparently serious.
"No, I think he's actually a rocket scientist," Ausmus followed.
This is actually true. McCann's father is a mechanical engineer in the aerospace industry in Santa Barbara, Calif. Projects on which he has worked have ended up on the moon, on Mars and in orbit around the Earth. His son never considered that path.
"I was a really good student and kept my grades up so I could go out and play baseball," McCann said. "My dad was really strict about grades."
The young McCann is now handling Detroit's pitching staff. Considering how much the Tigers' success hinges on its starting pitching, it merely seems like a low-pressure situation by comparison.
It's a role the 24-year-old McCann has been groomed for, dating back to his days working with Drew Smyly and others at the University of Arkansas. With Alex Avila on the disabled list with a loose body in his left knee, it's McCann's role for at least the next few weeks, a little ahead of schedule.
In the process, it's a chance for Detroit to see how far No. 5 prospect McCann has come.
"I think he can handle it," said vice president of amateur scouting David Chadd, who drafted McCann with the team's top pick in the second round of the 2011 Draft. "I think he's ready to handle it. But until he goes out there and takes on the job, you don't know."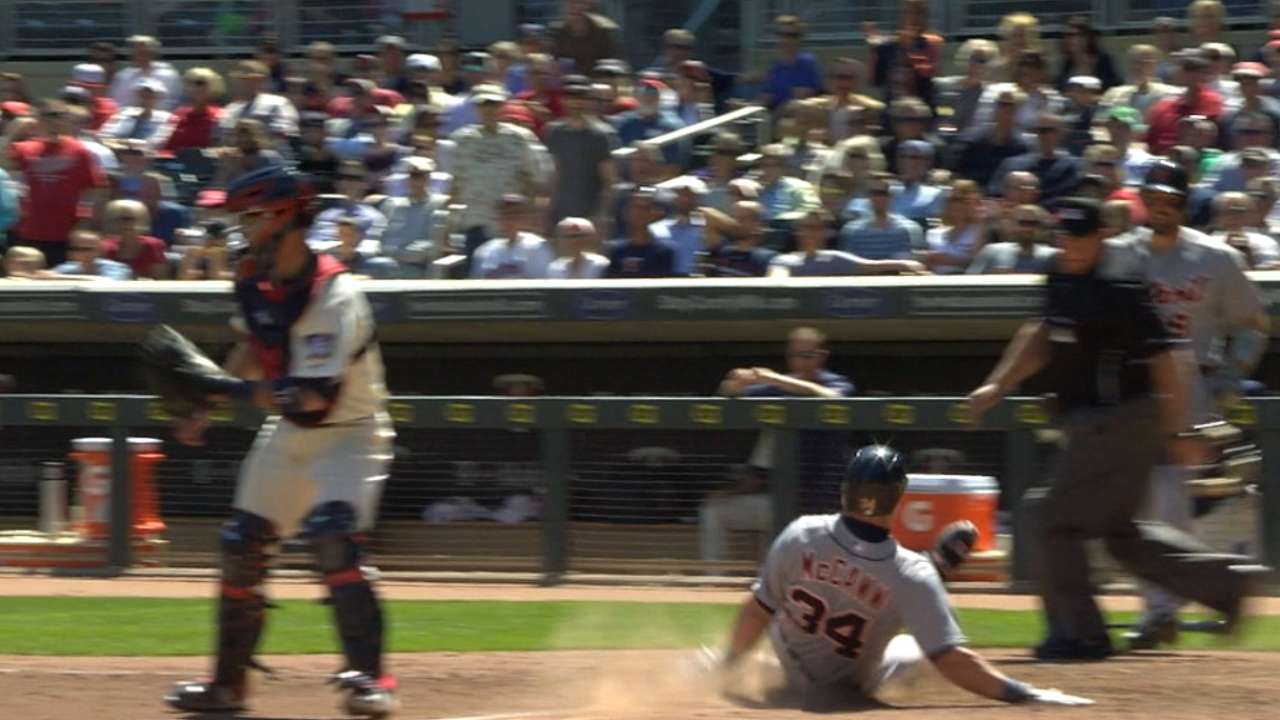 The Tigers have had a knack over the years for finding catching talent at other positions. Brandon Inge was a college infielder and pitcher before Detroit drafted him in 1998 with the intention of putting him behind the plate. Avila converted from corner infielder to catcher for a season at the University of Alabama before the Tigers drafted him in 2007. McCann has been a catcher since high school, and he has been learning the craft at each step along the way. He became known in the farm system for keeping a notebook, chronicling not only pitchers he faces but also the hitters, a habit he started at Arkansas.
As far back as last fall, president/general manager Dave Dombrowski said team officials felt McCann was ready to be a Major League catcher. He started two games in September, one of them a critical matchup between Justin Verlander and the Royals, and made an impression.
"He did a great job," Verlander said at the time. "I can't say enough about how he did back there. We were on the same page a lot. What an incredible job he did for the first time."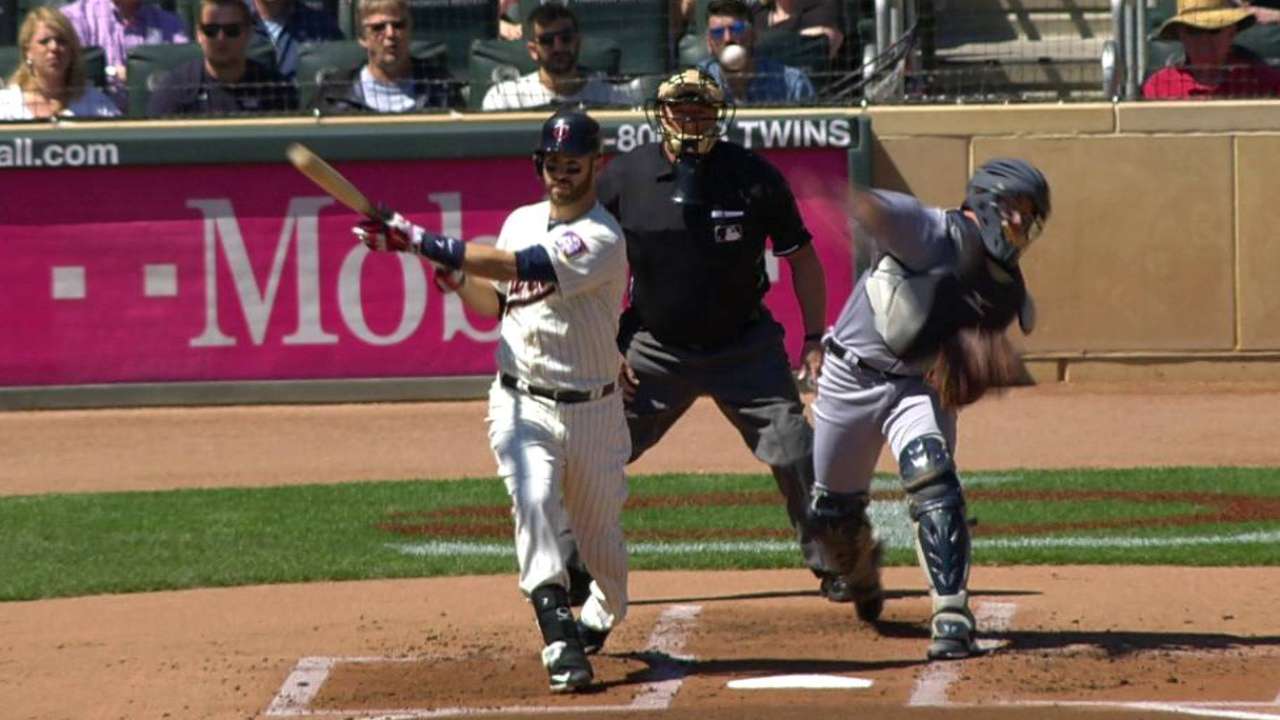 McCann caught David Price, Anibal Sanchez and Shane Greene over the weekend, and he has caught Kyle Lobstein multiple times during his impressive start. While Sanchez has had two rough starts pitching to McCann, including Saturday, he likes what McCann brings to the role.
"I don't have a complaint about him," Sanchez said. "I think McCann called a great game. He's a good friend for me."
The bigger question going into this season was whether the Tigers could play McCann enough alongside Avila to continue his development. Avila has been helping play a part in his growth.
"You never want to see anybody get hurt, especially a guy like Alex who's been around as long as he's been around and been the rock behind the plate that he's been for the last several years," McCann said. "But I'm looking forward to stepping into the role. But he's one heckuva leader, and he has come around and helped me out. To step into a situation and have a guy like that, that has the experience and the knowledge to share it with me [is a big help]."
Jason Beck is a reporter for MLB.com. Read Beck's Blog and follow him on Twitter @beckjason. This story was not subject to the approval of Major League Baseball or its clubs.