Phillies not rushing Nola to Majors
General manager Amaro wants to give prospect time to develop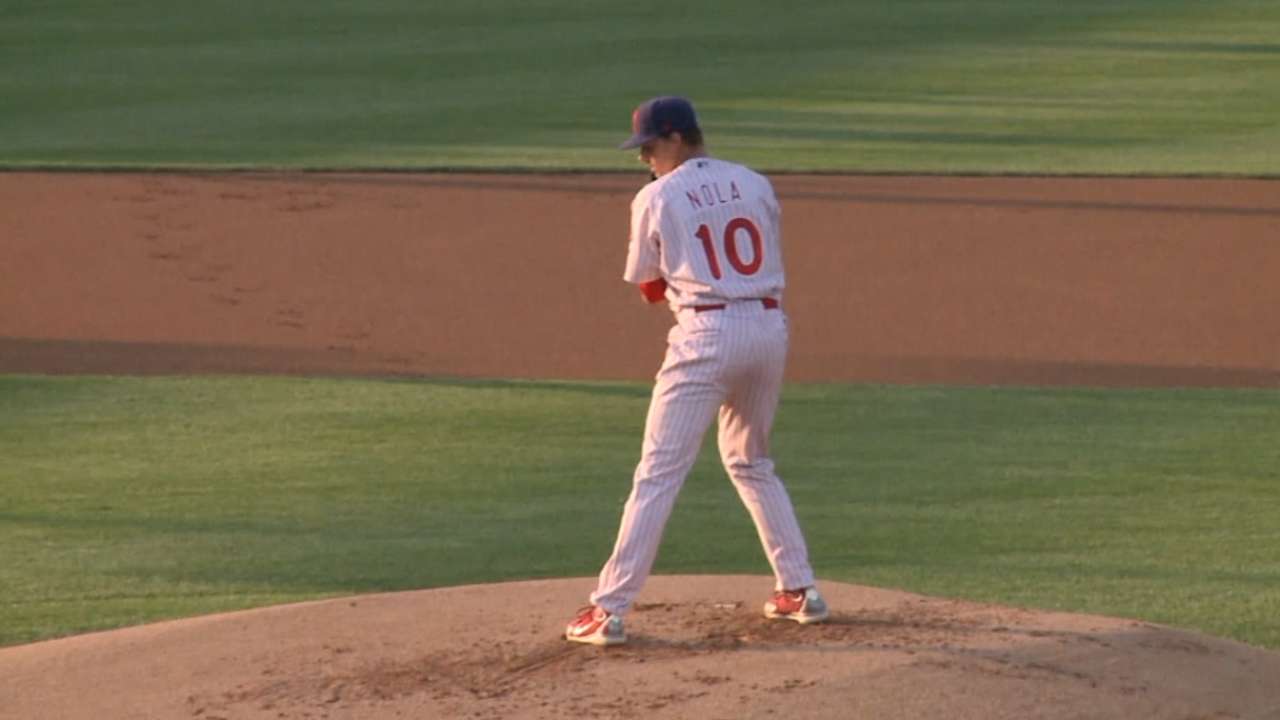 PHILADELPHIA -- The Phillies see no reason to rush Double-A Reading pitching prospect Aaron Nola to the big leagues, but that does not mean he will not be in the Majors before the end of the season.
Nola is 4-2 with a 2.04 ERA in six starts. He has allowed 29 hits, nine earned runs, four walks and has struck out 29 in 39 2/3 innings. He has a fantastic 0.83 WHIP and an impressive 7.25 strikeout-to-walk ratio. He has dominated his competition, but the Phillies are content with Nola, who is the No. 37 prospect in baseball and the Phillies' No. 2 prospect, according to MLBPipeline.com, pitching in Double-A.
"He's right where he needs to be, right now," Phillies general manager Ruben Amaro Jr. said Monday afternoon at Citizens Bank Park.
So no thoughts of pushing him?
"None," Amaro said. "No. We want him to continue to have success where he is. We've had a lot of discussions on a lot of things over the last few weeks with our development people. We're trying to make sure we develop these guys for the future, not today. We try to maximize their development time so when they're ready to be in the big leagues, they'll be in the big leagues. So he's not coming any time soon."
Amaro would not define how long "soon" means to him. But asked if he would be surprised to see Nola pitching for the Phillies before the end of the season, he said, "At some point this year he might."
Todd Zolecki is a reporter for MLB.com. Read his Phillies blog The Zo Zone, follow him on Twitter and listen to his podcast. This story was not subject to the approval of Major League Baseball or its clubs.