Bautista rests in bid to quicken return to RF
Slugger makes pinch-hit appearance, unsure when he can resume throwing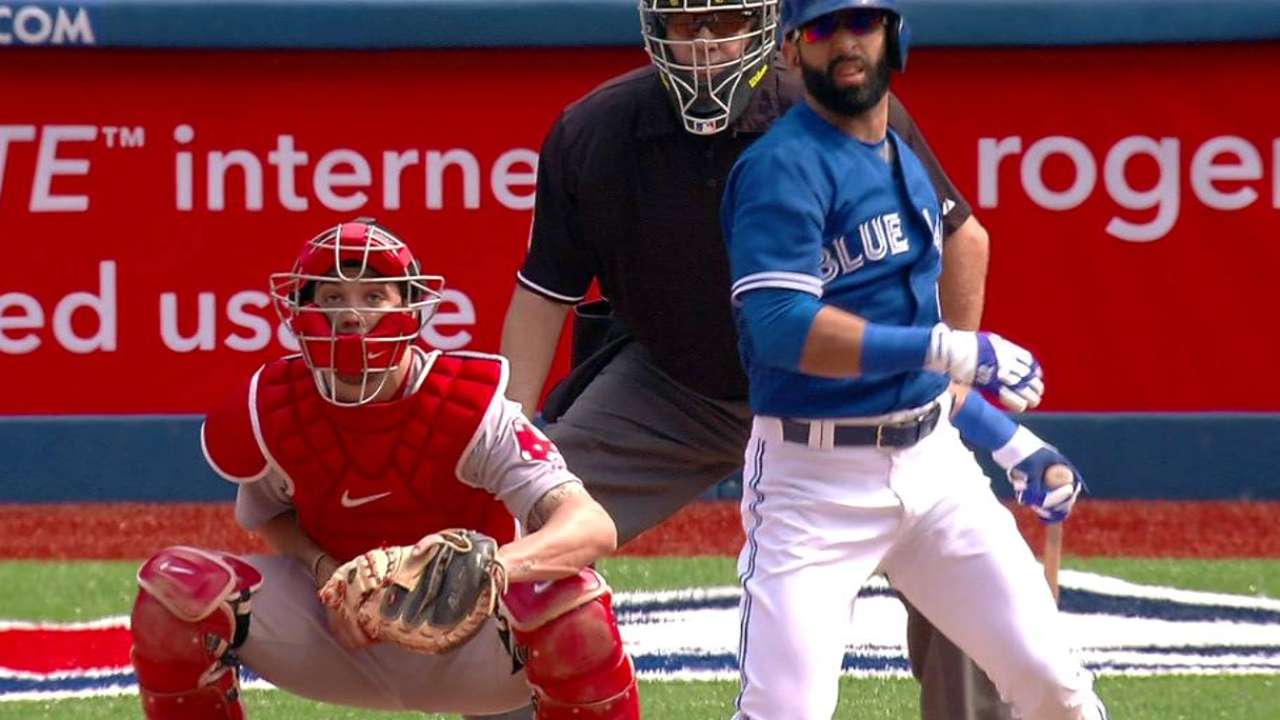 BALTIMORE -- Jose Bautista is still feeling a lot of discomfort in his strained right shoulder and remains without a timetable for a return to right field.
Bautista was held out of the starting lineup on Monday night in Baltimore, but he did get into the game in the ninth inning as a pinch-hitter. He represented the tying run at the plate and grounded out to third for the final out of the Blue Jays' 5-2 loss to the Orioles.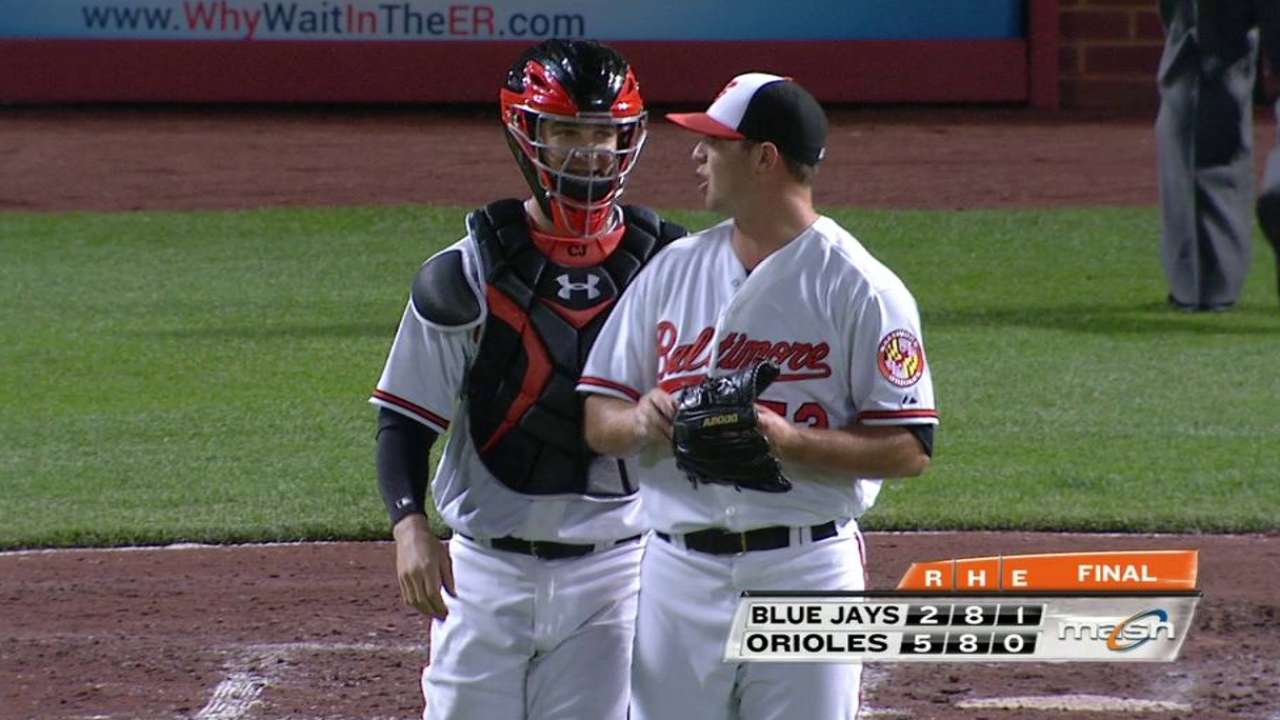 The decision to sit Bautista was partially related to his career numbers against Orioles starter Ubaldo Jimenez (.069 average, 2-for-29), but manager John Gibbons also admitted he was trying to "expedite the process" of getting the veteran slugger back into right field.
"It's hard to say with a number of days, it's impossible to predict," Bautista said, when asked how much time he will need to heal. "Sometimes I wake up and I can't brush my hair, sometimes I wake up and it feels OK, obviously not good enough to throw but ... it changes from day to day. I can't tell you why, I just can't throw right now."
Bautista hasn't been able to play the field since April 21 and likely won't be back there any time soon. He'll need at least a few days of throwing before resuming his defensive responsibilities, but the lingering discomfort has stopped that from happening.
The 34-year-old said it doesn't hurt to swing, but he did concede that starting games at DH might be causing the injury to heal at a slower pace. There's not much that can be done about that, though, because the alternative would be losing Bautista for at least 15 games for a DL stint, and that would be a big blow to the Blue Jays' lineup.
"I know how to deal with it, doing what we're doing," Bautista said. "The team wants to me to hit, it doesn't hurt me to swing, so I'm doing what the team wants. I want to swing, I want to be in the lineup. Obviously I want to play defense, but I can't throw."
Jose Reyes also remains without a defined timetable for his return. He has been out since April 27 with a cracked rib, and a recent MRI -- combined with a second opinion on that exam -- indicated the injury is getting better.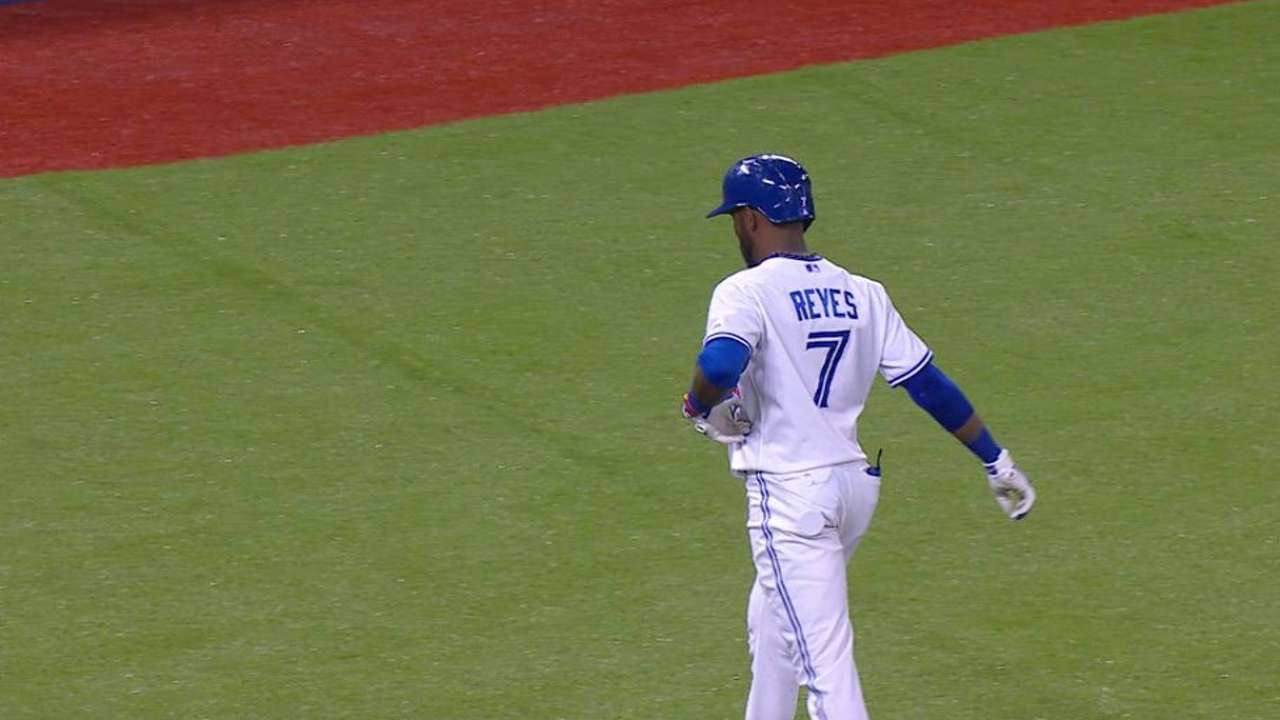 Reyes is eligible to come off the DL on Wednesday, but he's not going to return quite that early. Reyes, 31, has been hitting off a tee and taking ground balls, but he'll need to get through several rounds of batting practice before getting cleared.
Even when that does happen, it will be at least a few more days before Reyes can play. The 13-year veteran will go on a brief rehab assignment, and it appears unlikely he'll be back on the current road trip through Baltimore and Houston, which runs through Sunday.
"He needs to go out and play a few games," Gibbons said. "He got the MRI and he got the second opinion on it, and they said the same thing, he looks good. So we'll just keep him moving and when he's ready to go, we'll send him out."
Gregor Chisholm is a reporter for MLB.com. Read his blog, North of the Border, and follow him on Twitter @gregorMLB. This story was not subject to the approval of Major League Baseball or its clubs.