MLB.com Columnist
Marty Noble
Fans can back Medal of Freedom for Yogi
Online petition supports icon on his 90th birthday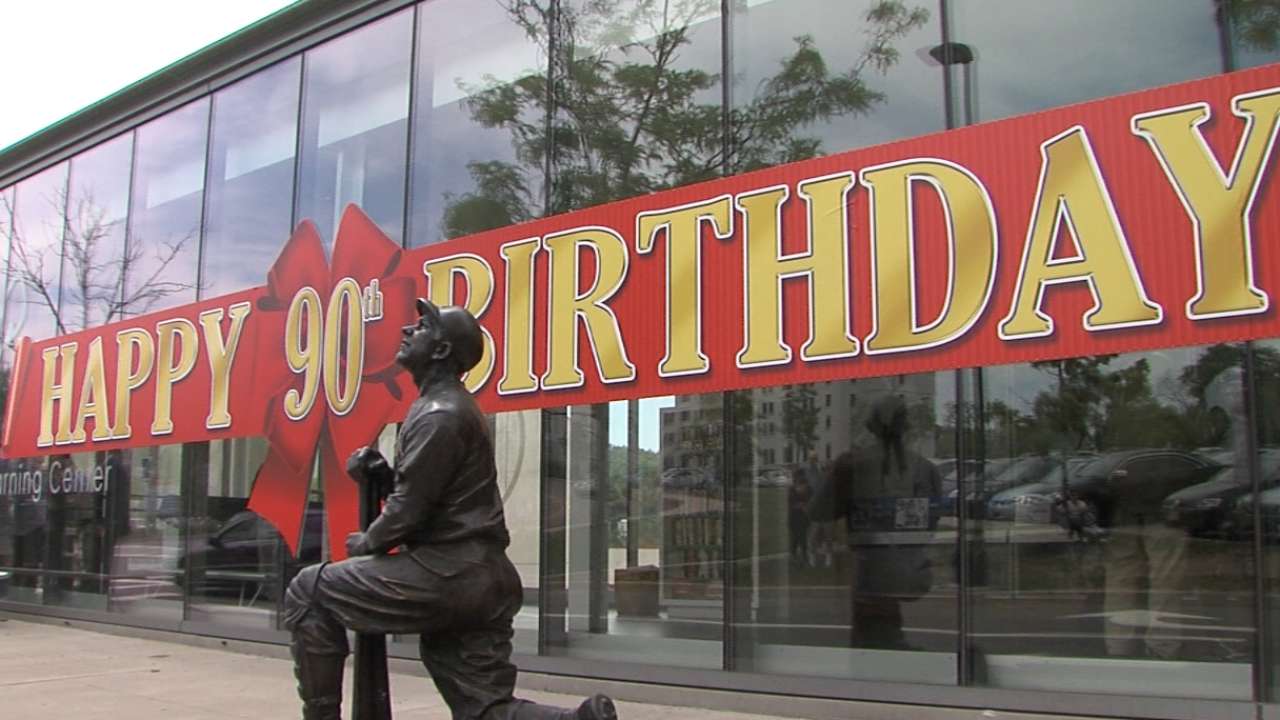 NEW YORK -- The man with the most World Series jewelry ever as well as a plaque in the Baseball Hall of Fame and three Most Valuable Player Awards has been nominated to receive a piece of hardware that would recognize and celebrate his non-baseball contributions to his fellow man. Yogi Berra, as widely known and popular an American as the nation's pastime has produced in the last 70 years, may become a recipient of the Presidential Medal of Freedom.
A petition has been created on the White House's official website, seeking to have the Obama Administration bestow the prestigious award to the Yankees icon -- who turned 90 today -- for his military service and his activism in the civil rights and educational arenas.
Berra would become the 10th baseball player so honored. Those who have already be recognized include Henry Aaron, Ernie Banks, Roberto Clemente, Joe DiMaggio, Stan Musial, Buck O'Neil, Frank Robinson, Jackie Robinson and Ted Williams. Banks is the most recent winner among baseball players. He was saluted in 2013.
The petition states: "Yogi Berra should be awarded the Presidential Medal of Freedom. A man of unimpeachable integrity and respect, he befriended the first black and Latino baseball players in Major League Baseball. He is currently an ambassador for Athlete Ally, which promotes LGBT (lesbian, gay, bisexual and transgender) rights in sports."
Berra "enlisted in the U. S. Navy during World War Il and served during the D-Day invasion. He continues to be an avid supporter of our armed forces. Berra greatly values education. While with the Yankees, he created a scholarship at Columbia University that is still active 50 years later. His namesake, the Museum & Learning Center [at Montclair State University in New Jersey] serves 20,000 students annually with character education programs and teaches the values of respect, sportsmanship and inclusion that Berra has demonstrated throughout his life and career."
No American sports figure other than Babe Ruth, Joe Louis, Muhammad Ali, Michael Jordan and perhaps Arnold Palmer and DiMaggio was more readily recognized by the general public than Berra in the 20th century. And though his profile has become significantly lower in the last decade, Berra had retained a conspicuous place in the American consciousness and culture.
Receiving the highest honor awarded to civilians only would reinforce Berra's standing on the American landscape.
"From activists who fought for change to artists who explored the furthest reaches of our imagination; from scientists who kept America on the cutting edge to public servants who help write new chapters in our American story, these citizens have made extraordinary contributions to our country and the world," President Obama said in 2013 when he announced the nominations for those who were honored last year.
The objective of the announcement is to have 100,000 signatures on the petition by June 8, which would guarantee that the matter would be taken into further consideration and elicit a response from the White House. Signatures can be added on the official website of the White House.
Marty Noble is a reporter for MLB.com. This story was not subject to the approval of Major League Baseball or its clubs.