Kendrick shouldering more responsibility in Colorado
Rox expect consistency, length from righty, who has 8.73 ERA in six starts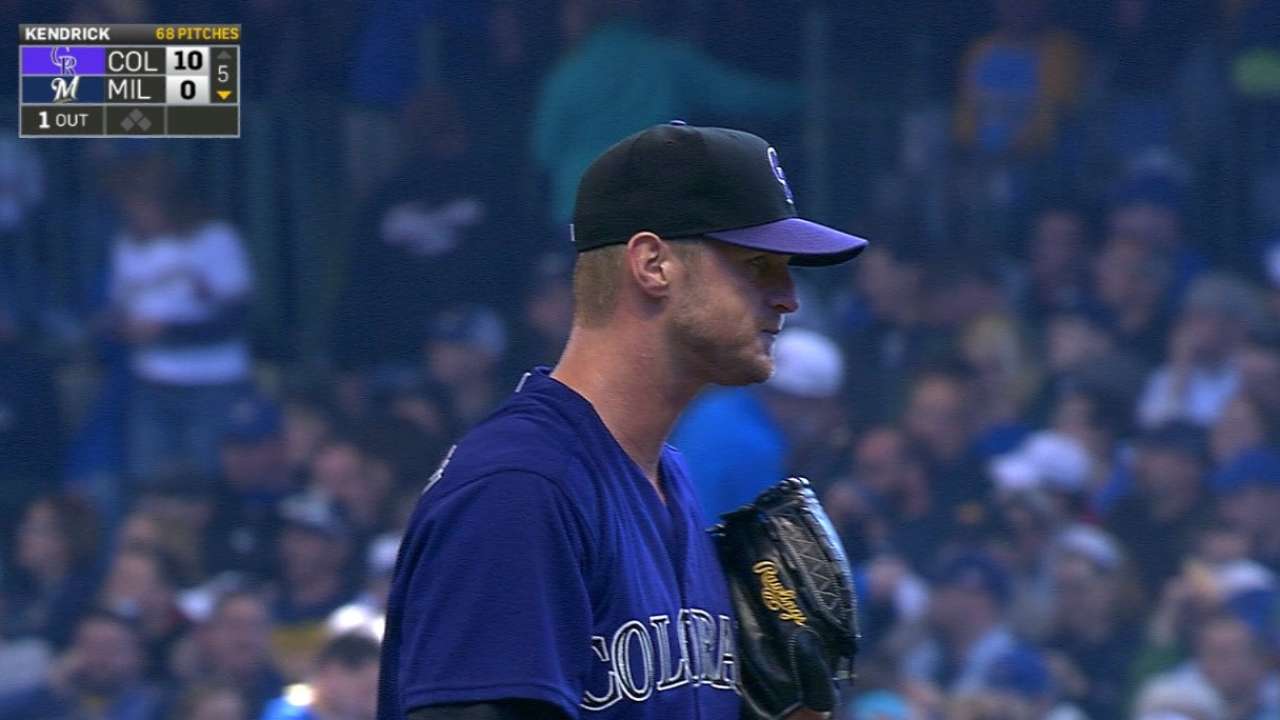 DENVER -- Never has this much been expected of Rockies right-hander Kyle Kendrick.
In eight seasons with the Phillies, when Kendrick struggled, he faced the glare of a large market, but the team's fortunes rested with one of this era's best rotations. In his first days with the Rockies, his 1-4 record and 8.73 ERA in six starts -- one stellar, another passable, the others substandard -- is glaring, because the staff doesn't have top-end talent, experience or depth.
The poor start to the season -- one of the contributing factors to Colorado's 11-17 record and last-place status in the National League West -- brings Kendrick, 30, a lower volume of media glare than in Philly. But with another start looming Tuesday night against the Angels at Anaheim, he has more real responsibility in Denver.
"But I enjoy it," said Kendrick said. "I told you guys in Spring Training, I'm happy that I'm here. I've always liked playing against these guys, and I want to help them win.
"Obviously, it hasn't started off the way I, and I'm sure fans and the organization, had hoped. But it's still early enough."
The Rockies didn't sign Kendrick to a one-year, $5.5 million contract to go from barely above .500 to dominator. But they thought he could be a workman-like complement to lefty Jorge De La Rosa. However, De La Rosa battled a left groin injury in Spring Training and is 0-2 with a 9.56 ERA in four starts.
Kendrick was signed to pitch deep into games. Although he has gone seven innings twice, he hasn't exceeded five in any other starts. Colorado's rotation is averaging a Majors-worst 5 1/3 innings per start.
Between starts, Kendrick has been all the Rockies have asked for as a mentor to younger righties such as Eddie Butler and Christian Bergman, and he hasn't hidden from his struggles.
"He's not satisfied with where he is," catcher Nick Hundley said. "I'm impressed with how hard he's continued to work to get better. It's a tough game, whether you've been doing it for seven days or 10 years. It'll test your resolve, for sure."
Colorado knew all along Kendrick could succeed with the ground ball, but he had a propensity for giving up the home run.
Hitters have touched Kendrick for 10 home runs, tied for second most in the NL. That total is one behind the Padres' James Shields and matches that of Brewers' Kyle Lohse, each of whom has started one more game than Kendrick. At least Kendrick has had extra time to correct the problem.
Tuesday, Kendrick will pitch on eight days of rest, after giving up two homers in a deflating loss at San Diego on May 3. Shields gave up five runs, including three homers, in 5 1/3 innings. But each time the Rockies grabbed a lead, Kendrick served up fastballs up in the zone and lost it. In five innings, Kendrick gave up six runs, including homers to Justin Upton and Derek Norris, in the 8-6 defeat.
"You fall behind in counts and miss up in the zone, you're going to get hit," Kendrick said. "That's what hurt me. I've got to keep battling, keep focusing on one pitch at a time, and it'll turn around."
Thomas Harding is a reporter for MLB.com. Follow him on Twitter @harding_at_mlb, and like his Facebook page. This story was not subject to the approval of Major League Baseball or its clubs.