Dominant Pineda is AL Player of the Week
Yankees hurler goes 2-0 with 0.60 ERA, tallies 22 strikeouts during stretch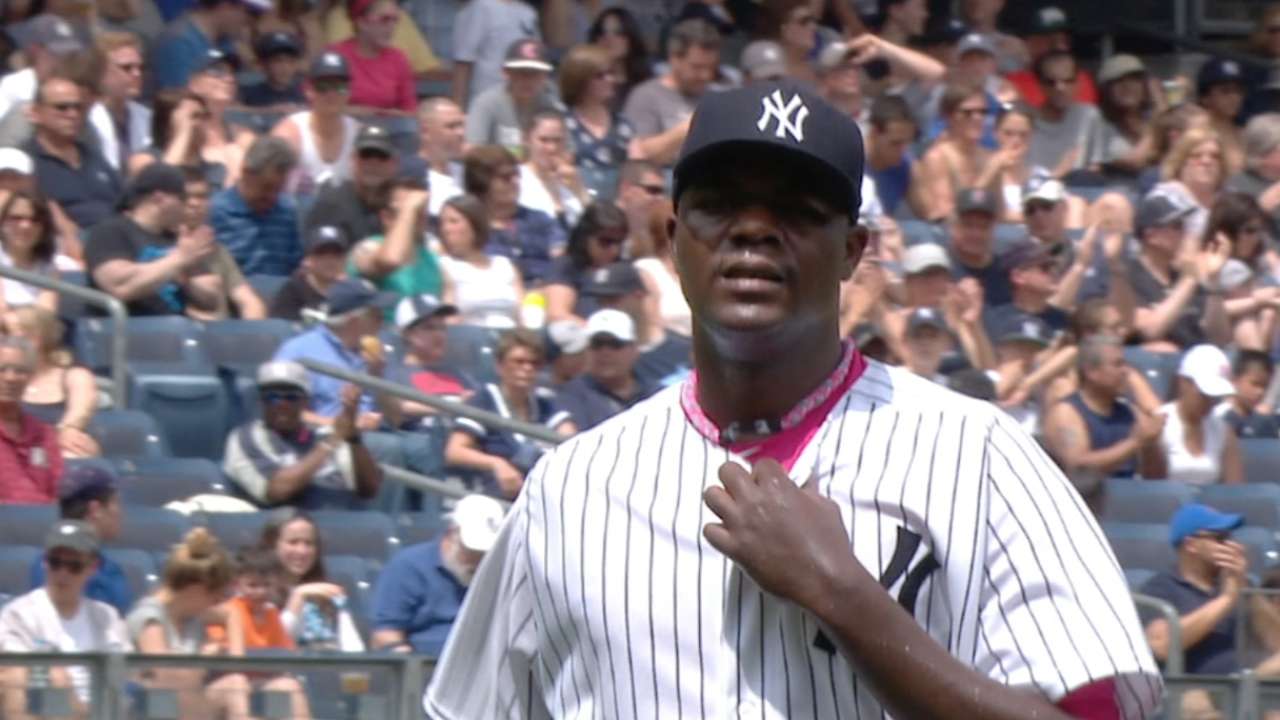 After a dominant week, Yankees starter Michael Pineda has been named the American League Player of the Week.
Pineda, who racked up 22 strikeouts in 15 innings, earns his first weekly honor and is the first Yanks pitcher to win the award since Mariano Rivera in September 2011.
"I'm sure it means a lot," Yankees manager Joe Girardi said. "You think about where he's come from, the injury that he's been able to come back from, the start that he's gotten off to this year has been really important to us."
Over two starts, Pineda went 2-0 with a 0.60 ERA while walking just one. He led all Major League pitchers in innings pitched and strikeouts, was tied for first in wins and was second in ERA.
On Tuesday, Pineda made his longest start as a Yankee, and the longest scoreless appearance of his career, when he threw eight innings of shutout ball while striking out six.
On Sunday, Pineda became the first pitcher to strike out 16 without allowing a walk since Johan Santana in 2007. It's only the 22nd time in MLB history since 1914 that a pitcher has struck out 16 without walking a batter.
"I'm throwing the ball really good," Pineda said on Sunday. "I want to keep it going, do a good job."
Pineda leads all AL pitchers in strikeouts (54) and is second in wins (5).
"I think we saw what he was capable of doing last year when he was healthy," Girardi said. "The adjustments that he made while he was hurt with his mechanics has allowed him to be so consistent in his delivery and making pitches. Now that he's pitching every fifth day, you're seeing him rack up wins and going deep into games and pitching very well."
Joey Nowak is a reporter for MLB.com. Follow him on Twitter at @joeynowak. This story was not subject to the approval of Major League Baseball or its clubs.