Nats' Lopez picks up where he left off
After impressive 2014, Washington's No. 4 prospect throws five scoreless in '15 debut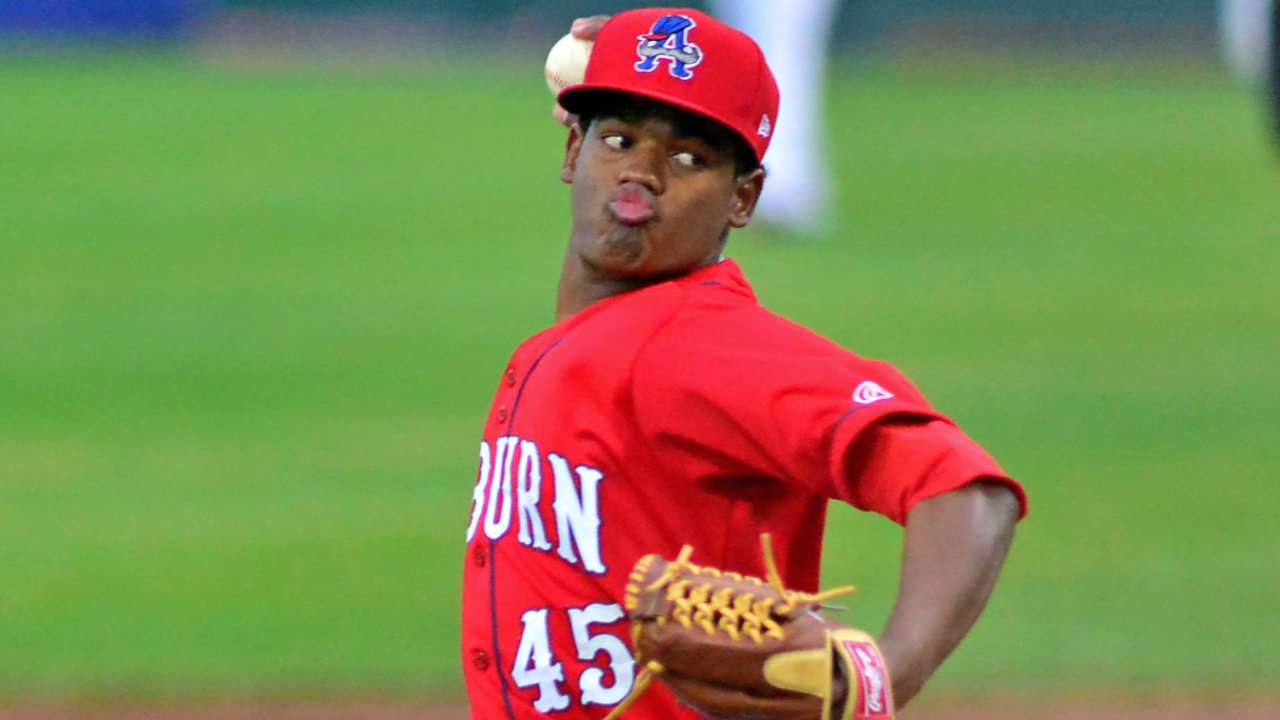 When the 2014 season began, the Nationals' Reynaldo Lopez was barely a blip on the prospect radar screen. A low-profile signing out of the Dominican Republic two years earlier, Lopez had surrendered 15 runs over a grand total of 16 professional innings and had missed most of the previous season.
One year hardly could have made a greater difference in terms of the right-hander's stock.
Lopez made his 2015 debut on Thursday for Class A Advanced Potomac, tossing five scoreless innings in the first game of a doubleheader against Wilmington at Potomac's Pfitzner Stadium. The performance was a case of the 21-year-old picking up right where he left off at the end of a campaign that rocketed him to his current position as the Nats' No. 4 prospect.
"We were very excited about it," Nats director of player development Mark Scialabba said of Lopez's 2014. "I think people in the organization had big expectations for him, based on what we saw the previous year."
That promise didn't necessarily show in games, though. After making five Dominican Summer League appearances in 2012, an injury helped limit Lopez to one start apiece for short-season Class A Auburn and Class A Hagerstown the next year.
Lopez rejoined Hagerstown last May and had two rough starts before dropping back down to Auburn. That's when everything changed. Scialabba attributes the course correction to a mechanical adjustment that increased Lopez's deception, improved his angle to the plate and bolstered his command.
"That's when he took off and really surprised a lot of people, because now he wasn't just a thrower -- he was a pitcher," Scialabba said.
The numbers from Lopez's final 12 starts -- five for Auburn, seven for Hagerstown -- seem to come from a video game. Over 66 2/3 innings, he gave up two earned runs (a 0.27 ERA) on 24 hits and 18 walks while striking out 60. Opponents batted .110 with a .313 OPS. At one point during that stretch, Lopez put together an eight-start, 44 1/3-inning streak without allowing an earned run, and he finished the season with a 1.08 ERA.
"He's a really special pitcher," said Nats top prospect Lucas Giolito, a rotation-mate last year at Hagerstown and now at Potomac. "He's really fun to watch. It's fun to watch him light up the radar gun. It's fun to see him command that high velocity to both sides of the plate."
The Nats put both Lopez and Giolito on a delayed schedule this year, holding them back at extended Spring Training in Viera, Fla., to continue their throwing programs under supervision while the Minor League season began.
Both joined Potomac last week, with Lopez putting together the more impressive debut. He allowed two singles, walked none and struck out three over five innings, all on an efficient 57 pitches. Lopez throws a fastball, curveball and changeup, and despite his 6-foot, 185-pound frame, the heater reportedly hit 98 mph.
For Lopez, who is scheduled to start again on Tuesday night at Wilmington, this season is about quantity in addition to quality. After all, there is a long road to travel between producing 83 1/3 innings in the Minors and 200 in the Majors, and the Nats want him building that full-season endurance.
"He's shown the ability to maintain velocity [within a game], which is actually extraordinary at the velocity that he's throwing," Scialabba said. "With him, it's going to be refining all of his stuff and all his pitches, but also being able to do it for the long haul."
Andrew Simon is a reporter for MLB.com. Follow him on Twitter @AndrewSimonMLB. This story was not subject to the approval of Major League Baseball or its clubs.