Clock ticking down to 50th anniversary Draft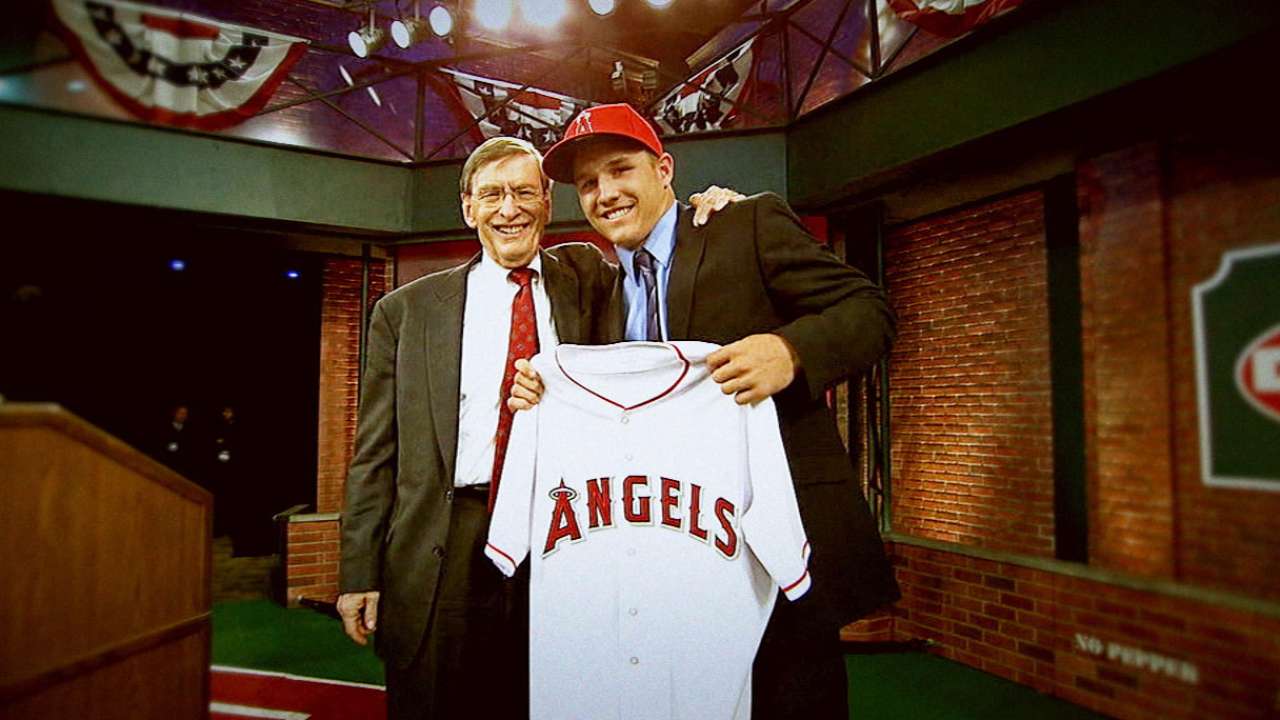 Major League Baseball will mark the 50th anniversary of the First-Year Player Draft on June 8-10, with Commissioner Rob Manfred announcing the first-round picks for the first time and the D-backs in line to make the top overall selection for the second time in franchise history. Florida high school shortstop Brendan Rodgers and UC Santa Barbara right-hander Dillon Tate are among the top candidates to go No. 1.
Day 1 will unfold at MLB Network's Studio 42 in Secaucus, N.J., with representatives for all 30 clubs in attendance and a handful of draftees expected to be on hand. MLB Network and MLB.com will have live coverage of that first night, covering the top 70 picks -- or through Round 2 -- starting at 7 p.m. ET. MLB.com will provide exclusive live pick-by-pick coverage of Rounds 3-10 on Day 2, starting at 1 p.m. ET, and Rounds 11-40 on June 10, beginning at noon ET. Prior to the start of the Draft, MLB Network and MLB.com will air a Draft preview show starting at 6 ET.
Of course, the previewing is already well underway. Go to MLB.com/draft to see the Top 100 Prospects list, projected top picks from MLB.com analysts Jim Callis and Jonathan Mayo, the 2015 order of selection and more. Follow @MLBDraft now to see what Draft hopefuls, clubs and experts are saying.
Could Tate become the first MLB Urban Youth Academy prospect to chosen No. 1 overall? Will the D-backs go with a prep shortstop like Rodgers of Lake Mary High School -- as they did the only previous year in which they had the top selection? In 2005, Arizona nabbed future All-Star outfielder Justin Upton -- a shortstop at the time -- with that pick. Or could it be another shortstop, like Vanderbilt's Dansby Swanson?
Houston just became the first American League club to 20 victories, and now the same Astros are looking at the second and fifth overall selections to start this Draft. The extra pick comes courtesy of not being able to sign California high school pitcher Brady Aiken, last year's top overall pick, who recently underwent Tommy John surgery.
Along with Houston, nine other clubs each have two selections in the first round: the Rockies (Nos. 3 and 27), Braves (14 and 28), Yankees (16 and 30), Giants (18 and 31), Pirates (19 and 32), Royals (21 and 33), Tigers (22 and 34), Dodgers (24 and 35) and Orioles (25 and 36). The Braves have a Major League-high five selections within the first 75 picks.
The 2015 Draft will once again feature Competitive Balance rounds, which were agreed upon as a part of the 2012-16 Basic Agreement between MLB and the MLB Players Association. The Competitive Balance rounds give clubs with the lowest revenues and in the smallest markets the opportunity to obtain additional Draft picks through a lottery, which was held last July.
The 10 clubs with the lowest revenues and the 10 clubs in the smallest markets were entered into a lottery for the six selections immediately following the first round of the First-Year Player Draft (picks 37-42). Eligible clubs that did not receive one of the six selections after the first round, and all other payee clubs under the Revenue Sharing Plan, were entered into a second lottery for the six picks immediately after the second round of the Draft (picks 71-75; encompassing five selections this year after Boston forfeited its pick, originally obtained via trade from Oakland).
Much has changed since Rick Monday was chosen to start the first Draft in 1965. Look at the history of the selections to see how the event has evolved.
This Draft will have 40 rounds, and a club may pass on its selection in any round and not forfeit its right to participate in other rounds. For the first time, a flexible time interval will be used during Round 1. The intervals between selections during the first round will last between 3 1/2 to 4 1/2 minutes. There will be one-minute intervals between selections during Competitive Balance Round A, the second round and Competitive Balance Round B.
The Draft will resume at 1 p.m. ET on June 9, when selections will be made for Rounds 3-10, with one-minute intervals between selections. Day 3 of the Draft on June 10 will begin at noon ET, featuring picks in Rounds 11-40, with no time delay between selections.
MLB Network's live coverage will feature news, analysis, interviews with club front-office personnel and representatives, footage from club Draft rooms and features and interviews with prospects and newly drafted players. MLB Network's Greg Amsinger, Peter Gammons, Dan O'Dowd, Harold Reynolds and Mayo will anchor the live coverage, with contributions from MLB Network's Darryl Hamilton, Al Leiter, Pedro Martinez, Dan Plesac, Billy Ripken, Sam Ryan, John Smoltz, Tom Verducci, Heidi Watney and Matt Yallof, as well as Callis and John Manuel of Baseball America.
MLB.com will provide Draft Tracker, the always-popular live interactive app that includes a searchable database of nearly 2,000 Draft-eligible players with statistics, scouting reports and video highlights. In addition to @MLBDraft for live updates and commentary, follow @MLBDraftTracker for tweets of all picks as they are made.
Each of the 30 clubs will be represented at the Draft by one of its former players and/or a member of its front office. Last year's reps included Hall of Famers Andre Dawson, Fergie Jenkins, Tommy Lasorda and Tony Perez; Cy Young Award winners Chris Carpenter, Randy Jones and Frank Viola; and Ivan Rodriguez, the 1999 American League Most Valuable Player Award winner. This year's club reps will be announced soon. In addition to club reps, seven players attended last year's Draft, with five of them selected in the first round.
Mark Newman is enterprise editor of MLB.com. Read and join other baseball fans on his MLB.com community blog. This story was not subject to the approval of Major League Baseball or its clubs.