Harrison knows he's capable of regaining form
After slow start, Bucs infielder says contract extension not weighing on him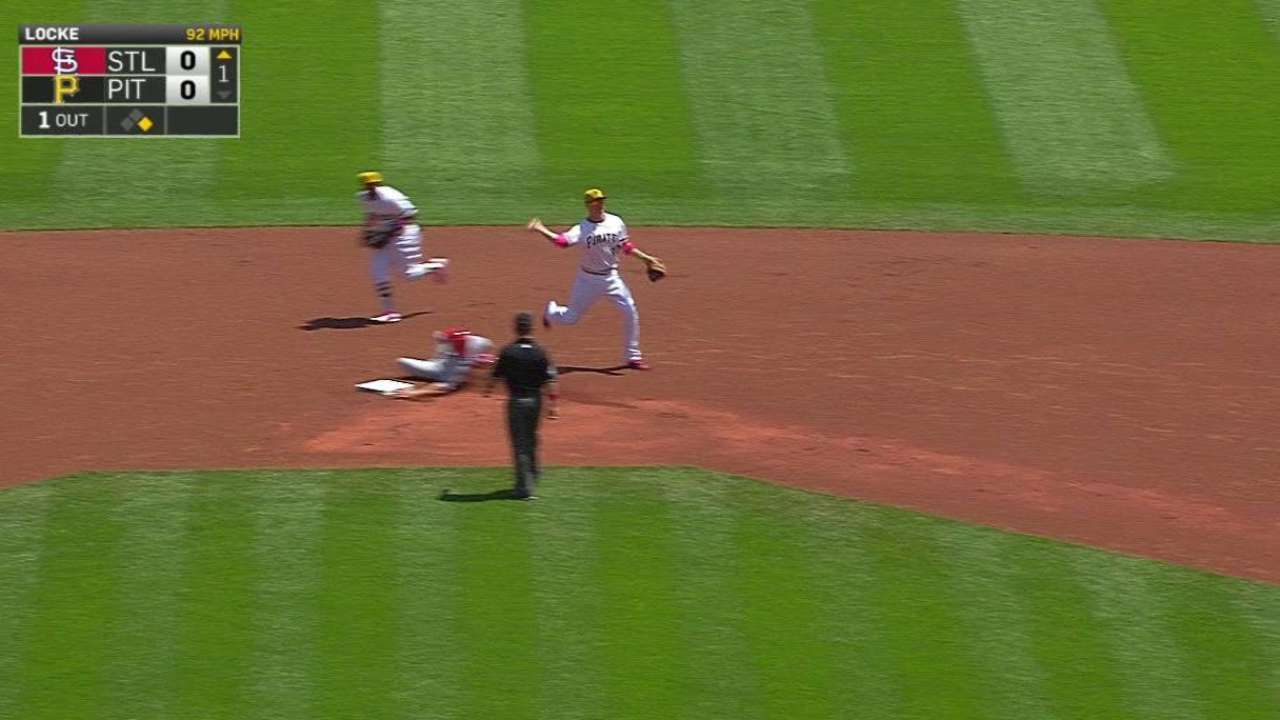 PITTSBURGH -- Coming off a breakout 2014 season, Josh Harrison was rewarded by the Pirates last month with a contract extension that guaranteed him $27.3 million over the next four years.
The deal could keep him in Pittsburgh until 2020 and pay him up to $50.3 million. It might also be related to Harrison's poor offensive start, according to Pirates general manager Neal Huntington.
Not because Harrison kicked his feet up and relaxed after being granted financial security. Just the opposite, in fact. Harrison was the poster child for a Pirates lineup that spent the season's first month trying too hard to force the issue.
"He's trying to justify the contract," Huntington said Sunday. "He's trying to show those that doubted him. He's trying to show us -- for showing that faith in him -- that it's deserving."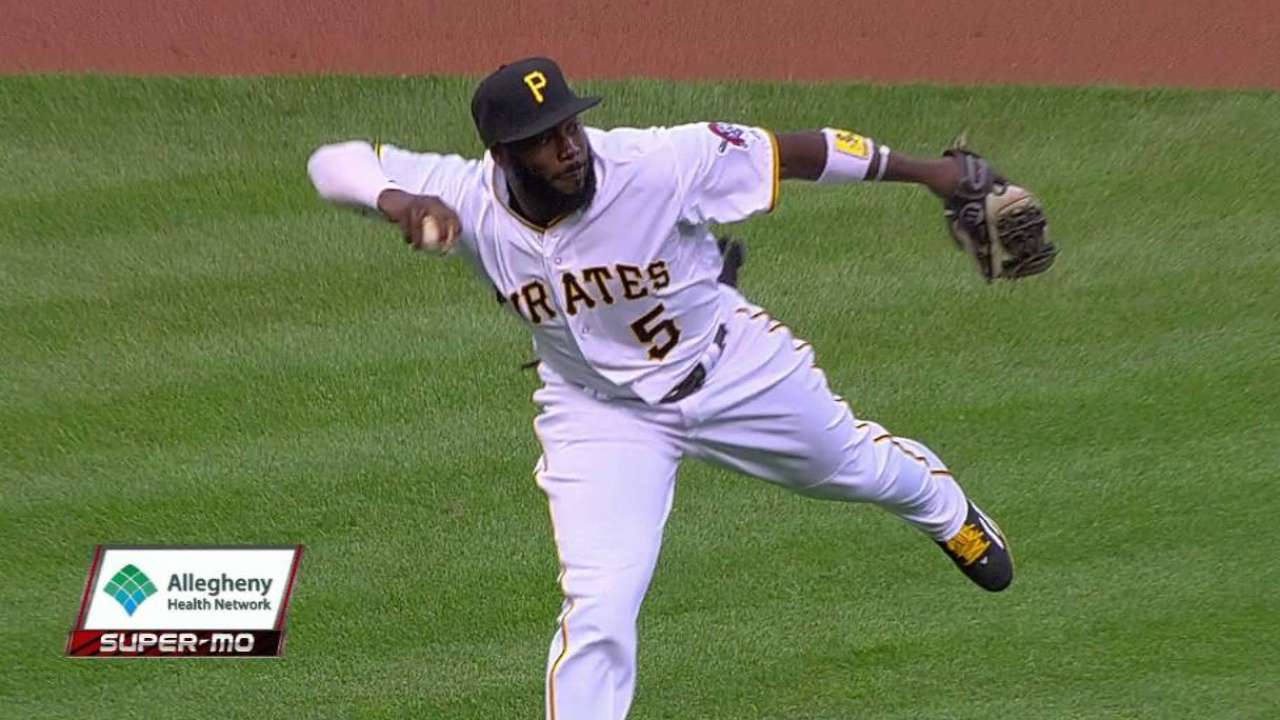 But Harrison's effort has not led to anything even remotely resembling his All-Star production a year ago. As the Pirates left PNC Park for Philadelphia on Sunday night, Harrison was hitting .173 with a .491 OPS.
Harrison says the contract itself isn't weighing on him, but readily admits that his first 28 games haven't lived up to his personal standards.
"I know I'm a guy that they've invested in, and I expect myself to perform," Harrison said after Sunday's game. "I know what I'm capable of. I know last year was no fluke."
Heading into Monday's game, Harrison's batting average ranks 175th out of 183 qualified Major League hitters, and his 2.6 percent walk rate 171st. His OPS ranks 179th.
Advanced metrics indicate that Harrison has seen fewer fastballs and more cutters and sliders than a year ago. He's chasing more pitches outside the strike zone. He's making weaker contact, leading to more ground balls and fewer line drives.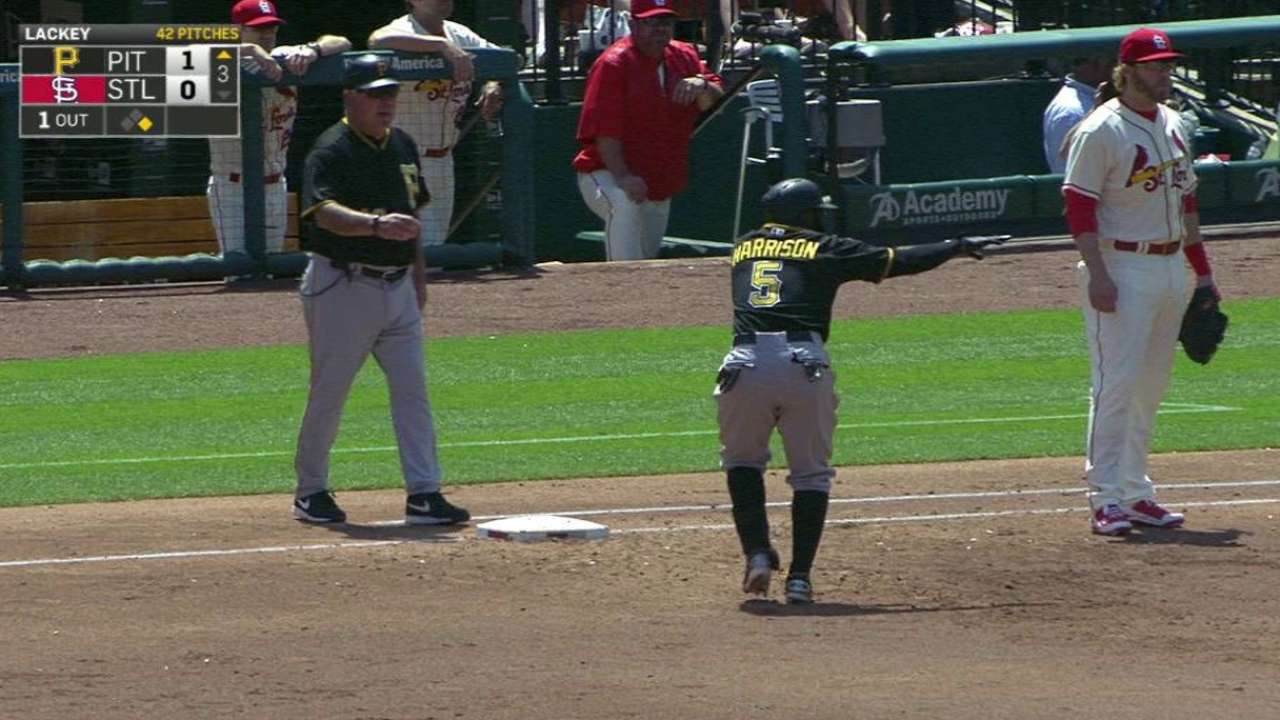 "We just need Josh to take a deep breath and go be the player that he's capable of," Huntington said. "And we believe he's close to doing that."
The results haven't followed, but Harrison said he's been getting himself in a better position to deliver his swing in the last week or so. It's not a major issue, he said. He's been "just a click off."
Defensively, Harrison might find himself moving around a little more than he did as the Pirates' everyday third baseman in April. For example, he started at second base Sunday to make room for hot-hitting rookie Jung Ho Kang at third.
"This is where Josh's versatility allows us to put the best club on the field that we can, and he's still going to play," Huntington said. "In our minds, he's still a regular."
And Harrison believes he can work his way through this bad stretch, regaining the form that encouraged the Pirates to invest in him in the first place.
"I'm going to continue to do what I've got to do to get that feeling back," Harrison said. "Just as easy as I didn't have it, it's that easy to get it back."
Adam Berry is a reporter for MLB.com. This story was not subject to the approval of Major League Baseball or its clubs.