Inbox: Where does Upton fit when ready?
Beat reporter Corey Brock answers Padres fans' questions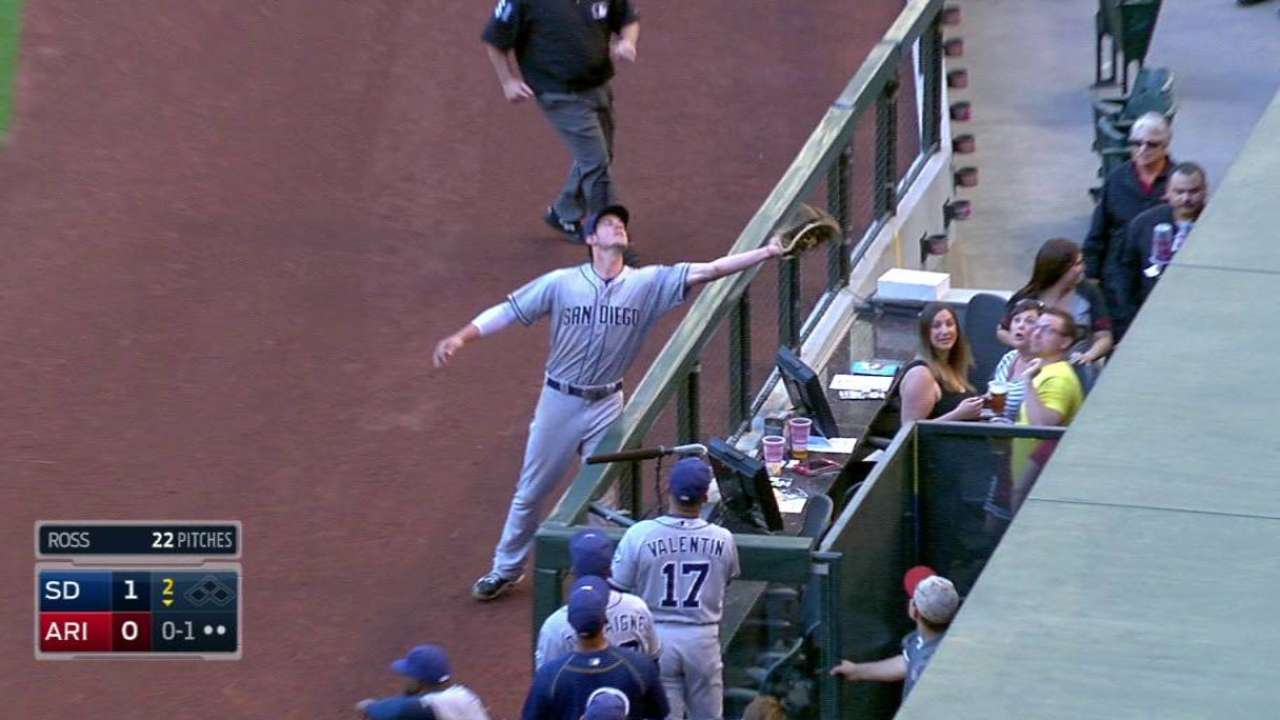 Where does a healthy Melvin Upton Jr. end up? If he's with the Padres, then who makes way for him?
-- James B., Edmonton, Alberta
The Padres were just in Phoenix, and they had a chance to catch up with and evaluate Upton to see how his injured foot is doing. The good news is Upton's foot -- he has inflammation in the sesamoid bone -- has progressed to the point where he will begin to play in Minor League rehabilitation games soon, and possibly as early as the end of this week.
Submit a question for the Inbox
Upton, who essentially missed all of Spring Training, will need regular playing time and at-bats to get his feet under him, to test the foot and to face some pitching. I wouldn't expect him to be ready to be reinstated from the disabled list until June 1 or so.
Then what? That's going to depend on what the roster looks like at that time. Could we see more of Wil Myers at first base, as he played in Arizona? That would allow the Padres to easily slide Upton to center field, where he's spent most of his career. The team has four outfielders and something will have to give in terms of playing time, and it won't be Justin Upton (his younger brother), Matt Kemp or Myers.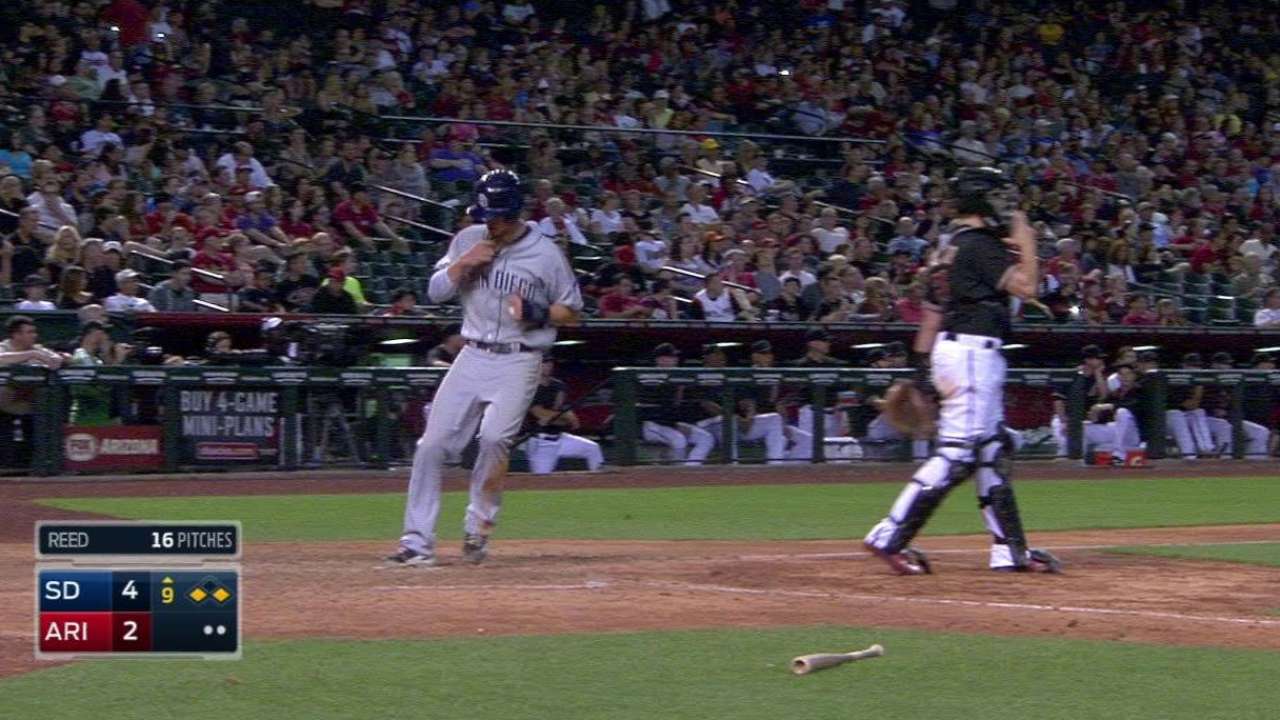 I am thrilled to see general manager A.J. Preller and his staff provided an upbeat, proven and stable offense for 2015 and beyond for years to come. But Minor League talent had to be given up to acquire proven players. Where do you see the Padres focusing in on, positions-wise, to help restock our system?
-- Harley G., San Diego
The Padres did deal away a handful of interesting assets from their Minor League system in order to give them immediate upgrades (and in many cases, controllable ones for beyond this season). San Diego's system isn't nearly what it was, say, six months ago. It's the cost of doing business.
So what does the team do now?
The Padres will have to find a way to refill their Minor League system, and first-year scouting director Mark Conner has his hands full, though he's left without a full bevy of Draft picks this summer. There's yet another way that San Diego can help replenish its system -- signing international players. Not necessarily international players the team will sign on July 2, as most of them will be 16. No immediate gain there. But Preller and international scouting director Chris Kemp could land older international players who could add impact to the farm system.
But mostly, adding to the system will come through the gradual process of drafting and developing talent.
Why don't the Padres call up Tommy Medica and send Jedd Gyorko to Triple-A to let him get comfortable again, get some at-bats and then bring him back up?
-- Edwin A., Escondido, Calif.
Because the Padres still think there's a good player in Gyorko, and that he doesn't need at-bats in the Minor Leagues to get better or time to improve his confidence. They want to get him right -- and have him with the big league team where they can reap the benefits of the extra work he's putting in with his swing with hitting coach Mark Kotsay and assistant hitting coach Alonzo Powell.
The sample size is small, but Gyorko is doing better offensively of late. He has seven hits (including three doubles) in his last 15 at-bats.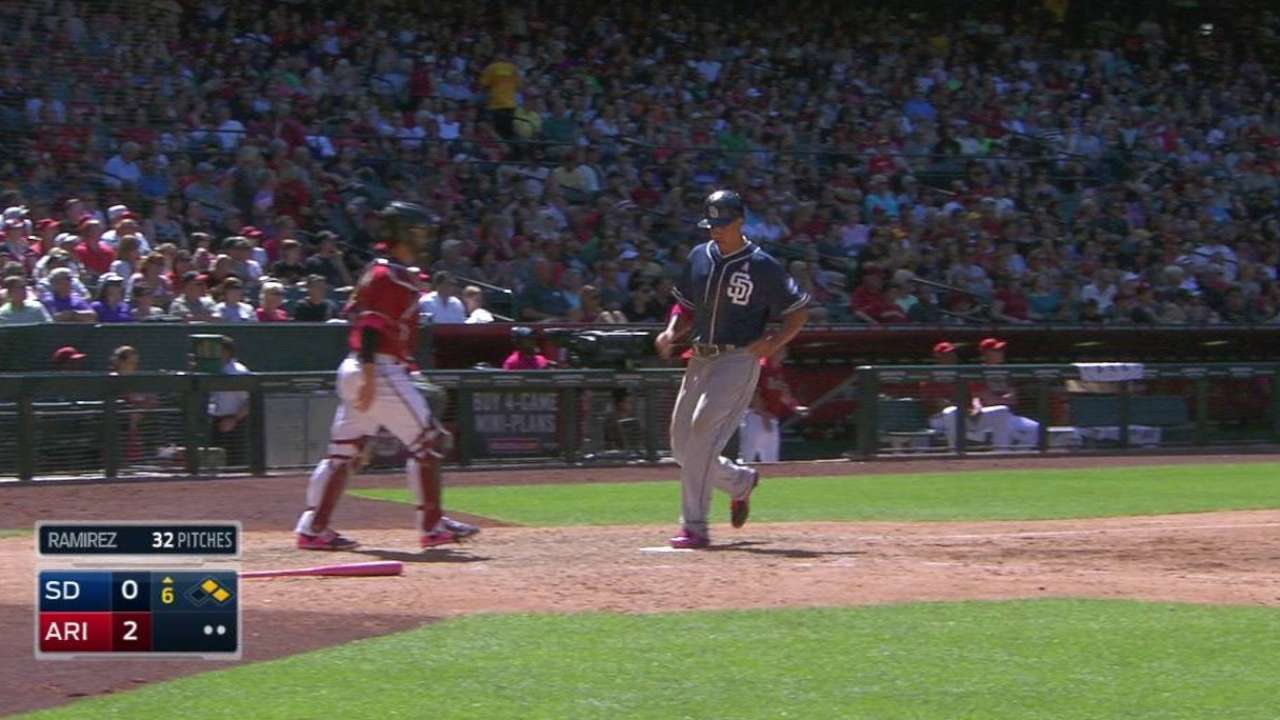 Could Austin Hedges become Tyson Ross' primary catcher to help cut down basestealers?
-- Gustavo A., San Diego
I don't see this happening. First, the coaching staff (not just here, but elsewhere) would prefer pitchers not get locked in with one particular catcher. Both Derek Norris and Hedges have worked with these guys a lot -- especially Norris -- since the start of Spring Training.
In terms of controlling the running game, Norris has done a very good job of that in the early part of the season. He's already thrown out 12 would-be basestealers -- two more than anyone else. Also, it's up to the pitcher, whoever that is, to be good with holding runners, too -- varying set times, throwing over to first base more, improving their pickoffs.
It shouldn't all fall on the catcher, for better or worse.
Corey Brock is a reporter for MLB.com. Keep track of @FollowThePadres on Twitter. This story was not subject to the approval of Major League Baseball or its clubs.