Tigers say video shows HBP call was correct
Ausmus chooses not to use challenge after Gordon takes base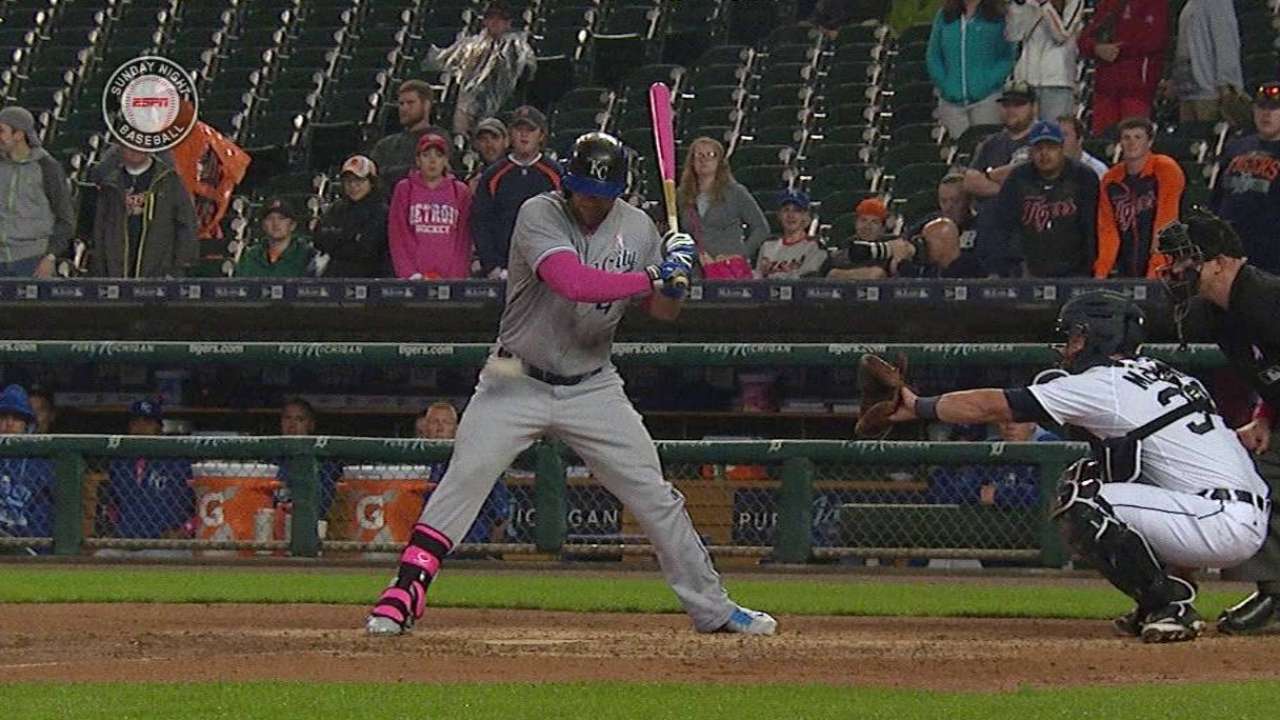 DETROIT -- After further review, the Tigers decided Alex Gordon's hit-by-pitch was not worth reviewing.
It was a key play, having put the go-ahead run on base in the 10th inning of Sunday night's 2-1 loss to the Royals. It was a decision in question when a camera angle from the ESPN broadcast suggested Angel Nesbitt's first pitch might not have made contact with Gordon, who didn't seem to react until home plate umpire Jeff Kellogg ruled that it hit him.
It was a play that didn't get much reaction from the Tigers, either. It drew quite a bit of reaction from Tigers fans, many of whom still remember Brandon Inge being hit on the jersey but not getting the call on an extra-innings pitch in Detroit's American League Central tiebreaker loss at Minnesota in 2009.
The lack of reaction was a key factor in manager Brad Ausmus not using his replay challenge to force a review.
"If they call a hit batter and it didn't hit him, and I have an indication it might not have hit him, definitely [use it]," Ausmus said at his postgame press conference. "If [defensive coordinator] Matt Martin looks at it and says, 'I don't think it hit him,' absolutely it's worth a challenge. But there was no indication.
"I just found out two seconds ago that ESPN had shown something. I really can't answer because I didn't know anything about it. Usually you have to get some kind of indication."
Ausmus said the sound he had heard on the pitch suggested it hit him. Rookie catcher James McCann felt the same.
"It hit the jersey," McCann said. "I would've reacted differently if I thought it didn't hit him."
Ausmus checked with McCann after his press conference. He also went into the video room and checked the footage they had, including additional camera angles.
"I looked at the video. I saw it hit the jersey," Ausmus said. "James heard it hit the jersey. It hits the jersey, and it snaps back around his waist. So it did hit him. …
"Certain angles it may look like it missed him, but you can clearly see it when it slows down: It hits the jersey and it snaps back to the left, after being hit."
Ausmus had one of the better success rates among managers issuing challenges last season. He has challenged five plays and had three calls overturned.
Jason Beck is a reporter for MLB.com. Read Beck's Blog and follow him on Twitter @beckjason. This story was not subject to the approval of Major League Baseball or its clubs.