Giants believe in pink-themed bats
Blanco doubles in honor of mother; Duffy gets walk-off hit with special logo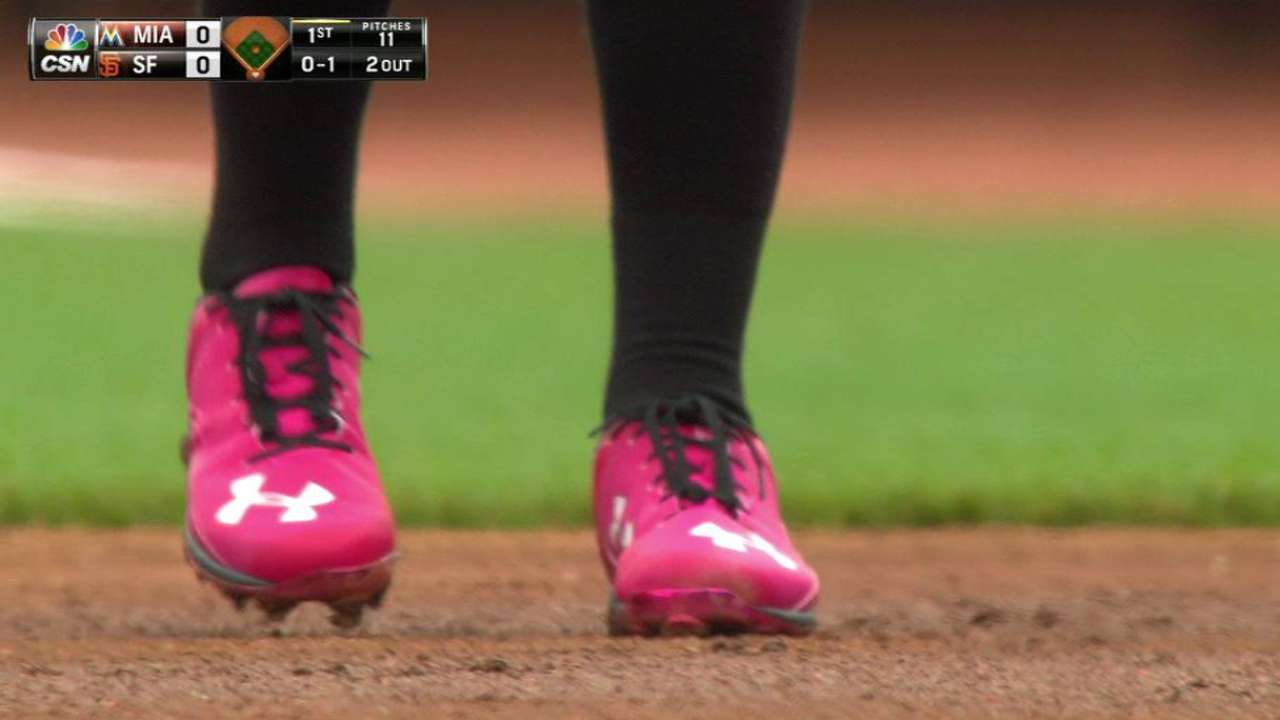 SAN FRANCISCO -- To the casual observer, Matt Duffy's bat wasn't pink on Sunday like many of his Giants teammates to promote breast cancer awareness on Mother's Day.
Look a little closer, though, and you could see that Duffy indeed had a splash of pink on his bat which delivered a walk-off single in the 3-2 win over Miami. Duffy had a custom emblem on the knob of his bat Sunday, featuring a pink-colored cartoon character "Duffman" from the TV show "The Simpsons."
Shortly after recording the first walk-off hit of his career, Duffy called it the best day of his baseball life besides winning the 2014 World Series.
"I'd say so," Duffy said. "Especially on Mother's Day that's pretty cool. ... I didn't get the ball. I got the bat. So I'll give that to her."
Duffy was one of nine Giants to use a pink-themed bat Sunday. And though the team went a collective 6-for-25 (.240) with an RBI, two walks and six strikeouts in pink-bat plate appearances, the bats played a big role in the final rally.
Aside from Duffy's hit, Gregor Blanco's ninth-inning double was also launched with a pink bat. Blanco went 3-for-4 on the afternoon while playing in memory of his late mother, Rosa, who passed away in 2006 due to breast cancer. Sunday also marked Mother's Day in Blanco's native Venezuela, and the outfielder participated in a pregame ceremony for the Giants Honorary Bat Girl.
"I was just going to believe in my pink bat," Blanco said. "It's really important for me. It's a day that I devote to my mom. I give appreciation to her for days like this and the way she fought through cancer.
"It's a special day for everybody. A lot of people here have lost somebody. It's tough. At the same time, it was a beautiful day. It's good that as a sport we do something like this."
Alex Espinoza is a contributor to MLB.com. This story was not subject to the approval of Major League Baseball or its clubs.