Cashner provides special day for mom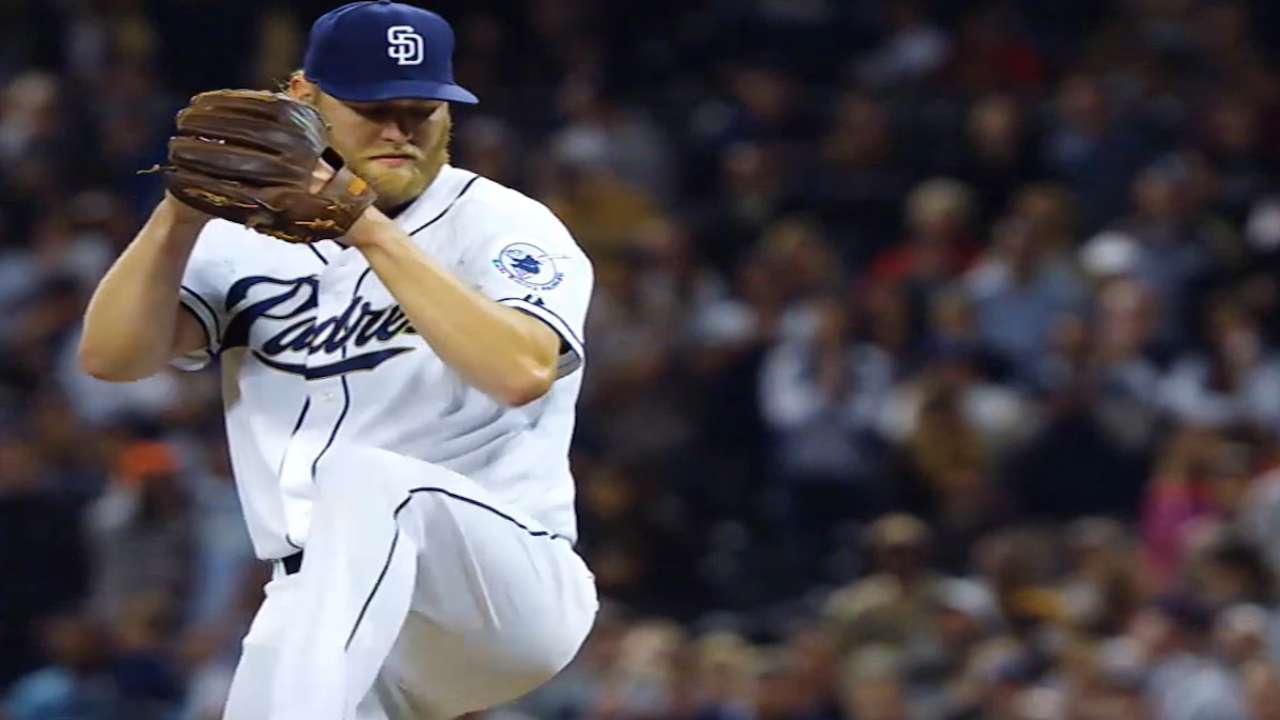 PHOENIX -- For Padres right-hander Andrew Cashner, the final score on Sunday was the least consequential part of pitching on Mother's Day.
Cashner came to the plate three times in the 2-1 loss to the D-backs at Chase Field, wielding a bat with a black barrel and a pink handle. The fact that Cashner legged out an infield hit was also inconsequential, but the bat -- that was something special.
"I don't think it was just that. It was pitching on Mother's Day especially with what my family has been through," he said. "I mean, it was really special for my mom to get to watch it back at home. I know she was back at the house. It was a special day for everyone in our family. It was kind of weird that I got to pitch today considering everything we've been through."
Cashner's mother, Jane, now a two-time cancer survivor, was at death's door this past March when she went into septic shock and lost a leg. A decade ago, she was originally stricken with breast cancer, the disease that Major League Baseball highlights each Mother's Day with its Pink Bat initiative. The day certainly has become important to the players.
"The biggest thing is just bringing awareness to what our mothers go through," Cashner said. "Just stopping and taking a moment, pausing to say thanks to our moms."
Among those in the Padres starting lineup also using pink bats on Sunday were Justin Upton, Will Venable, Jedd Gyorko and Alexi Amarista. The quartet was 6 for 14 with Upton, Venable and Gyorko each collecting two hits. The entire team only amassed eight against five D-backs pitchers. So perhaps the pink bats were the charm.
In addition, every player, sans Wil Myers, wore pink baseball shoes and they all donned pink undershirts beneath their uniform tops.
Cashner carefully wrapped the bat in a white cloth as if it was a cherished piece of art and said he was shipping it to his mom in Texas along with two pairs of pink baseball shoes and the pink undershirt he wore in the game.
"Yeah, I'm going to send her all of my stuff," Cashner said. "She's got a place in her office where she keeps all of my Mother's Day stuff. She'll be getting it probably on Wednesday."
Of course, there was still the matter of the game, and sans two pitches, Cashner certainly deserved a much better fate. He tossed seven pretty solid innings allowing two runs on four hits, two of them homers by Aaron Hill and A.J. Pollock. He also walked none and struck out six.
Cashner has now made seven starts and is 1-6 for his efforts. He should be faring better when one glances at his 3.07 ERA and 1.23 WHIP. Opponents are batting only .251 against him, but he is second on the team having allowed eight homers. He allowed seven in 19 starts last season.
The Padres offense has not helped. The club has scored no more than two runs in any of Cashner's starts this year, and that was in a game he won, 2-1, against the Cubs in Chicago on April 19. Aside from that, the Padres have been blanked twice and scored a single run in each of his other four starts. It's no wonder every mistake is heightened.
"No, I don't think I've had a mistake missed this year," he said. "I think the biggest thing today is that my fastball command was good. It's getting better, going in the right direction. But I mean, the run support is out of my control."
It's been a bifurcated season for sure and all that has been the least of Cashner's problems. During Spring Training, when his mother's condition seemed most dire, Cashner went home for a couple of days in between starts. He admits that his thoughts are sometimes with her.
Cashner spoke to his mom on Sunday morning and would check in again on the bus ride to the airport. He was comfortable knowing that she was at home watching him pitch on TV. At least there's some solace in that.
Barry M. Bloom is a national reporter for MLB.com and writes an MLBlog, Boomskie on Baseball. Follow @boomskie on Twitter. This story was not subject to the approval of Major League Baseball or its clubs.