Manfred sits down with MLB Network
Commissioner discusses DH, Rose, pace of play and much more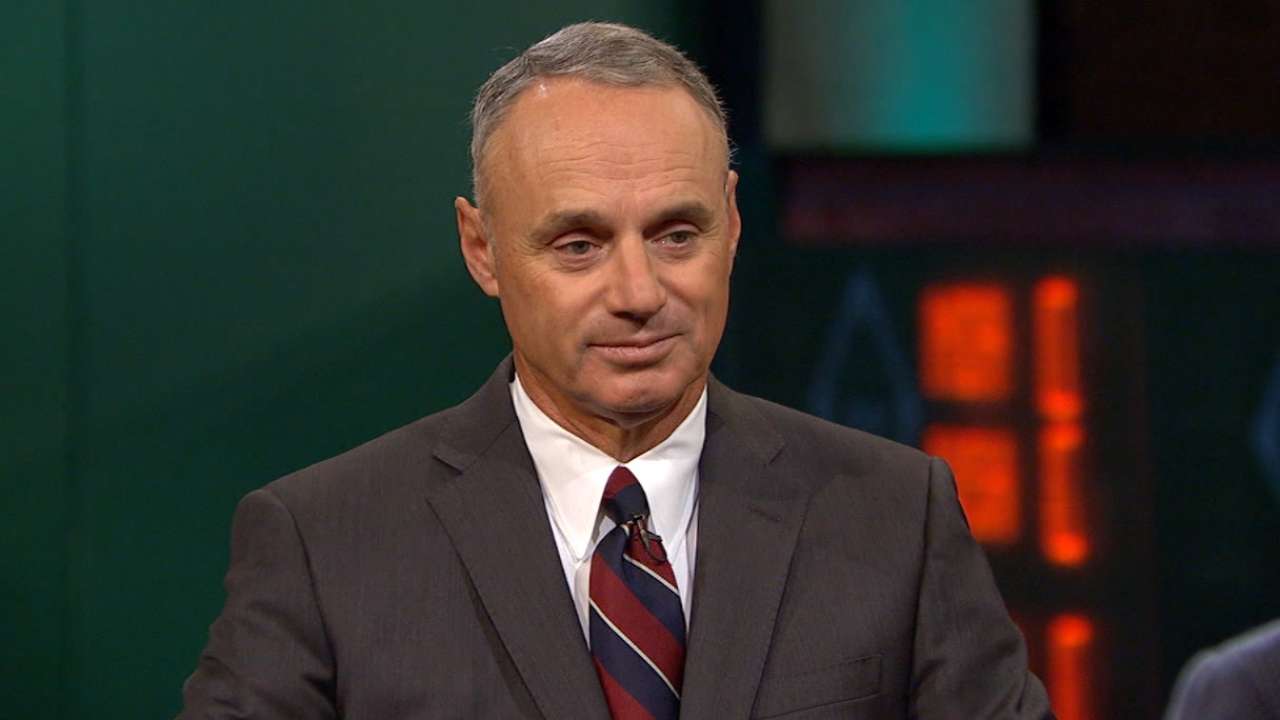 Commissioner Rob Manfred conducted an hour-long interview with Bob Costas that aired on MLB Network Sunday night, covering a wide range of subjects including the possible reinstatement of Pete Rose, the pace of play initiative, chatter about having the designated hitter in the National League and returning the regular season to 154 games.
From Studio 42, Costas led off with a question about Rose, admitting that it isn't the most pressing issue facing baseball, but also noting that it's one fans are intensely interested in. Manfred said, as he has before, that the request will get a full and fair review.
He stressed that he has no direct authority regarding Rose's eligibility for the Hall of Fame, only whether Rose is allowed to work in baseball. And he promised a definitive decision.
"I think Pete deserves an answer, one way or the other. The issue has to be confronted, dealt with," Manfred said.
Some of the other highlights:
The DH: "I like the idea that the two leagues are different ... I see it as a real positive," Manfred said.
He allowed that adding the DH to the National League would increase offense at a time when scoring is down and lessen the chance of a pitcher being injured while hitting.
"But I think the tradition in the National League and the debate about the difference in the two leagues is more important," he said.
Costas noted that the NL game also has more strategy.
A shorter regular season: While the Commissioner stopped short of saying there's a strong chance this could happen, he made it clear the idea is being given serious consideration.
"162 [games] in 183 [days] is a real grind," he said.
Expanded replay and pace of play: "I'm a fan of the replay system," Manfred said. "It's responsive to what fans wanted. Fans wanted to see us use the available technology in order to get calls right."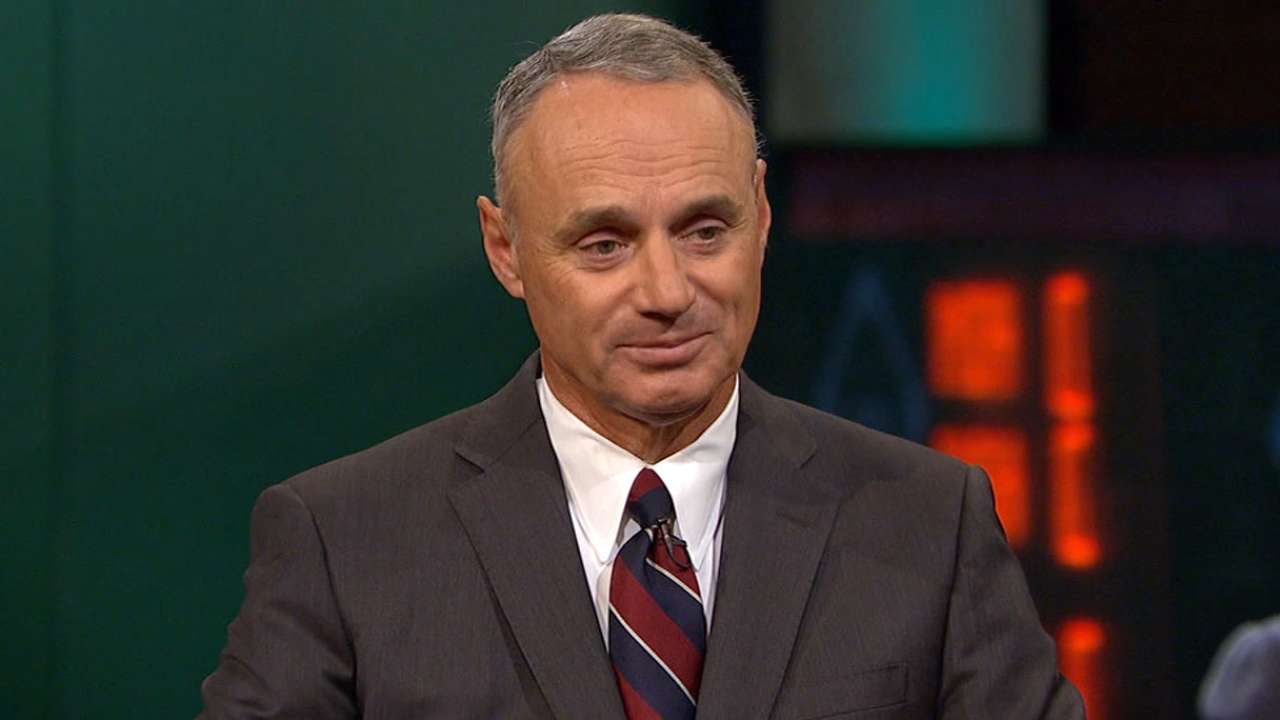 The design of the system has been validated in two ways, he said. One is that the amount of time it takes to review a play has been relatively short.
"And we've had almost every other major professional sport come and look at the technology ... because people think it works well," he said.
Costas noted that what amounts to a "cultural change" regarding pace of play has gone remarkably smoothly. Said Manfred, "The level of cooperation we've gotten from the players has been really impressive."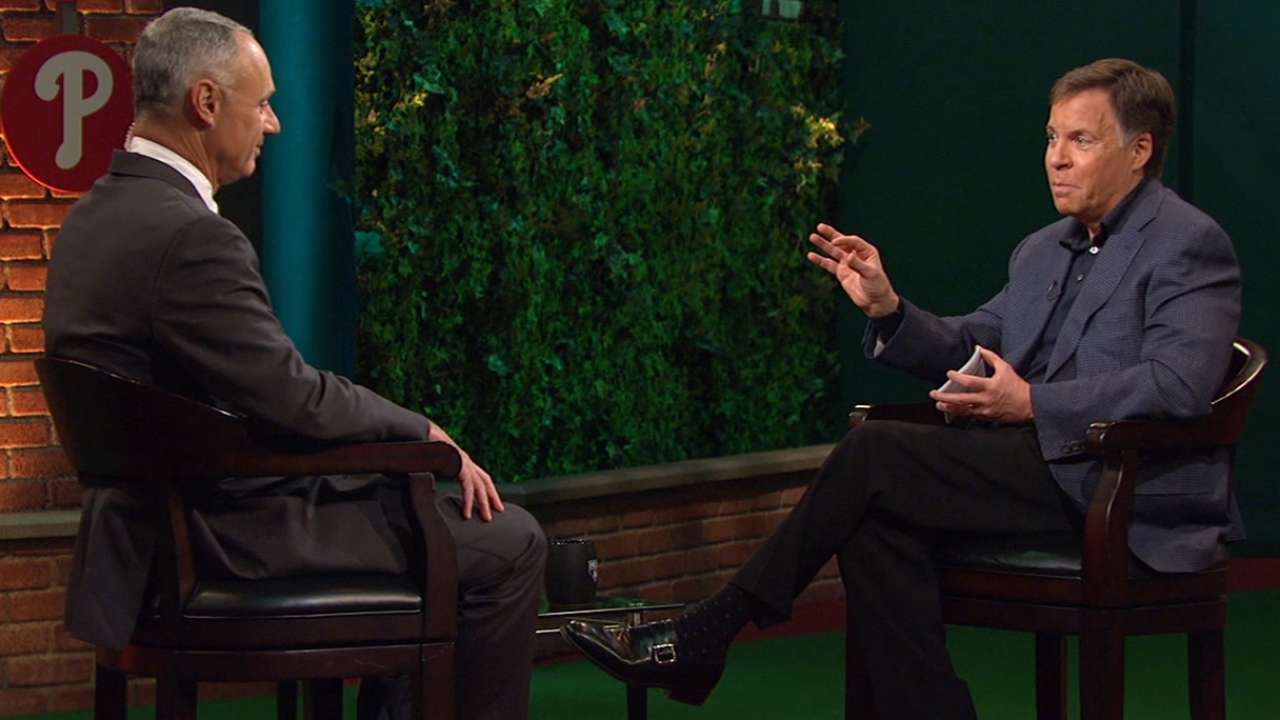 Youth initiatives: This has been one of Manfred's touchstone issues since he succeeded Bud Selig in January. "Kids are an issue," Manfred said. "It's important for all sports to stake a claim to the next generation. And I actually think our demographics are an advantage for us.
"The two big determinants in terms of fans avidity are, 'Did you play the game as a kid?' And the second one is, 'How old were you when you went to the ballpark for the first time?'"
That's related to MLB's continuing effort to recruit a new generation of African-American players and fans through programs such as Urban Youth Academies, Reviving Baseball in the Inner Cities and Baseball Tomorrow, in conjunction with the Major League Baseball Players Association.
"It's an issue that we've devoted a lot of time and effort to," Manfred said.
"We believe we're starting to see the beginning of a change there. When you look at the Top 100 prospects ... I think 14 of them are African-American. The last couple years in the Draft we've had a much greater presence of African-Americans. Double-digit presence. So we're hoping that we're starting to see the reversal of a trend that took a long time to develop. So we're really going to have to stick with this one."
Technology: One of the strategies to keep the younger generation interested involves the cutting edge technology that, most recently, is exemplified by Statcast™.
"We feel we have a huge advantage in this space," Manfred said. "MLB.com is not only a great sports web site, it's a world class technology company as evidenced by the fact that when somebody like HBO wants to stream, they come to MLB Advanced Media to do their streaming.
"They are constantly developing products that are designed to get young people engaged with our game and hold their interest. Statcast really is an amazing piece of technology that has all the things that young people like. It's video-based. It's real time. And it gives you additional information you cannot otherwise glean."
The potential impact of normalized diplomatic relations with Cuba: The political situation still needs to be settled, but Manfred noted that the baseball-mad country presents not only a source of talent, but a potential business opportunity. He said exhibitions in Cuba were "very realistic, very likely."
A franchise in Havana also isn't out of the question, Manfred said, but as part of the continuing internationalization of the game, he also wouldn't rule out Mexico, Canada and sites in the Caribbean as well.
Paul Hagen is a reporter for MLB.com. This story was not subject to the approval of Major League Baseball or its clubs.