Play on Yelich at plate looms large in loss
Giants throw out insurance run in ninth before walk-off victory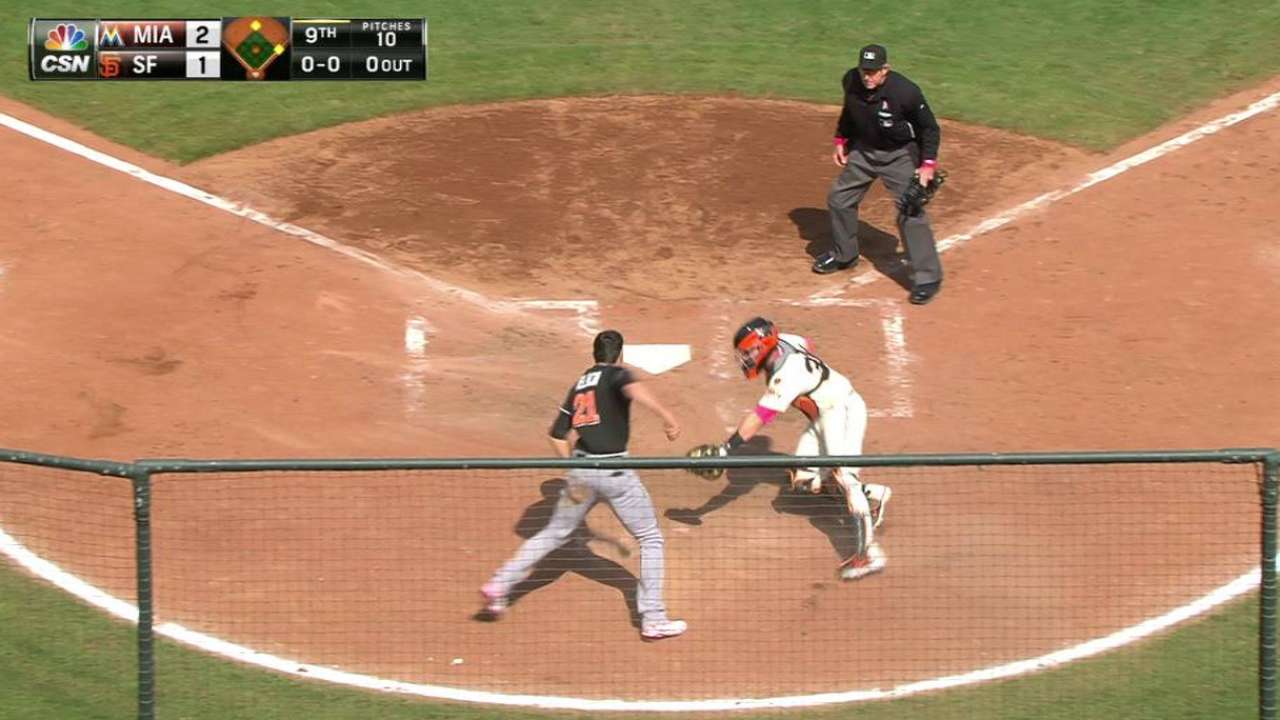 SAN FRANCISCO -- A gamble in the top of the ninth didn't go the Marlins' way, and it ended up being a critical moment in what turned into a 3-2 Giants walk-off victory Sunday at AT&T Park.
With no outs, Christian Yelich attempted to score from second on Michael Morse's single to right. But Justin Maxwell made a strong throw to the plate, and catcher Andrew Susac was able to tag Yelich out.
The Marlins were ahead, 2-1, at the time and were looking for an add-on run.
"We got a guy thrown out at the plate there with nobody out," Miami manager Mike Redmond said. "That run would have been big. We needed that run."
The Giants responded with two runs in the ninth inning and prevented the Marlins from taking three of four in the series.
Maxwell's throw was up the line, and Susac made a swipe tag. Yelich attempted a swipe slide, but missed the plate. He scrambled to get there, but was called out.
"He made a good play," Yelich said. "It was a close play at the plate. I missed it. I was out. It was a big play in the game. You can't second-guess it. It was one of those things. We were aggressive with it, and they got us."
If Yelich had been safe, the Marlins would have had a two-run cushion with the chance to tack on more.
"Kept it to a one-run game," Giants manager Bruce Bochy said. "Anything can happen. I always say, you keep it to within a run or two. Susac did a nice job. He made the runner go wide there and miss home plate. He really saved us. Great effort by Maxy. I don't know how he kept the ball in front of him. I thought the runner was going to score easily but he made a nice throw there and saved the run."
Joe Frisaro is a reporter for MLB.com. He writes a blog, called The Fish Pond. Follow him on Twitter @JoeFrisaro. This story was not subject to the approval of Major League Baseball or its clubs.